Loretta Lynn Calls Herself a "Cougar" After "Marrying" Kid Rock
Did Loretta Lynn remarry? She married Oliver Lynn on Jan. 10, 1948, and they stayed together for 48 years. So, what's going on with Kid Rock?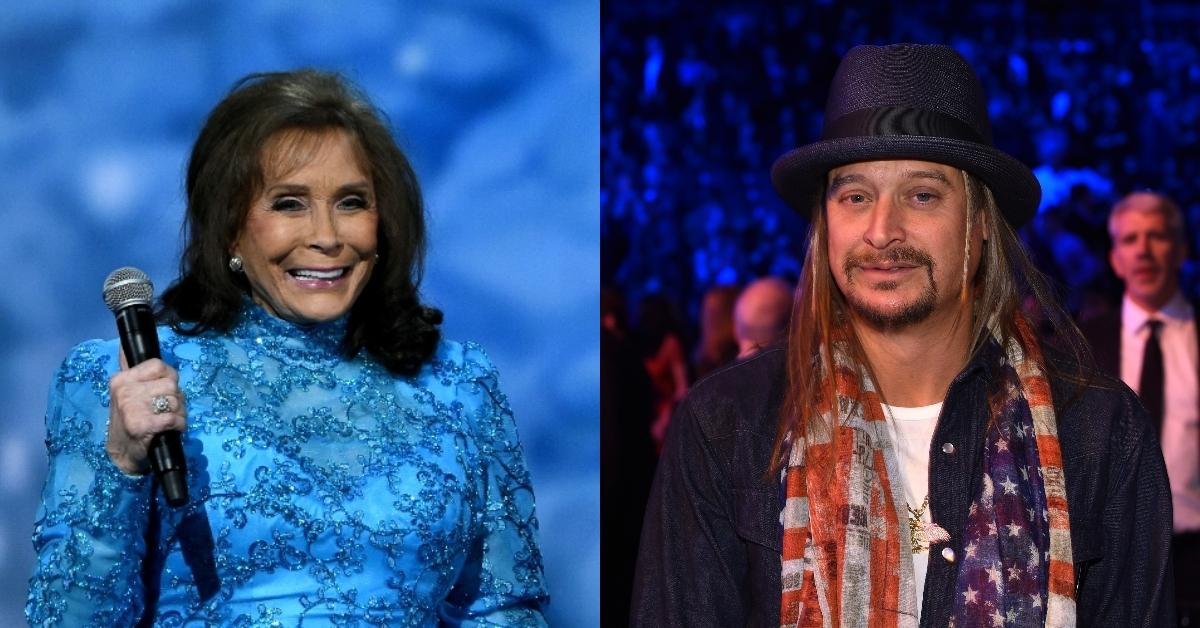 Throughout her six-decade-long career, Loretta Lynn wrote songs about being unhappily married, describing the experience of having to put up with an unfaithful husband in great detail. Some of her most popular songs, like "Fist City" or "You Ain't Woman Enough (To Take My Man)" are directly addressed to her husband's mistresses. Pushing the boundaries of country music, they double as warnings, calling on these women to back off.
So, who was Loretta's husband? Did she remarry after his death — and why is she back in the news recently?
Article continues below advertisement
Did Loretta Lynn ever get remarried? Yes, to Kid Rock... kind of.
Loretta Lynn made headlines on Aug. 31. 2020 by partaking in a prank with Kid Rock. They announced that they had gotten married — but it was all in good fun. The country legend came clean shortly afterward, informing her Instagram followers that they didn't actually tie the knot — and that they were just hoping to cause a stir.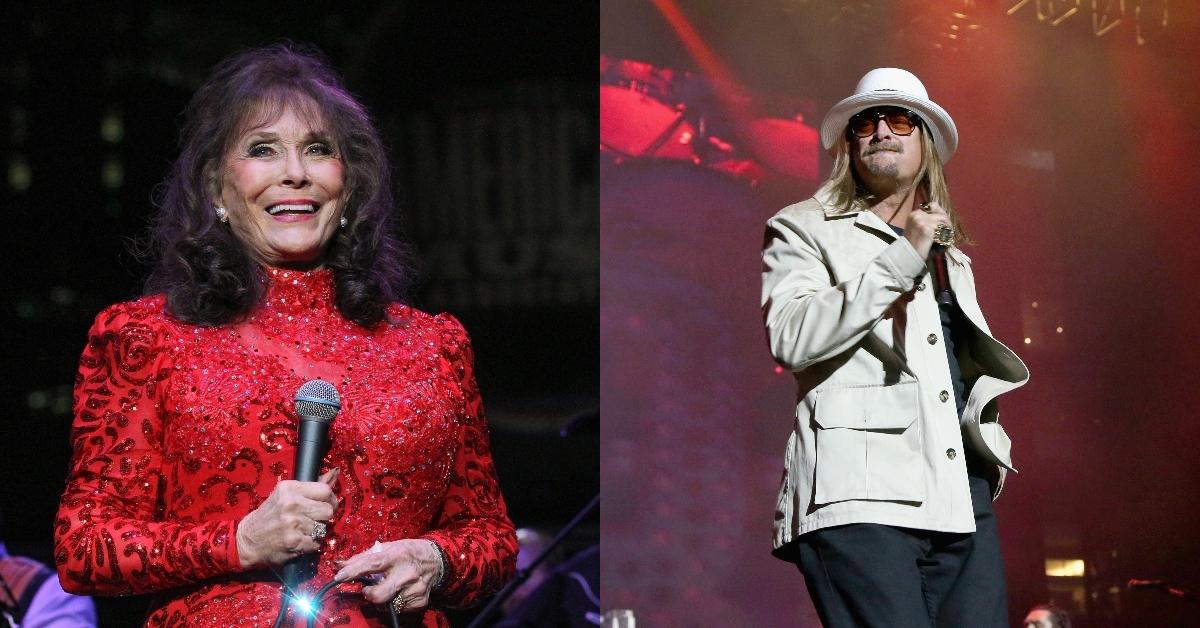 Article continues below advertisement
Loretta Lynn and Kid Rock always joked about getting married one day.
The stars attended a vow renewal ceremony held the last weekend of August. As Loretta remarked in a recent Facebook post, they have joked about getting married for years.
"Things got crazy then--my boy Kid Rock was there and we've always teased about getting ourselves married. Well, the preacher was already there so we had some fun with it. Sorry girls, he's taken now! #gottahavesomefun #88andfeelinggreat #laugh #tabloidfodder #cougar," Loretta explained in a Facebook post.
Article continues below advertisement
"Well, it didn't last long, y'all but it sure was fun! I guess I better get on here and let y'all know that it was just a joke— @kidrock and I didn't get married over the weekend, but we had a blast," Loretta revealed in an Instagram post on Aug. 31, 2020.
Article continues below advertisement
Loretta's first husband, Oliver, had a significant impact on her work as a musician.
Born into a disadvantaged family living in Butcher Hollow, Ky., Loretta got married to talent manager Oliver Vanetta Lynn, Jr. (aka Doolittle Lynn), at an extraordinarily early age. They tied the knot on Jan. 10, 1948, when Loretta was still a teenager. They stayed together until Oliver's death in 1996.
In a previous interview with CBS News — published on May 10, 2002, just a few weeks before her biography, Still Woman Enough: A Memoir, came out — Loretta revealed that most of her songs were either directly or indirectly influenced by Oliver's presence in her life.
"But I've never written a song that my husband wasn't in. Every song I wrote, but he didn't know which line he was in," Loretta told CBS News.
Article continues below advertisement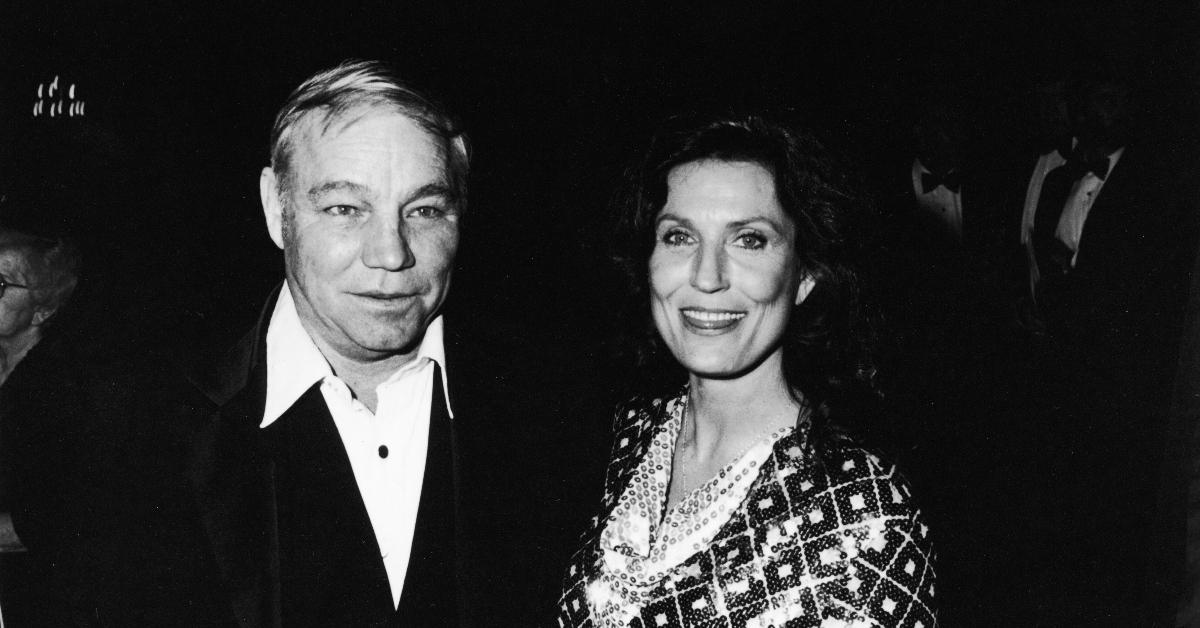 Her husband's behavior became the topic of songs like "Wine, Women, and Song" and "Woman of the World (Leave My World Alone)."
"I'm A Honky Tonk Girl" and "I Wanna Be Free" revolve around breakups. Songs like "When the Tingle Becomes a Chill" and "After the Fire Is Gone" allude to the slow and painstaking process of growing apart.
Although theirs was a tumultuous marriage, Oliver's death in 1996 came as an enormous shock to Loretta just the same.
"I miss everything about him. There was no decision I ever made without talking it over with him. It's hard because who do you go to now?" Loretta told CBS News.