Fans of '365 Dni' Are Convinced the Sex Scenes Are 100% Real
'365 Dni' is an erotic film about a woman who falls in love with a man who kidnaps her. There are sex scenes that look super authentic, but are they?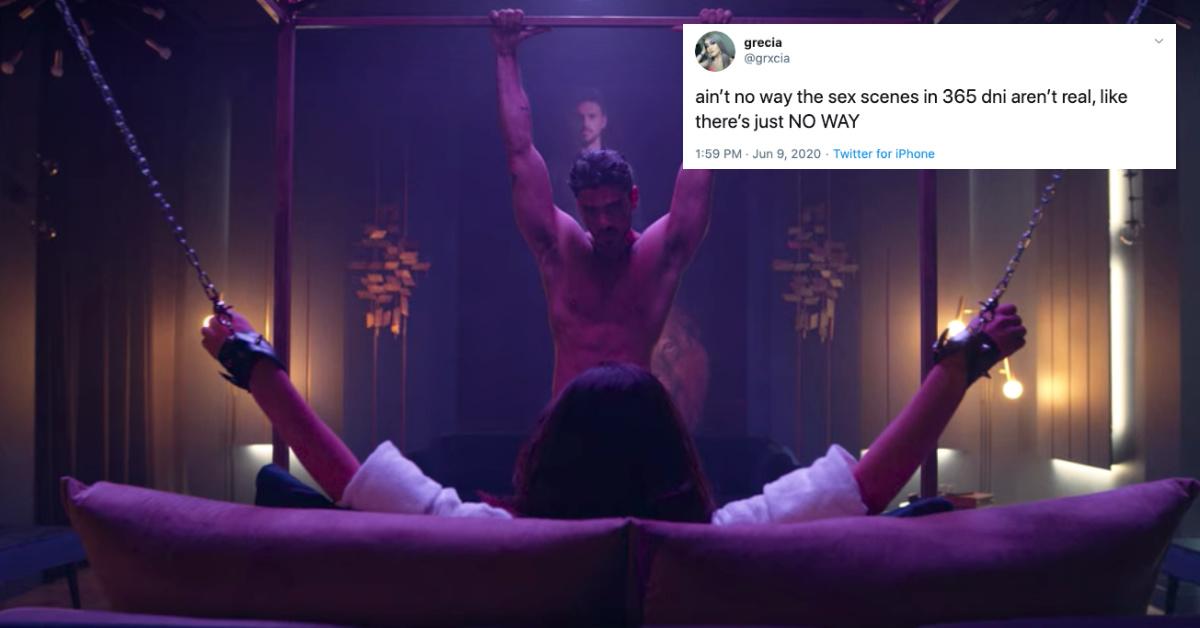 Pretty much everyone is talking about 365 Dni (or 365 Days) right now. It's a Polish erotic film that recently landed on Netflix, and it has been quite popular ever since its arrival on the video streaming service. Who knew that a bunch of people stuck at home during a pandemic would find a steamy drama so irresistible? Just kidding, everyone knew that.
Article continues below advertisement
Anyway, if you've seen the film, you probably have a few questions. Well, OK, you probably have one question specifically. The sex scenes in the film look pretty darn realistic. But just how realistic are they? Did they really "do it" in 365 Dni?

Article continues below advertisement
Did they really "do it" in '365 Dni'?
The conversation surrounding 365 Dni has really been something to behold. First, there were people swearing up and down that 365 Dni is the new Fifty Shades of Grey. The comparison certainly makes sense — both films feature some kind of weird sex contract and are marked by their sex scenes and a BDSM (or kind of BDSM) relationship.
Then there were people claiming that the movie is actually garbage, but the sex scenes are great. Which, OK, sure, there's not a lot of plot there. But come on. No one is watching 365 Dni (or Fifty Shades of Grey) for the plot.
Article continues below advertisement
Now there are people saying the sex scenes have to be real. That there's just no possible way the actors playing Massimo and Laura weren't actually having sex during filming. So what's the truth? This interview with Michele Morrone (who plays Massimo) might clarify things:
Article continues below advertisement
"It seems real because we're very good actors, maybe," he says with a smirk. "We know how to fake. No, it wasn't real. It wasn't real." So there you have it. Blanka Lipinska, the author of the book on which 365 Dni is based, also seemed to confirm the sex scenes weren't real in a recent interview. The interview was conducted in Polish, but she implies that she was present while they were filming sex scenes and was giving the actors advice on how to make everything look authentic.
Obviously, given the conversation around the film, they did an excellent job following directions. Many people still aren't convinced that there was actual sex happening, but we're gonna go ahead and take the word of people who were actually there on this one. 365 Dni isn't a movie you want to sit down and watch with your kids, but it's also not straight-up pornography.
Article continues below advertisement
Is there going to be a sequel to '365 Dni'?
If you actually watched the movie (and didn't just skip around to the sex scenes), you probably noticed that the film ends on a bit of a cliffhanger. Laura and her friend are riding in a car together after shopping for a wedding dress. At the same time, Massimo's right-hand man receives a call and learns that a rival gang plans to kill Laura. He tries to call Laura to warn her, but can't get through because her car is going through a tunnel.
At the end of the film, we see a police car near the tunnel, and Massimo is on his knees, distraught. The implication is that Laura dies at the end of 365 Dni, but don't panic! There are three books in the 365 Dni series by Blanka Lipinska. Given the first film's immense popularity, we wouldn't be surprised to see a sequel at some point (which means Laura is most likely just fine). In the meantime, you can always go back and rewatch the first movie (and try to forget that the sex scenes aren't real).