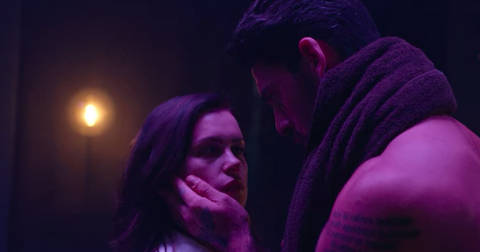 Other Movies Like '365 Dni' on Netflix, if You Need Something Steamy
By Gina Vaynshteyn

Updated
One of the most popular movies streaming on Netflix right now is basically a grown-up, sexy version of Beauty and the Beast. Also described as a 50 Shades of Grey "knockoff" 365 Dni or 365 Days is about a Polish woman who gets kidnapped by a rich (maybe Italian?) mobster who gives her 365 days to fall in love with him. He tells her he won't touch her without her consent, which we guess makes the whole thing "okay" (it doesn't, really). There's a lot of sex and light BDSM, and it's quickly become people's secret quarantine streaming obsession.
And hey, no judgement here. You do what you gotta do to survive these scary times.
Some other movies like '365 Dni' on Netflix:
If you already watched 365 Dni and need more steamy movies to watch on Netflix, here are some options. While Netflix doesn't have much else in terms of the "Stockholm Syndrome" genre, it does have some intense, romantic dramas that'll do the trick.
1. 'Newness'
In Newness, a couple that meet on a dating app and becoming sexually and romantically involved decide to spice things up by opening up their relationship. What starts off as flirting and kissing with other people evolves into having full-fledged relationships which may or may not be too much for the couple to handle.
2. 'Sex Doll'
Sex Doll is about a high-end sex worker who gets romantically involved with a man who wants to "save" her from her life. Although Virginie never allows herself to feel any emotions for a man, there's something about Rupert that has her questioning herself and her line of work. Is she willing to let him play savior?
3. 'Ibiza'
There's nothing very complicated about Ibiza, which makes it a super fun, rom-com to watch. Harper goes to Spain on a work trip with her friends and meets a DJ who she immediately falls in love with. She spends the rest of her time chasing him down in the booze-drenched party city.
4. 'American Honey'
Even though American Honey is about a sketchy group of people who "sell subscriptions" and really just steal people's money and party a lot, it's got some really great, sexy scenes between Jake and Star (a lost girl whom he recruits).
5. 'Chloe'
When Catherine begins to grow suspicious of her husband David, she hires an escort to "test" him and see if he's been unfaithful to her. Pretty soon, that arrangement spins out of control. Chloe is a sexy thriller that'll give you a heck of a surprise ending.
6. 'The Boss's Daughter'
This French romantic film follows a middle-aged factory worker and his boss's daughter who falls in love with him. The only problem is that he has a wife and his boss wants his daughter nowhere near him. The energy between these two is endlessly thrilling.