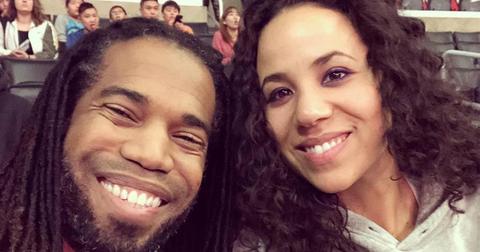 'Seeking Sister Wife' Star Vanessa Leaves Husband Dimitri Snowden After Just One Year Together
By Gabrielle Bernardini
Fans have been enraptured in the lives of polygamus couple Dimitri and Ashley Snowden as they searched throughout Season 2 of Seeking Sister Wife for another partner to add to their relationship. Their prayers were seemingly answered in the form of Vanessa Cobbs who appeared to be the one to help expand their "tribe."
During the season finale of the hit TLC show, fans watched as Vanessa and Dimitri got engaged after a 6-month courtship, then shortly after said "I do" in a beautiful ceremony. While the thruple appeared to be happy about the union, doubt apparently started to creep into Vanessa's mind.
TLC initially teased the tell-all episode, which aired last night, and Vanessa was seen getting emotional, telling viewers, "I know people are gonna question my intentions…" This prompted many fans to question if Vanessa did indeed leave the Snowdens after just one-year together.
Wait, so did Vanessa leave the Snowdens?
Ashley and Dimitri have been searching for a new addition to their polygamus relationship, and thought they found the perfect match in Vanessa.
However, it looks like the couple is back to square one. In a lengthy statement made on her Instagram, Vanessa tells fans, "After some deep soul searching, I have decided to part ways with the Snowdens." Say what?!
After professing her love for the Snowden family, Vanessa reveals, "I was ignoring my inner guidance, which was telling me I do not belong with them in the capacity that they need me to."
She adds, "Sometimes their long-established dynamic is not aligned with your own personal growth and path forward."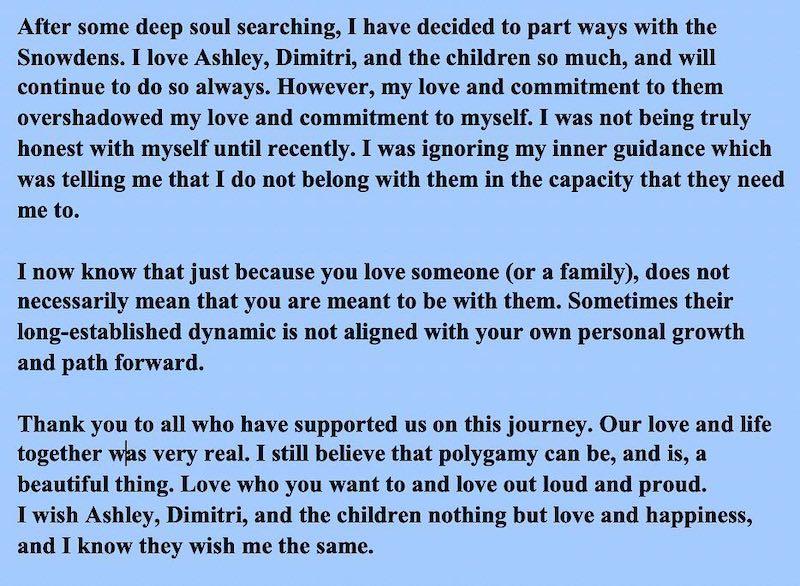 Taking some time for herself, Vanessa revealed most recently in an Instagram post that she flew off to another continent after filming the tell-all! "Thanks for the love and support. I am taking time to be with my sister in Australia."
Dimitri and Ashley are not too happy about Vanessa leaving.
In a lengthy statement on social media, Dimitri opened up about his separation from wife No. 2.
"For now, I'm choosing to grieve…" Dimitri captioned a lengthy statement to fans about his recent separation from second wife Vanessa. The series followed the reality star's relationship throughout all of Season 2, and while he expected his newest bride to be the one (or technically two), Vanessa walked away from the marriage.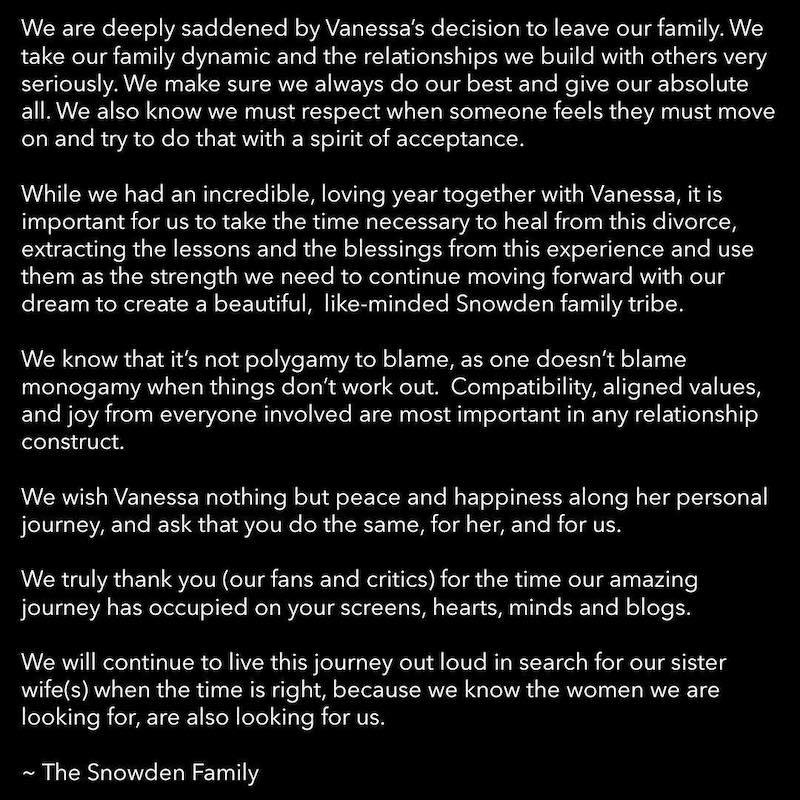 He continued: "We wish Vanessa nothing but peace and happiness along her personal journey." Alongside the lengthy statement, the TLC star also posted an image of the engagement ring he gave to his ex-wife.
Though fans don't know if Vanessa will appear in Season 3 of the hit series, we can expect for Ashley and Dimitri to spend this time healing, and then out searching for another woman to take on the last name of Snowden.