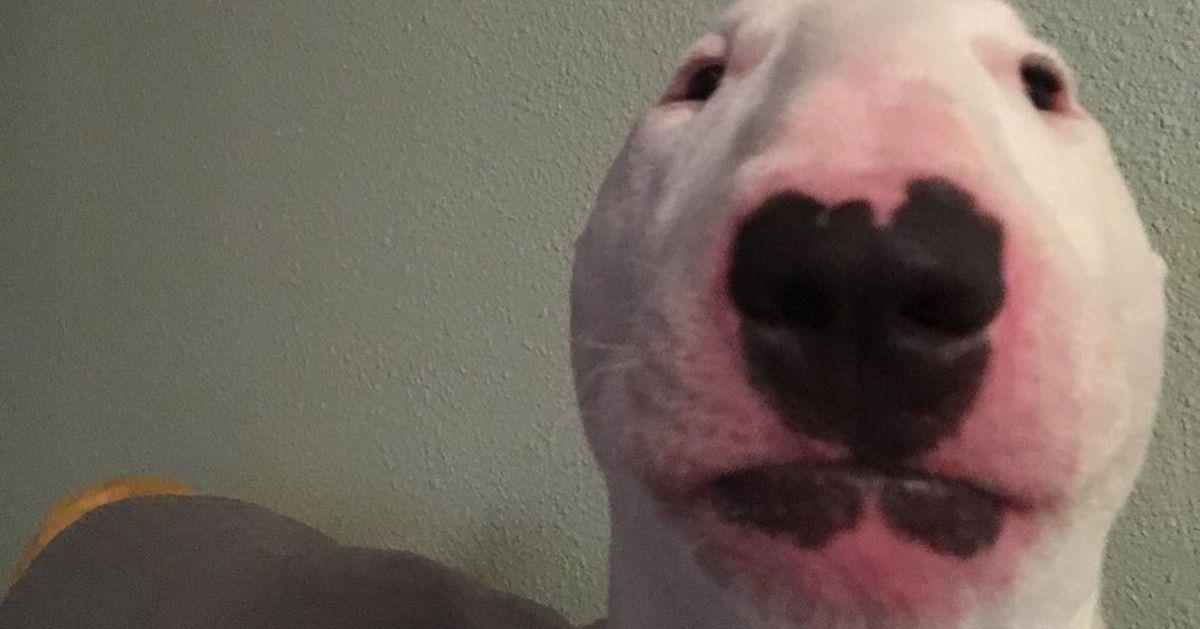 Is Front Camera Meme Star Walter the Dog Actually Dead?
You may not think that you know who Walter the Dog is, but you've likely seen (or even used) an image with his face on it as a meme. The bull terrier is most famous for the staring / front camera meme, which features a closeup of his face.
The image first went viral in 2018, when Walter's owner posted the photo with the caption "When u open the front-facing camera on accident." The original tweet received more than 45,000 likes.
Article continues below advertisement
The canine was soon dubbed "Walter the Dog" by the internet, but his real name is actually Nelson.
Like many other internet celebrities, Walter the Dog has been the subject of death rumors. A photo of an injured bull terrier began circulating on Twitter, and a multitude of users began posting their condolences about Walter's passing.
Did Walter the Dog die? His owner confirmed whether or not Walter had passed away.
Article continues below advertisement
Why do people think that Walter the Dog died?
The death rumors surrounding Walter the Dog began circulating when a CelebritiesDeaths.com posted an article featuring several photos that showed a bull terrier with multiple gunshot wounds. The headline for the article "Pana Walter The Dog that People Use His Face to Make Staring Meme Has Passed Away."
The article soon got traction online, despite the fact that Walter's name was incorrectly published. Many Twitter and Instagram users began sharing a screenshot of the headline to send along their condolences. Others were devastated that the dog had appeared to die in such a gruesome way.
Article continues below advertisement
Did Walter the Dog die?
Walter's apparent owner, Victoria Leigh, addressed and slammed the death rumors on the dog's Instagram page. It is important to note that Walter's Instagram account is not verified, but it does have nearly 200,000 followers.
In the post, Victoria included the viral photos that suggested that Walter died, and she explained that those photos were of a different dog named Billy. The dog in the photos was shot during an armed robbery in Philadelphia in February of 2020.
Article continues below advertisement
"Hello, users of the internet. I don't know where this image originated, but I am happy to report that Nelson is NOT dead. The injured dog in the vet photos is named Billy. He was shot protecting his owner during an armed robbery, but has since made a full recovery (see second slide). Billy doesn't deserve to be used as a hoax to spread sadness," the caption began. "Billy deserves great recognition for his bravery and awesomeness."
"If anything (god forbid) ever happens to Nelson, updates will come from his social media accounts, here and on Twitter, @.PupperNelson. Anything else you see online is just a rumor..." the caption concluded.
In a follow up post, Victoria poked fun at the death poke rumors by putting up a photo of Walter/Nelson holding a piece of paper with the time, date and the words "I Am Alive" on his nose.
Though it is unsettling that Walter / Nelson was involved in a hoax, fans of the meme will be happy to learn that there is no truth to the rumors of his death. Plus, dealing with a death hoax is oftentimes a prerequisite of being a star.