Man Didn't Tip on His $100 Meal — Returns to Restaurant to Make Things Right
A man and his girlfriend walked into a restaurant and didn't tip on their $100 meal. Later, he went back to the restaurant and redeemed himself!
Tipping is a controversial debate that has lived on for years.
While some believe that leaving your restaurant server a tip is optional, others understand how hard it is for people in that line of work to make a living. That's exactly why the internet brutally blasted this man who posted about not tipping on a $100 bill on the Am I the A------ subreddit.
Article continues below advertisement
According to @NobleWarriorHD, he was at dinner with his girlfriend and spent more on the meal than expected. For this reason, the couple left the establishment without tipping their waitress. However, by the end of the Reddit tale, the OP made things right.
Read on to find out what happened!
Article continues below advertisement
This man didn't tip on his $100 meal and got brutally blasted by the internet.
"Went out to [a] restaurant with my [girlfriend]. I got a coffee. We both got an app and a meal. The waitress was fairly nice and refilled [our] water when it got low," the OP started the post. Unknowingly, @​​NobleWarriorHD and his girlfriend racked up a $100 bill.
"I've been taught to always leave a minimum tip of 20 percent or more when you can afford to as a courtesy to the waiter/waitress," he went on. "My comfort level is under $70, so I usually only get meals around $50 so I can leave a $10 tip."
But this time, the OP had accidentally gone way over budget. He decided not to ask his girlfriend to help out on the bill because she's "broke" and "trying to deal with her issues."
"I planned to pay and wasn't gonna ask her to cover [the] tip," he said. "But I didn't want to spend an extra $21 on top of an already expensive meal."
Article continues below advertisement
Although he later mentioned that he could "afford" the $21 tip, he only paid his $108 bill and opted out of leaving a tip altogether.
In an unexpected turn of events, the waitress followed the couple outside and asked if she had done something wrong.
Article continues below advertisement
"We were confused and said, 'No, why?' She told us that we didn't leave a tip, that she was a waitress who made money off tips, and that it was how she made a living," the OP recalled.
He told the waitress he was sorry and that she did "a fine job." But he left the restaurant feeling conflicted. @NobleWarriorHD continued, "I did feel offended/hurt that she came out to berate us for being cheap."
Article continues below advertisement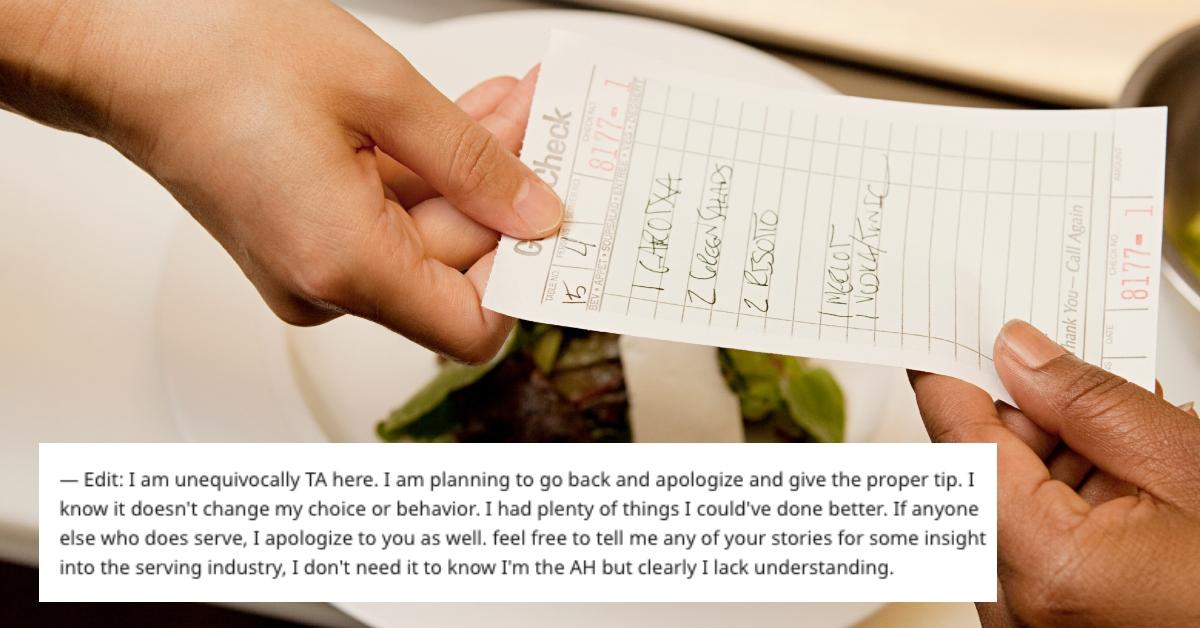 "But it was my mistake for not paying attention to how much I spent and my choice to not tip based on that mistake," he said, adding that he totally feels like the a------ in this situation. And people in the comments agreed. But this story didn't end how you'd think. In the end, he went back to the restaurant and made amends.
Article continues below advertisement
The OP redeemed himself after he went back and left the waitress a $55 tip.
@NobleWarriorHD redeemed himself with a follow-up post. He claimed he went back to the restaurant to clear everything up. And he had receipts … literally.
"I went back and didn't see the server, asked for coffee and an app. The server this time happened to be [the] floor manager, so I explained what I did, that I was here last night, wanted to apologize and tip accordingly," the OP said.
Article continues below advertisement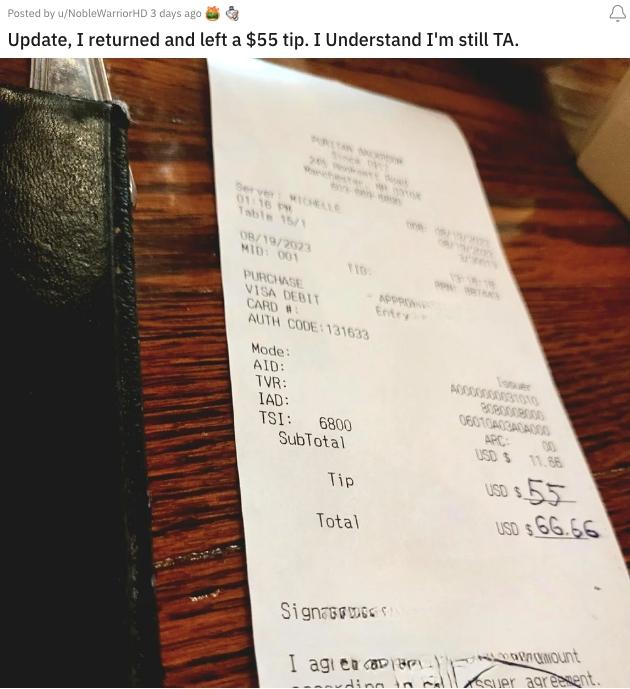 Eventually, he found out who his server was and gave her a generous tip for her hard work. "I didn't know whether or not posting proof was a d--- move but some people wanted it so I snapped a photo for you," he ended the post.
The consensus in the comments was that not only is the OP not the a------, but he's a pretty good person.