Princess Tiabeanie in 'Disenchantment' Has Seen a Lot of Stuff for a 19-Year-Old
Matt Groening's 'Disenchantment' takes the producer/cartoonist's trademark humor to a coming of age story about Bean. But what's her age, anyway?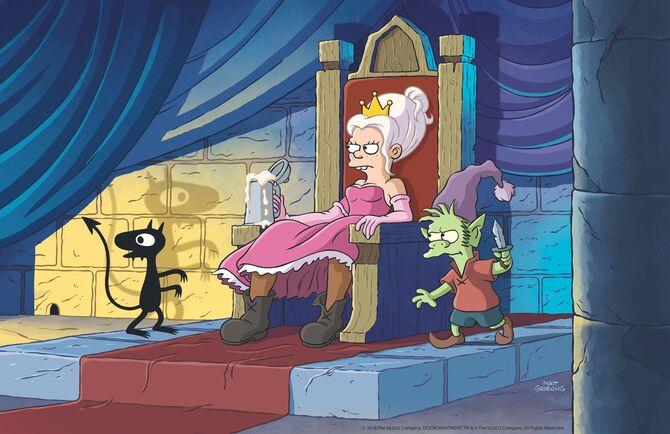 Whenever Matt Groening debuts a show, you know what you're in for regardless of the series' plot: It'll be packed with hilarious one-liners, off-the-wall situations, and a willingness to get as bizarre and dark as possible. But his shows also usually feature deeply-flawed but good-hearted main characters, like Philip J. Fry, Homer Simpson, and Princess Bean from Netflix's Disenchantment. Fans of the show are wondering, however: What's the age of the booze-pounding Tiabeanie?
Article continues below advertisement
Bean's age in 'Disenchantment' is pretty much in line with the fantasy genre.
Whenever it comes to the stories of princesses in fantasy-themed movies (Disney included) the age of the young female protagonists is usually a bit cringe-inducing. Ariel, Aurora, Mulan, and Merida, are only 16 years old. Princess Jasmine from Aladdin? 15. Snow White? 14.
Princess Tiabeanie is young, but she's not a freshman in high school hanging out with a bunch of dwarves and trying to be murdered by some woman with a magical mirror young.
Bean's 19-years-old in Disenchantment, but she's seen a lot for someone who technically isn't old enough to smoke or drink, and she does plenty of the latter in the show.
(Warning, this post contains some spoilers): Bean's befriended an elf, killed an evil Hansel and Gretel with a candy axe, brought her mother back from the dead, made an alliance with a low-level demon by the name of Luci, convinced a friend to leave heaven, literally traveled to hell and back and much, much more.
Article continues below advertisement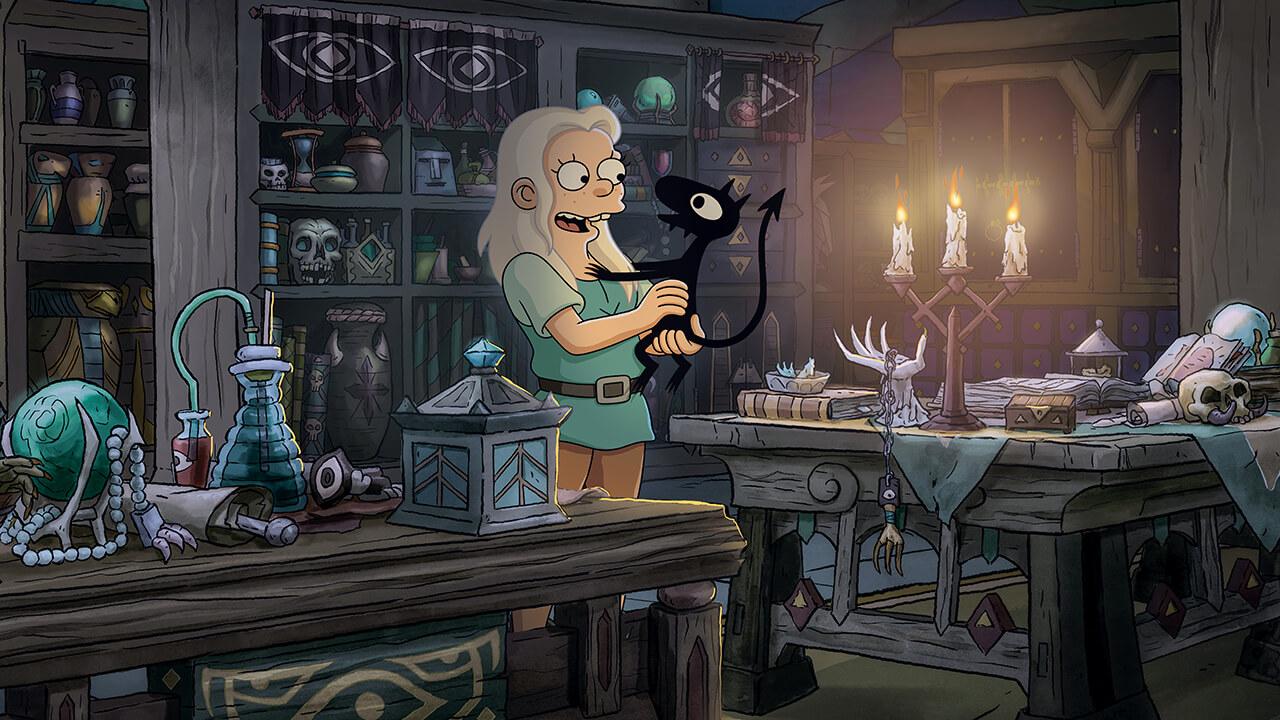 Season 3 of Disenchantment dropped on Jan. 15, 2020, on Netflix and people are saying that the show's just getting better. Season 1 received mixed reviews, with some people saying that it was still "finding its feet" as a comedy and it relied far too much on "one liners" and "physical comedy." Other critics on Rotten Tomatoes also called Season 1 "underwhelming" and that it "feels a little sad."
Article continues below advertisement
Article continues below advertisement
No, there isn't gratuitous nudity in 'Disenchantment'.
While characters do strip down and you see your fair share of cartoon butts, Disenchantment still doesn't get too graphic with some of its more adult situations, including violence. The cartoonish depictions of brutality are lampooned in Monty Python-esque ways in the series — so while you're probably not going to watch this show with really young kids, don't feel like you're headed into one of those anime films your old college roommate was a little too eager to watch with you, either.
Article continues below advertisement
'Disenchantment' Season 3 viewers want to know who the voice actor for Mora the mermaid is.
AV Club's review of Season 3 of the series angles that it's a bit more plot than joke heavy and splits up the trio of main characters (Bean, Luci, and Elfo) so viewers can become better familiarized with their individual characteristics. However, Season 3 also introduces a lot more new faces, and far-off locations to the narrative.
Article continues below advertisement
Fans of the show are also tickled pink by Mora the mermaid, and people could've sworn that they heard her voice before. There's a good choice they have, because Mora's voiced by Meredith Hagner. She plays Portia Davenport in Search Party (33 episodes), had a recurring role in Veep, and also had roles in CSI: Miami, Louie, and played Liberty Ciccone in As the World Turns for a whopping 165 episodes.
Have you seen the latest episodes of the popular Netflix animated show? What are your thoughts?
Season 3 of Disenchantment is now streaming on Netflix.