Disney Employee's "Fairy Godmother" Costume Sparks Debate, Others Come to His Defense
A video of a male Disney World employee wearing makeup and a dress while greeting children has sparked a viral debate.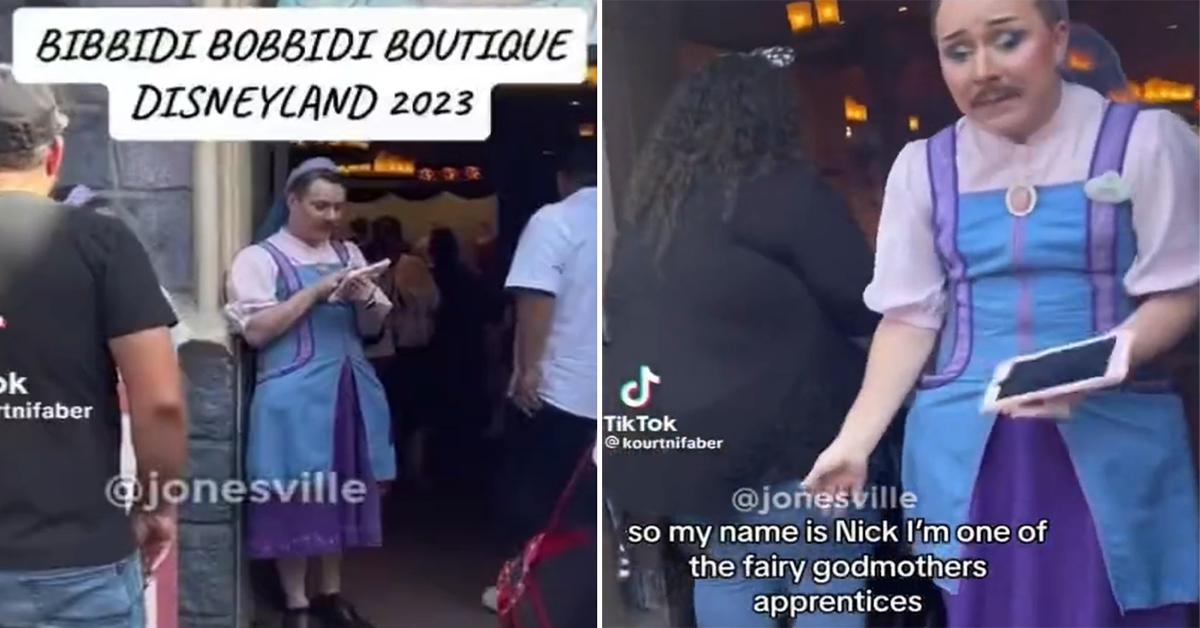 Article continues below advertisement
And, of course, there are plenty of folks who aren't too stoked that Disney "forces" diversity in its films, whether its ethnic, racial, cultural, or sexual.
And now, the company is undergoing criticism for seemingly extending this philosophy to its parks after a viral video of one of its parks employees began circulating the web,
Article continues below advertisement
In the clip, a man can be seen dressed as a Fairy Godmother's Apprentice at an Enchanted Boutique location, greeting children. The man, who is rocking a mustache, makeup, and a dress, welcomes guests into the store with a smile.
Article continues below advertisement
The video, which originally appears to have been uploaded by TikToker Kourtni Faber (@kourtnifaber), has been reposted and is making the rounds on Twitter, where users have had a litany of reactions to the clip.
Jason Jones has uploaded the video with the caption: "Disney has a man in a dress working in the dress store for little girls at Disneyland. This is who Disney wants girls to see when they first walk in to pick out a dress."
Article continues below advertisement
He can be seen talking to a child, saying: "So my name is Nick I'm one of the Fairy Godmother's apprentices, I'm here to shop you around and make all your selections for the day."
Article continues below advertisement
The end of the video briefly shows some of the dresses for sale in the enchanted boutique with an overlay displaying a price of $250.
One Twitter user responded to the clip that they've already boycotted Disney, while another person called the clip a "freak show." Someone else penned: "The left wants this to be normal so bad that they'll even shove it in kids' faces at Disneyland. That's the level of depravity we're up against here."
Article continues below advertisement
However, there were other users who applauded the inclusiveness of Disney, like Twitter user @thelilprincessa who wrote: "What is actually so offensive about a man wearing a dress? Men have been wearing dresses for centuries now, like it's not even the least bit shocking. And maybe it isn't just girls that want to buy a dress at Disney. Well done Disney for being inclusive!"
Someone else also said that they don't have an issue, whatsoever, with a male Disney employee wearing makeup and a dress and greeting children.
Article continues below advertisement
"I haven't got an issue with this. He can dress and wear makeup how he wants. If the child seems confused or has questions concerning his clothing choice, it is a good teaching opportunity for the parent. Too many times we don't say anything until it is too late and the school system takes over what we should be teaching."
Article continues below advertisement
But there were also others who found his presence at the store "creepy" and disturbing. User @BillBoard Chris wrote: "That boutique is a big deal for the girls when they go there. Mine went. They're having this little fantasy day and now they get greeted for this experience by a creepy man in a dress? He is immeasurably creepy just for wanting this job position in the first place."
Article continues below advertisement
And someone else wanted to know how the Disney employee would react if one of their children remarked that they find it silly that he's working in the boutique and wearing a dress: "Question for @Disneyland: What will this cast member reply when a child (like mine) starts asking questions, laughing because he thinks the CM is being silly, telling the CM that 'boys don't wear dresses' , etc... My boys aren't rude, but they will 'double barrel' question you."