"My Body, My Choice": Disney Customers Vow to Boycott Parks Over Mask Mandate
Throngs of angry Disney World customers are flocking to the most magical place on earth's blog to voice their disapproval of new safety protocols.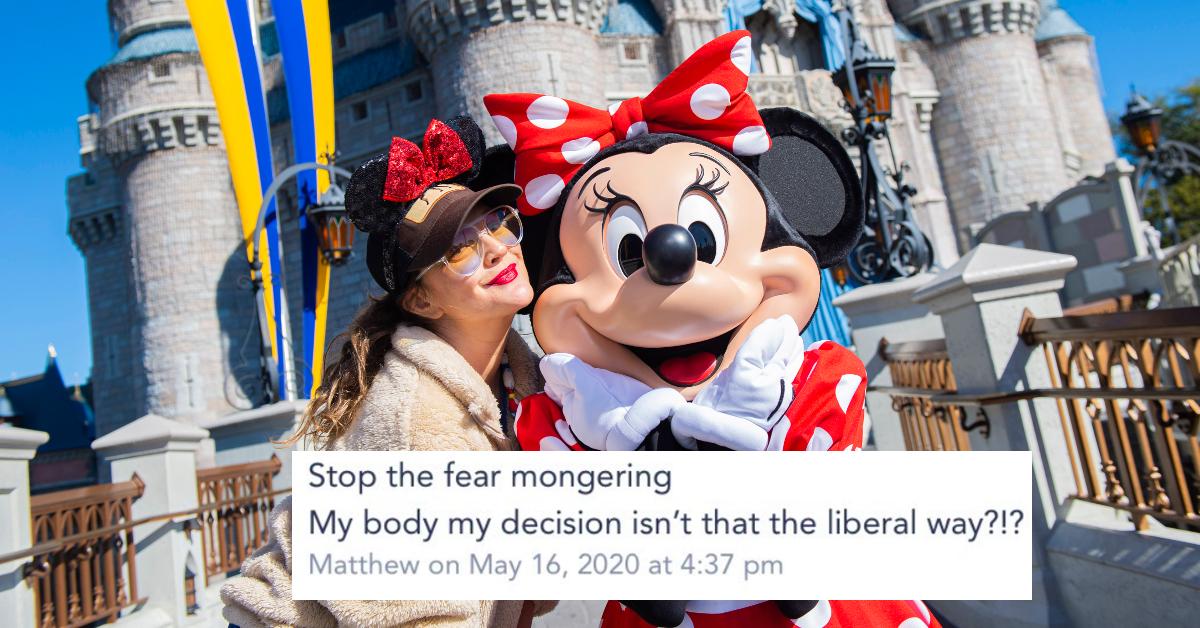 It's no secret people are getting fed up with the stay-at-home orders that have been implemented all around the country in response to the COVID-19 pandemic. Folks in New York, one of the states hit hardest with viral cases, recently began flocking to beaches due to "quarantine fatigue", and you even have some businesses in Texas going so far as to arm themselves so they can stay open in spite of mandated lockdowns.
Article continues below advertisement
The stay-at-home orders are affecting tons of businesses and are restructuring the economy in ways that even the most seasoned of financial experts couldn't have predicted. So there is understandably a weariness, especially from small business owners who are fighting to support themselves and those who depend on their services.
We also cannot discount just how "fed up" some people are at having to stay inside, which might've been a way easier pill to swallow in cold weather months. But now with summer right around the corner, it's becoming more and more apparent that people just want to get out of the house and engage in the activities they're accustomed to participating in, like going to theme parks.
And the comments on the Disney blog are a glaring example of that.
Article continues below advertisement

"The Most Magical Place on Earth" certainly seems a lot less magical to some folks, who can't believe that that massive family-oriented parks are implementing rules influenced by the global reaction to the COVID-19 pandemic. Ivy Marie, a self-proclaimed Disney enthusiast, shared some screenshots of user comments on the Disney blog, and there's a collective outrage from customers who cannot believe they're required to wear face masks while frequenting the park.
Article continues below advertisement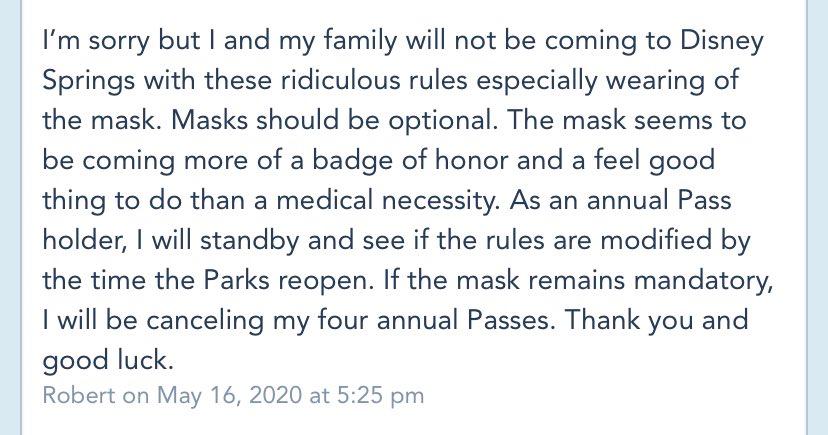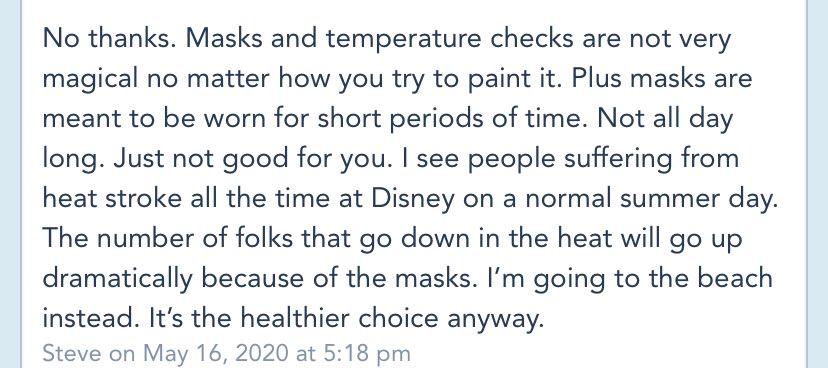 Article continues below advertisement
The comments are riddled with statistics and vows to never support Disney ever again, which is kinda hard considering how many properties, TV networks, streaming services, and different artistic licenses The Mouse owns. Others said that forcing park-goers to don face masks could ultimately put them at a higher risk for heat stroke in Disney World, which gets unbearably hot during those sweltering Florida summer months. Then when you factor all of the people congregating in the same place?
This, according to some users on the Disney site, is only a recipe for further disaster, so they're electing to go to the beach instead of riding in teacups and buying them and their loved ones some Dole whip.
Others think that the stringent health protocols are "not the Disney way" and do not provide for a fun experience at the parks. The "new norm" is a norm that robs Disney World of its magical qualities, as one commenter puts it.
Article continues below advertisement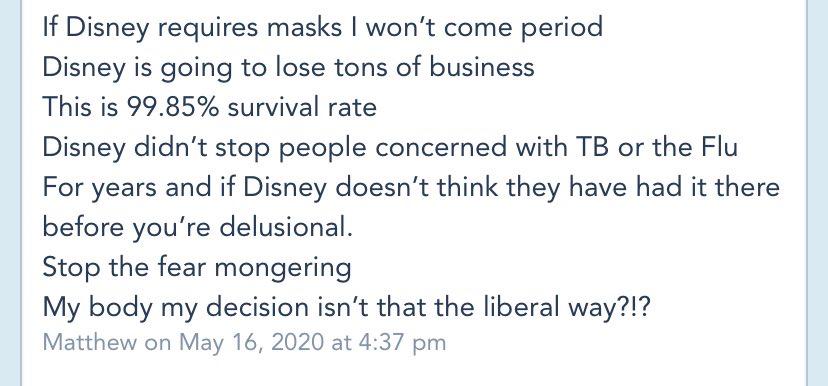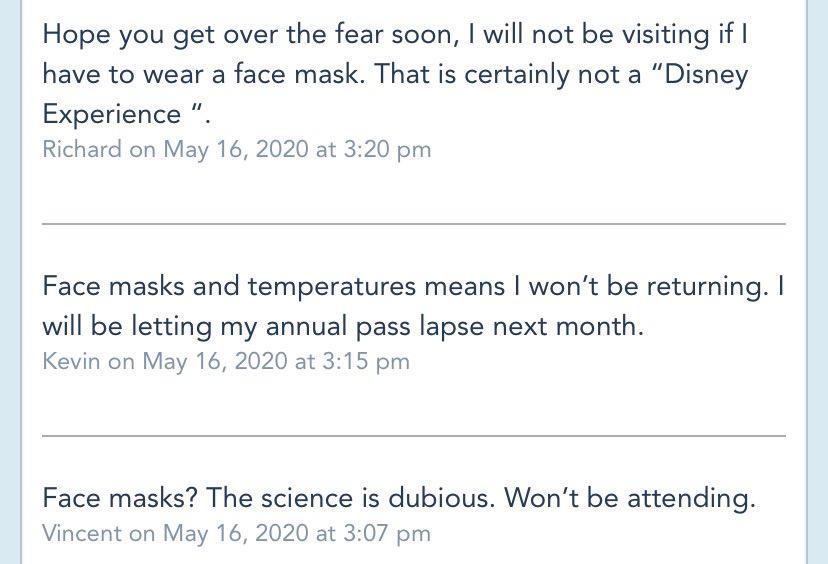 Article continues below advertisement
Disney is currently practicing "phased re-openings" of its various properties and released the following statement about its plans:
"With the safety and well-being of our guests, cast members and third-party operating participants at the forefront of our planning, we are eager to begin welcoming you back to this part of Walt Disney World. While our theme parks and resort hotels remain temporarily closed, the phased reopening of Disney Springs is a welcome milestone as we navigate through this unprecedented time together as responsibly as we can."

Article continues below advertisement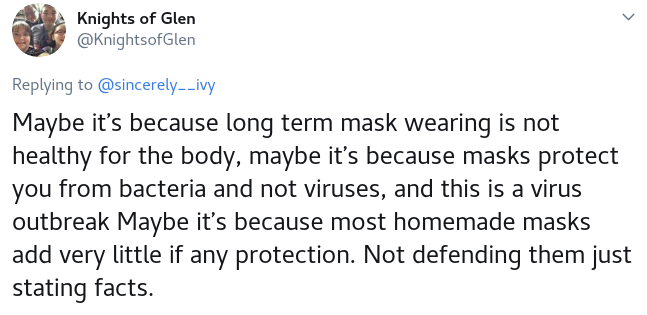 Disney Springs has a list of its re-opening protocols here, but the basic rundown is as follows:
Self parking only.
Guests must wear face coverings (3 and older.)
Guests could be subjected to having their temperature taken.
Physical distancing.
No cash transactions.
Improved cleanliness and hand sanitizer abound.
Article continues below advertisement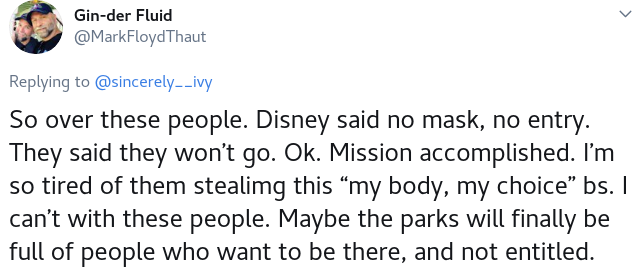 Article continues below advertisement
Folks on Twitter had a lot to say in response to Ivy Marie's tweet. hteir comments ran the gamut of cheers to jeers and they were rife with controversy. Some people agreed with the gripes the commenters in the blogs had while others questioned the intelligence of the people who had problems with Disney's new protocols.

Article continues below advertisement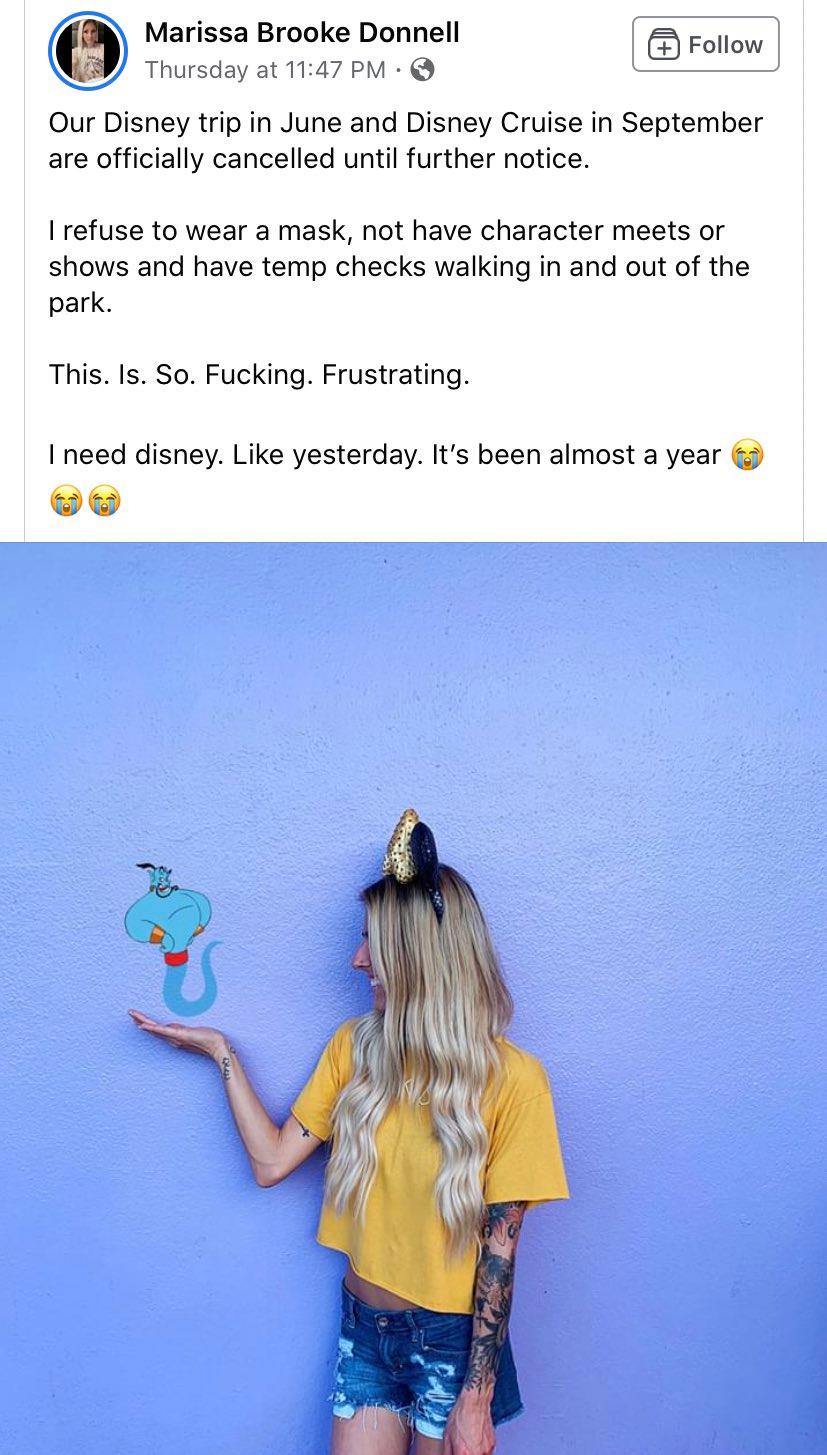 Article continues below advertisement
Regardless of one's opinion on federal and state mandates regarding the COVID-19 pandemic, much of what we're forced to adhere to hinges on local response to the pandemic. Los Angeles, for example, has extended stay-at-home orders for roughly another three months. In Illinois, business like gyms are re-opening.
The best way to prevent contracting or spreading the coronavirus is with thorough hand washing and social distancing. If you feel you may be experiencing symptoms of the coronavirus, which include persistent cough (usually dry), fever, shortness of breath, and fatigue, please call your doctor before going to get tested. For comprehensive resources and updates, visit the CDC website. If you are experiencing anxiety about the virus, seek out mental health support from your provider or visit NAMI.org.