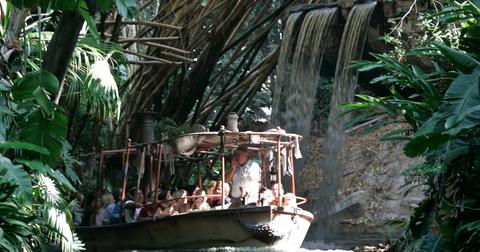 A Jungle Cruise Boat Just Sank at Walt Disney World and Twitter Is Having a Magical Field Day
By Jacqueline Gualtieri

Feb. 27 2020, Published 6:15 p.m. ET
We've heard that the captain goes down with the ship, but do Jungle Cruise riders have to go down with their boat? On Feb. 27, riders of the famous Walt Disney World ride were left soaked after their boat, well, sank. It's not exactly the experience you expect to have at Walt Disney World, but, hey, it makes for a great story.
Article continues below advertisement
Which is why, when Matthew Vince took to Twitter to post about what happened, he started a whirlwind of memes at Disney's expense, because really, what the heck, Disney? But also, if you told us that this was some really strange advertisement for the upcoming movie based on the sunken ride, we'd probably believe it.
Since posting his story on Twitter, he managed to get Jungle Cruise trending with an array of memes and comments that are far funnier than anything any Jungle Cruise Skipper has ever said.