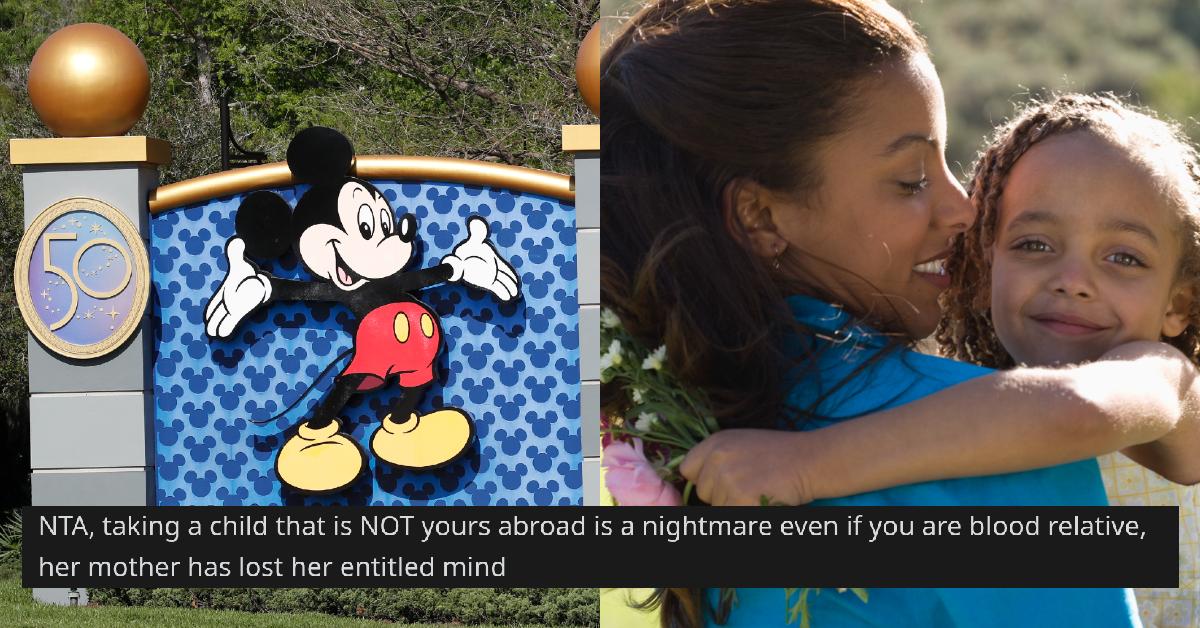 Woman Slammed by Boyfriend's Ex for Not Taking Her Daughter to Disney World
A Redditor wanted to know if she was in the wrong for not inviting the daughter her current boyfriend had with his ex to Disney World. User @Appropriate_Tour_527 stated that she was chewed out by the woman through a series of messages, as they have one another's contact information in case of emergencies.
Article continues below advertisement
Many resources online discuss effective co-parenting methods to minimize animosity between former romantic partners and best meet the needs of the children they share.
One of the top suggestions from Today's Parent is "collaborate, don't litigate." In other words, work together to find solutions rather than focusing on assigning blame or finding fault.
Help Guide also urges parents to "never vent to your child," remain "kid-focused" in your dealings with your ex, and set "a business-like tone" so that conversations don't devolve into personal conversations where emotions can run high.
Article continues below advertisement

The Redditor-in-question's correspondence with her boyfriend's ex appears to touch on a lot of these "healthier" methods of communication except for one: and that's when it comes it lashing out over perceived slights.
Or, maybe it actually is a slight? That's what @Appropriate_Tour_527 wanted clarity on when she relayed her story.
Article continues below advertisement

She says she has been with her boyfriend for about three years and they each have children from previous relationships. OP said her BF was gearing up to spend two months working in U.S for work so she decided to use that time to join him overseas, during which time she planned to visit with her brother who recently moved to Florida.
Article continues below advertisement

OP planned to bring her 5-year-old daughter. Her brother thought it'd be a good idea to visit Disney World together, along with his wife and their two sons.
Article continues below advertisement

OP's boyfriend's ex-girlfriend, with whom he has a 9-year-old daughter, caught wind of their plans and messaged to express that she thought it was kind of messed up that they weren't bringing her daughter to Disney World, too. She also suggested that since her daughter is older, she would've probably enjoyed it more than OP's daughter.
Article continues below advertisement

OP explained to her boyfriend's ex that this wasn't a family vacation, and her boyfriend wasn't even coming along for the trip. If it had been a family trip, she would've gladly brought the 9-year-old along to the "Most Magical Place on Earth."
She called the request "ridiculous" and said she didn't feel comfortable taking her BF's other daughter to Disney World without him.
Article continues below advertisement

Her boyfriend's ex argued that excluding her daughter would cause a rift in the relationship between their respective daughters. "When I told her she was being ridiculous and I am not comfortable with taking her daughter without my boyfriend she told me I was horrible and that I was going to make things tough between the girls in the longterm and make her daughter feel unloved."
Article continues below advertisement

OP felt conflicted about the entire situation, stating that she likes her boyfriend's daughter a lot, but that she isn't her stepmother "just yet." Also, the point of the wasn't to go to Disney World, but to visit her brother. The theme park visit is just a part of it.
Article continues below advertisement

She wanted to know if she was in the wrong for not including her boyfriend's daughter, especially after seeing not-so-subtle posts from her boyfriend's ex stating that being in a blended family is difficult when other folks aren't "making any effort."
Other Redditors assured her she wasn't in the wrong.
Article continues below advertisement

Some wanted to know if OP's boyfriend's ex was willing to cover the costs for his daughter to go on the trip. Many suggested OP remove the woman from her social media and stick to texts or other app messaging services to communicate in case of emergencies.
What do you think? Should she have offered to host her boyfriend's daughter to come to Disney World? Or was OP's BF's ex way out of line like many other Reddit users expressed?