Rude Disney Mom Skips Line, Setting a Terrible Example for Her Child
A woman is getting criticized online after footage of her attempting to cut a child's theme park ride at Disney went viral.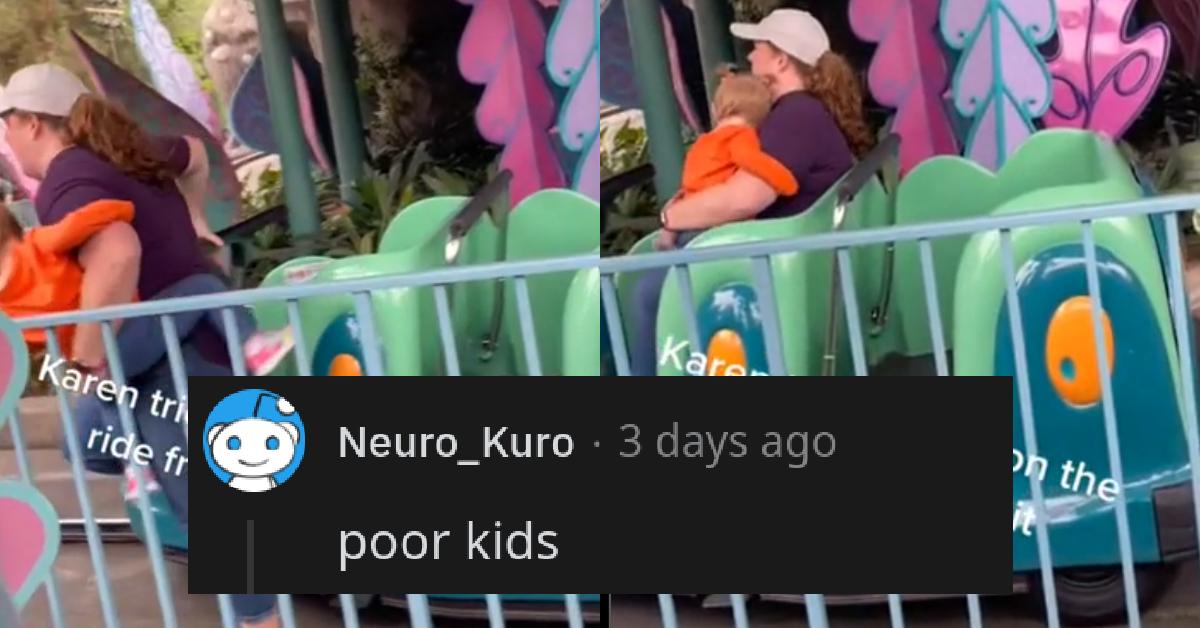 Some people were raised to become entitled monsters. Whether a direct result of the way they were raised or a habit they picked up later in life, throngs of people walk around acting like their needs and desires are more important than the needs and desires of others.
Article continues below advertisement
Maybe they truly think they're more important or others, or perhaps they don't think about the impact of their actions on others. Whatever the reason, this behavior is unfortunately far too common. Thankfully, so are folks with smartphones equipped with high-quality video cameras, so these "public freakouts" can be called out, recorded, and ridiculed by folks online.
That's what happened when an angry mother at a Disney theme park tried cutting in front of everyone in the line while clutching her child to her side. The footage went viral on Reddit's r/publicfreakout sub and was uploaded by user @trashofagirl.
A text overlay on the video reads: "Karen tried to get on the ride from the exit."
Article continues below advertisement
Not much can be heard in the 40-second clip, however, the woman's ire is fairly evident in her body language throughout the clip. At the start of the video, she seats herself and her child in a cart on Disney's Alice in Wonderland theme ride.
Article continues below advertisement

She then gets up in a tizzy and begins to make a beeline for the exit taking quick, deliberate steps, almost speed-walking towards it. However, a few seconds later she returns and appears to be arguing with folks are waiting for their turn to board the ride.
Article continues below advertisement

It appears that she is no longer carrying the child in her arms and is leaning over the railing to argue, presumably with another park guest who probably didn't appreciate her attempt to cut the line by entering through the exit and bypassing others in the queue.
Article continues below advertisement

Customer dissatisfaction with Disney parks seem to be growing. An increasing number of articles describe guests' dissatisfaction with the experience for the amount they've paid.
Article continues below advertisement

It also doesn't help that, after COVID and social distancing guidelines were lifted or loosened at parks, many attendees seem to have forgotten how to act properly in public.
Article continues below advertisement

However, Disney Dining suggests company leadership might have something to do with the frustration. "Many blame Disney CEO Bob Chapek, who took control of the company right before the pandemic started (and perhaps not coincidentally, just before guests began noticing a decline). One guest said corporate greed is to blame, 'This is what the new Disney is all about. Cutting costs and making more for the board of directors. I imagine, unless they put someone in charge that really cares about Disney and not the bottom line, it will stay like this.'"
Article continues below advertisement

Whatever the reason for poor customer behavior, a growing number of videos feature behavior like the line-cutting mom in this viral Reddit video. Throngs of commenters criticized the woman's actions, but expressed that they were mostly upset by the fact she was with her child, who is probably regularly exposed to this kind of behavior.
Article continues below advertisement

"I feel bad for her kid, too." one wrote. "Growing up with such a s--head mother like that. I can't imagine she treats them very well."
Another asked rhetorically, "Why are people so embarrassing?"
Someone else had a novel suggestion: "Let's make public booing more popular. Just straight boo this person."