People Are Freaking out About This Dissolving Fish on TikTok
A video of a user dissolving a dead fish in a glass using a "dirt dissolving agent" is making rounds on TikTok users "For You" pages.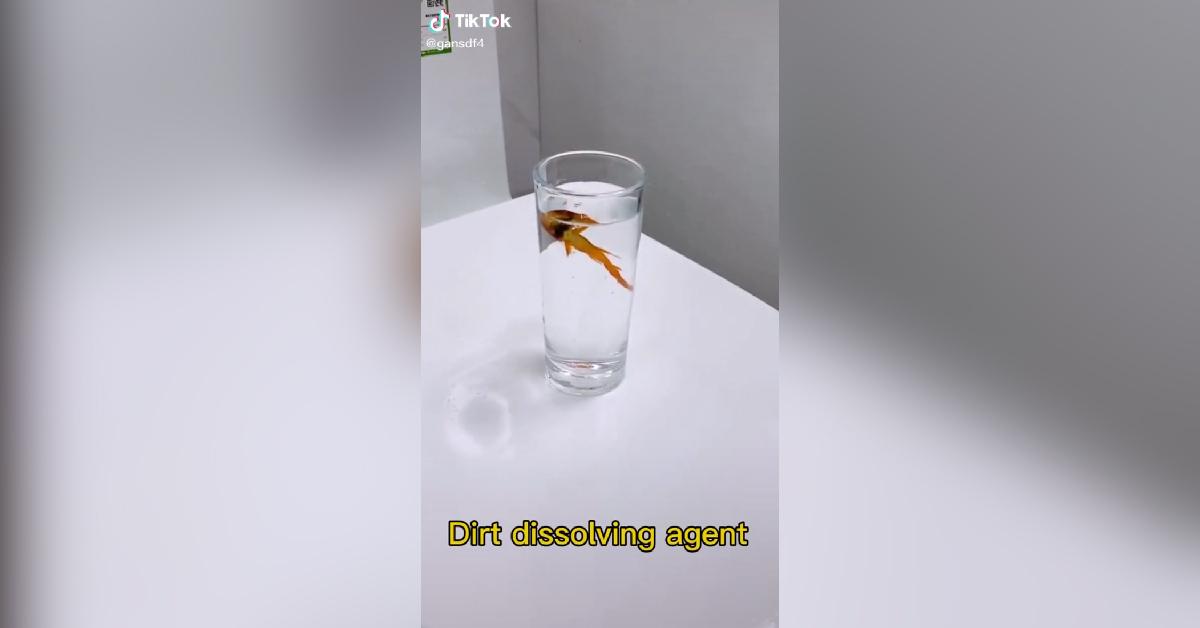 While TikTok may be home to countless trends and cool dances, like any social media site, there's also some really weird content on the site.
Recently, it seems ahead of the potential ban on the app in the U.S., everyone's "For You" page has been filled with a few of these weird videos, including one that appears to depict a dissolving fish. Yes, it's just as weird as it sounds.
Article continues below advertisement
This TikTok of a dissolving fish has gone viral.
A TikTok posted by @gansdf4, apparently to show the power of a "dirt dissolving agent," has started making rounds on people's feeds, leaving them slightly unsettled.
The video opens with the user dropping a goldfish into a glass of water before dumping a different substance into the glass. The water immediately foams up, and the user strains the water to show the fish has been dissolved.
This is also done to a very clogged toilet and an overflowing sink in the video.
Article continues below advertisement
The video appears to be showcasing a "dirt dissolving agent" the user found on Amazon, as @gansdf4 frequently shares cool and useful products found on the online retailer. Understandably, the comments are flooded with people talking about the fish that was dissolved in the first five seconds.
"was it... was it at least dead," one user commented, while another said, "HOW U JUST UNINSTALL THE FISH."
In the three days since the video was originally posted, it has already received over one million likes and 11.1 million views.
The user never directly addressed the situation with the fish in the comments of the original video but did so in the comments of one of their most recent uploads.
Article continues below advertisement

"It was a dead fish, no life is dissolved in the video," the user commented, briefly reassuring viewers. "But I change my mind now, I will DISSOLVE A living in the next video [sic]."
Since this comment, they have not posted another video, but we really hope they were joking.
Article continues below advertisement
This isn't the only strange TikTok people have seen on their "For You" pages lately.
While watching a fish dissolve is a slightly horrifying thing to casually see on your social media timeline, others have reported equally weird and disturbing things showing up on their "For You" page.
Some people are claiming that the dissolving fish is part of a strange side of TikTok that also includes flies being squished in syringes, a girl straightening her eyelashes, and a murder scene.
Article continues below advertisement
"IS ANYONE ELSE ON MURDER SCENE, FISH DISSOLVING, FLY SYRINGE, LONG EYELASH, AND WHATEVER TF ELSE TIK TOK HELP," one Twitter user tweeted after seeing the disturbing video.
Understandably, TikTok users are disturbed by these images and are vocalizing their discomfort with what they've seen on their feeds.
"the tiktok abt [sic] the dissolving fish has now made it to my instagram i'm about to YELL leave nemo ALONE," one user tweeted, while another said, "I saw a tiktok of a fish dissolving in water. Maybe that app should be banned."