From humorous segments to insightful discussions about pop culture and beyond — especially through the lens of Black womanhood — Scottie Beam and Sylvia Obell of the aptly named Scottie and Sylvia Show are an up-and-coming powerhouse in the world of podcasting. After years of working and vibing together, the two were picked up by Issa Rae's Raedio and are now headed for widespread stardom. In fact, they're so beloved by their audience that The Scottie and Sylvia Show has been selected as part of Spotify's RADAR program, made to showcase a diverse set of audio's next generation of great voices from across the world. RADAR aims to create opportunities and pathways for discovery within various markets across the globe, so that growing shows can garner new, larger audiences.
Distractify chatted with Scottie and Sylvia to learn about favorite social media trends, their dream podcast guests, and more.
Article continues below advertisement
What's your favorite topic you've ever covered on 'The Scottie & Sylvia Show'?
SB: "Beyond The Stars" ft. Danielle Ayoka. That astrology reading read us for filth! I had no idea astrology could tell others what type of mother and father they have.
SO: I loved our episode "We're Done Being Humble" where we talked about the wave of Black women athletes who are winning loudly and not afraid to own their greatness/talent. It aligned perfectly with Coco Gauff's grand slam win at the US Open. And it does what we do best: take something happening in culture and dive into certain themes that speak specifically to the Black woman experience. In this case it was how we werent raised to recieve praise well and how respectability politics often try to quiet us and tame our inner confidence.
What's your most-used emoji?
SB: 🙃 — It's my response to anything "ick" related.
SO: 🫠
Article continues below advertisement
Talk about the moment you felt you had "made it" in your career.
SB: When Issa [Rae] signed us to Raedio.
SO: I think the initial moment that led to this podcast is a good example of one of those moments. I was chosen to do the first ever cover story for the Today Show on Issa Rae. Her first big interview post-Insecure, and on set, not only does the talent (Issa) respect and follow my work, but also pitched me bringing my podcast to her audio company. And the Today Show did a feature package on me as a creative that aired on national TV. It was like all my lanes merged in a crazy way.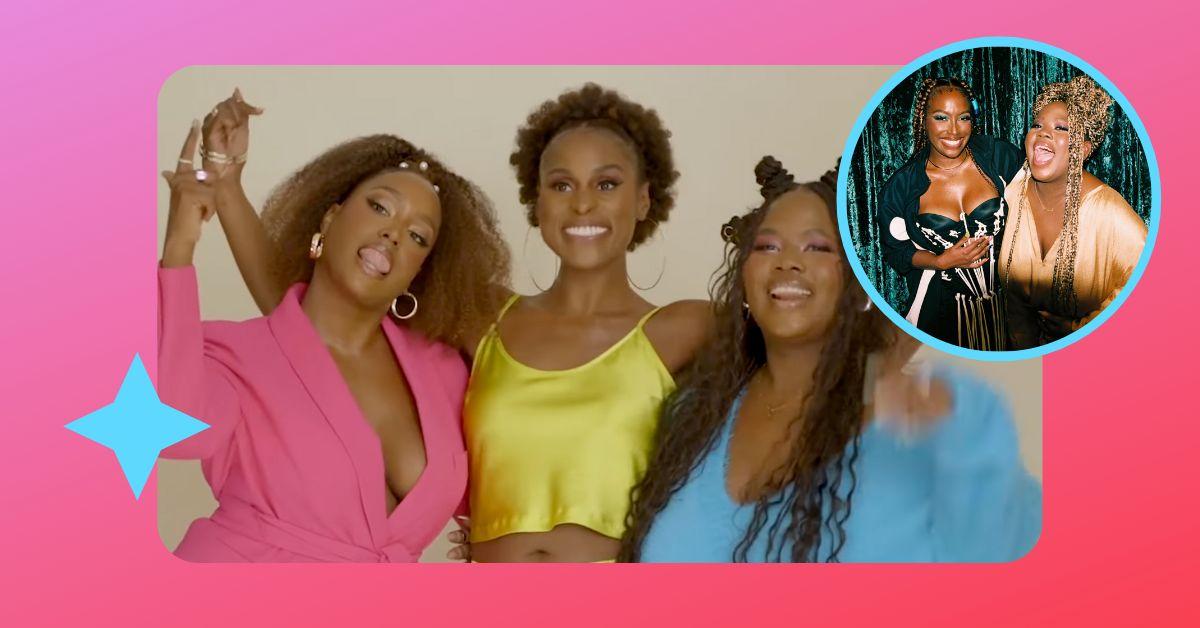 Article continues below advertisement
If you could give your younger self any advice, what would it be?
SB: Your vibrant and curious mind is what the world needs. Don't change.
SO: Trust that God has good plans for your life.
What's the best book you've read recently and why?
SB: Sisterhood Heals by Dr Joy. I love learning new ways to bring the community together emotionally and physically.
SO: Sisterhood Heals by Dr. Joy because my friendships have played a big role in my healing, and it was so great to get more wisdom from a licensed therapist on how to pour into those relationships that have poured so much into me. Who we go through life with is just as important, if not more, as what we do.
Article continues below advertisement
If you could bring back one thing from the '90s, what would you pick?
SB: Menus … EVERYTHING A QR CODE [sic].
SO: UPN and their Black-a-- primetime TV show lineups.
Article continues below advertisement
What's your current favorite social media trend?
SB: Scrolling ... a trend that will never die.
SO: All the ones that use the "Wassup Gwayy" song, and its like, "The friend who…" and then "the friend who…" — does that make sense? I feel like a geriatric millennial whenever I try to talk about TikTok.
Shout out one of your favorite fellow creators!
SB: Lynae Vanee — she's building a strong informative brand that is very necessary for the community.
SO: Skylar Marshai constantly blows me away with her gorgeous travel photography content and brand influencer posts that look like editorial spreads. IDK how she does it, but I'm hard pressed to find a more beautifully curated page.
Article continues below advertisement
What's your go-to karaoke song?
SB: "Many Men" by 50 Cent.
SO: "Ex-Factor" by Lauryn Hill — something that makes people emotionally sing R&B always is a good time for me and my crew.
Who is your dream podcast guest, dead or alive?
SB: Serena Williams. She's my icon. I've always admired how she responded to the outside noise. Her passion is loud, just like me.
SO: Beyonce.
Article continues below advertisement
If you couldn't be a content creator, what would your dream job be?
SB: Psychologist. I'm nosy.
SO: I think I'd make a good lawyer, and that's a much more stable career, LOL.
Article continues below advertisement
Share your top three desert-island necessities.
SB: A smart device with a phone, Pure Leaf tea, and my dog Nina.
SO: A smart device with WiFi, food, and someone I love.
What's your No. 1 distraction?
SB: Myself.
SO: A smart device with WiFi, LOL.