New Diverse Barbie Collection Celebrates Different Body Types, Skin Tones, and Hair Types
Barbie is expanding their diverse collection to include dolls with many different skin tones, hair styles, and body types.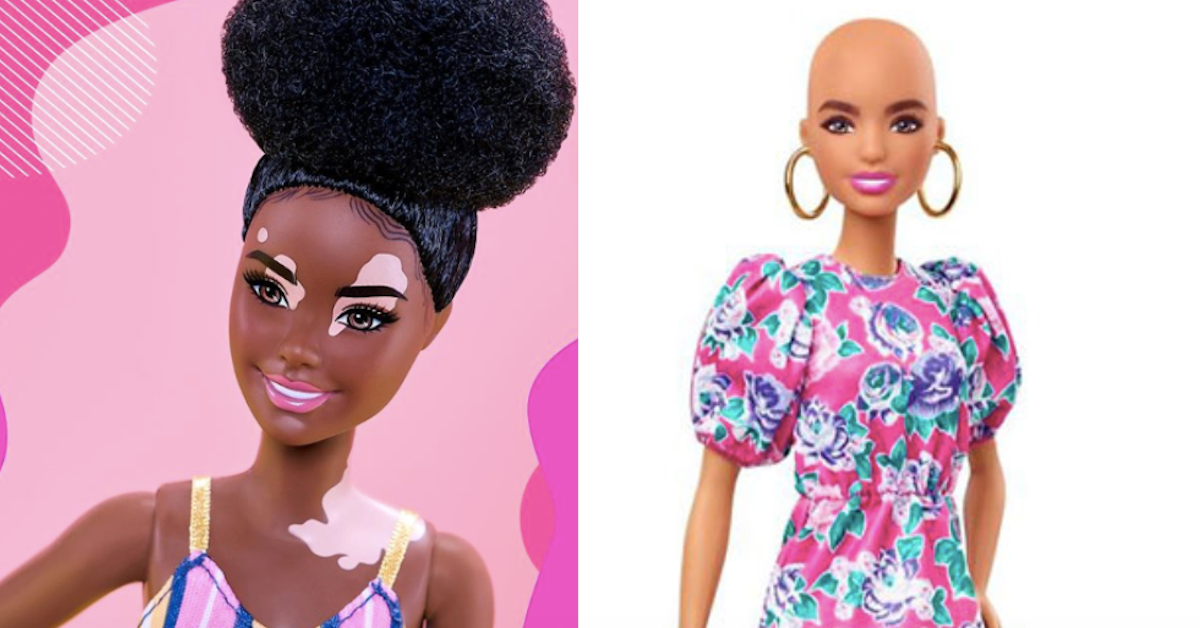 After years of criticism for only representing one very white, very blonde, very unrealistic body type, Mattel's Barbie brand has been working hard to diversify their collection and make dolls that represent the people who want to play with them. Barbie's Inspiring Women line sought to show that real-life role models come in all shapes, sizes, and colors. A "Love Wins" campaign showed that Barbie could be LGBTQ+.
Article continues below advertisement
And now, Barbie's Fashionista line is intent on bringing doll lovers everywhere representations of different skin tones, hair colors, and body types. "176 dolls, nine body types, 35 skin tones, 94 hairstyles" the website boasts. Barbie gets three new body types: curvy, petite, and tall. Ken also has new body types "and a range of diverse features including a man bun, cornrows, and freckles."
There's an impressive range of skin tones and a variety of hair styles, textures, and lengths for both Barbie and Ken. A doll with vitiligo, a skin condition that causes loss of melanin in patches on one's skin, has also been introduced. A bald Barbie will hit stores later this year. In a press release, Mattel said, "If a girl is experiencing hair loss for any reason, she can see herself reflected in the line."
Article continues below advertisement
People withe physical disabilities will also start to see themselves represented in the Barbie world. In 2019, Barbie debuted a doll who uses a wheelchair. In 2020, there will be a more diverse lineup of wheelchair-using dolls. The line also includes one doll (soon to be two) with a prosthetic leg.
This movie is part of a continuing effort to diversify Barbie and revitalize what was until 2015 a struggling brand. Fast Company reports, "In 2015, the Barbie franchise went through a major reboot" and focused on representing people of all different body types, colors, and styles in their doll lines.
Article continues below advertisement
And not only is Barbie's evolution important for young kids everywhere, but it's also proving to be quite good for business. According to Fast Company, "Barbie sales reached a five-year high last quarter, jumping 12 percent during the last holiday season." And the most popular doll?
Barbie's top seller in 2019 was a curvy black doll with an Afro, according to USA Today. "And among the 10 top-selling Fashionistas last year, seven were diverse, including the doll that uses a wheelchair."
Article continues below advertisement
Lisa McKnight, senior vice president and global head of Barbie told USA Today, "What we're excited about and proud of is not only is this the right message to send to children, but our efforts focusing on diversity are resonating ... from a business standpoint. The brand is thriving." Huh! It's almost like if you make toys that look like the people who want to play with them, they'll buy more of them. What a concept.
Article continues below advertisement
Many of these new dolls will be rolled out throughout the year. Bald Barbie and the dark-skinned Barbie with a gold prosthetic limb are set to hit shelves in June, according to Mashable. Barbie has been adding to its Fashionista line over the last five years, bringing new and different representations to the Barbie universe.
One can only hope this trend continues. And a lot of the new additions have to do with requests from fans and people who want to see themselves represented in the Barbie brand. Lisa McKnight told USA Today, "Our wheelchair Barbie and our doll with vitiligo were literally fan requests."
Article continues below advertisement
On sale right now are the new Ken doll with long hair and the Barbie with vitiligo. The others will become available for purchase in June. It's about time popular toy brands like Barbie started to represent the people who buy their product. And they're not the only ones.
Article continues below advertisement
Adrienne Appell, a trend specialist and spokeswoman for The Toy Association, told USA Today, "Consumers are asking for this." People want dolls that look like them, and for the first time, toymakers are embracing it.
USA Today reports that American Girl's 2020 "Girl of the Year" is hearing impaired. Accessories that you can buy for your American Girl Doll now include things like a wheelchair and a diabetes care kit. It's so important that kids see themselves represented in toys and on screen and in all of pop culture as they grow up. We're far from done, but Barbie's Fashionista line is a step in the right direction.