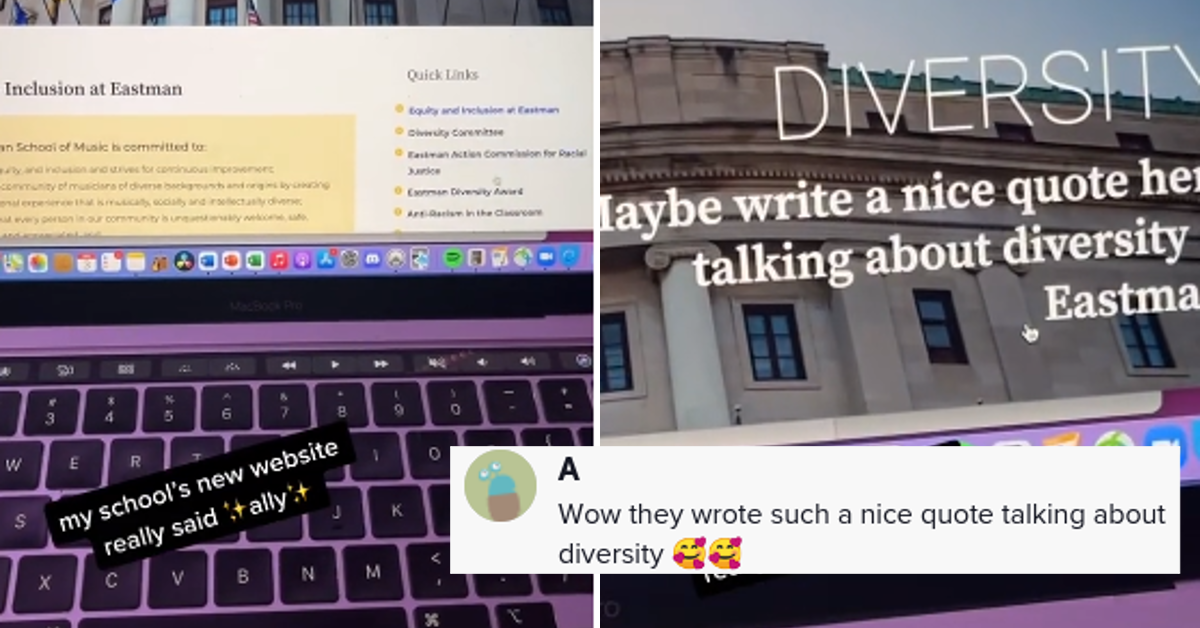 University Publishes Diversity Filler Text on Website, Gets Called Out in Viral TikTok
It's no secret that there are throngs of companies that utilize feel-good social justice movements and well-intentioned progressive ideologies in order to seem like they are a more caring corporate entity.
And while it's difficult to believe that anyone's intentions are pure whenever they're trying to get you to give them money, there are some businesses that actually follow through.
Article continues below advertisement
And when one thinks of educational institutions, they usually think of inclusive safe spaces for students so that they can thrive and enrich their minds.
Well, at least that's what's supposed to happen. Many American universities are very much for-profit operations that are ultimately, for many majors and vocations, not worth the money.
A big part of schools portraying themselves as bastions of academic excellence and wonder is depicting inclusiveness.
Article continues below advertisement
However, at least for this TikToker and the school they attend, that "we care about diversity" play may just be that, a play. Alex, who posts under the handle @alexttada, uploaded a video that shows some of the text copy on the University of Rochester's website.
Article continues below advertisement

Alex is pursuing a music major at the school and while checking out the new website that was designed for the institution, he found a section titled "Eastman Diversity Award" and clicked on it.
Article continues below advertisement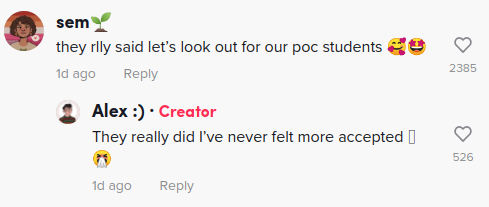 After the page loaded, he found a snippet of placeholder copy that read: "Maybe a nice quote here talking about diversity at Eastman."
"My school's new website really said ✨ally✨," Alex penned in the caption for his now-viral TikTok.
Article continues below advertisement

Commenters on the video expressed that they couldn't help but feel that the way whoever was writing about diversity and inclusion on the University website addressed it as if it was an afterthought and not really something they felt was important or that they were passionate about.
Many also isolated the "maybe" word which rubbed them the wrong way.
Article continues below advertisement

Some said that the phrasing of the copy had racist undertones. However, there were many other commenters who thought that people were reading too much into the "diversity copy" note.
Furthermore, others who've worked in helping to design websites while working with a content management system in the past have stated that many of these pointers are usually pithily expressed as a means of saving time and working more efficiently.
Article continues below advertisement

Alex said that they enjoy attending the University and his TikTok was mostly uploaded as a joke: "I swear the vibes here are great you have nothing to worry about, this is really just proof they need to hire better web designers."
If you head on over to the web page in question you'll notice that the copy isn't there (presumably anymore) and that it's populated with photos of winners of the award over the years.
Article continues below advertisement

What do you think? Did whoever was working on the website make a big mistake? Is the mere mention of "Diversity" opening up the floodgates of criticism? Or should Rochester University have had a better handle on this situation?