Divorce Lawyer Says Men Should Always Pay on First Dates, Here's Why
A Divorce Lawyer rustled some jimmies in a now viral TikTok after stating his reasoning for why men should always pay on first dates.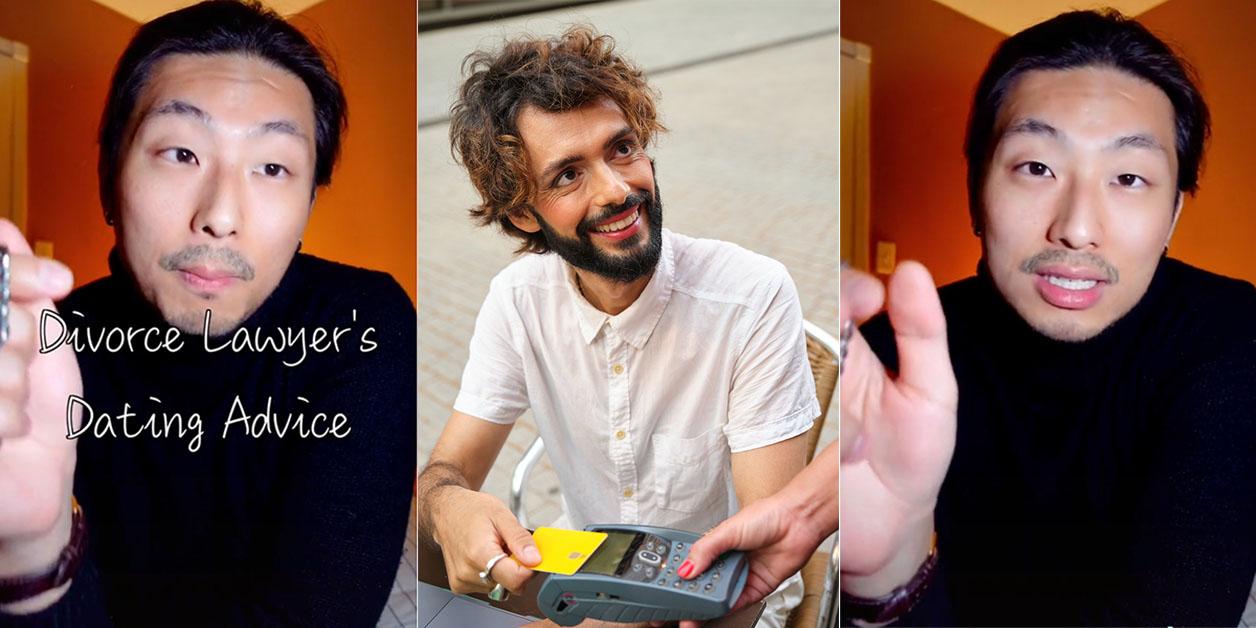 Although there have been improvements to the gender wage gap over the years, there is still a big discrepancy in the amount, on average, that women earn when compared to men for similar roles and responsibilities in the workplace.
And while there are tons of heteronormative practices that have been challenged over the years in a variety of different industries and social circles, when it comes to salaries, on average, it still very much is a man's world.
Article continues below advertisement
That doesn't mean there aren't countries attempting to change this, like Iceland, which requires proof of a company's willingness to pay women equal to men for identical jobs.
But in areas where this isn't predominantly practiced, it's still very much expected that in heterosexual relationships that share finances, men are expected to be the primary breadwinner.
This also creates a host of different power dynamics with deeply entrenched psychological consequences between couples and families at large, and these dynamics often begin as early as a first date.
As of this writing, 63% of polled women believe that men should foot the bill on a first date, and a now-viral TikTok from Toronto-based Divorce Attorney Justin Lee suggests that this gesture holds huge implications, based on what he's seen throughout his career.
Article continues below advertisement
According to Justin, a man's willingness to offer to pay for that first meal is "the best litmus test" to judge his character. While Justin clarifies that whoever pays and how the check is divvied up is ultimately not important, that initial gesture makes all the difference; the man should offer to cover it.
Article continues below advertisement

"The issue is when we end up paying for someone who has this real sense of entitlement. Like this expectation that we will pay," Justin states in his video.
Article continues below advertisement

Justin says that many first dates often snowball into marriages and that dynamic is ultimately what carries on throughout the rest of the relationship. If a precedent is set up that the person on the other side of that table (unless you're one of those head-over-heels couples who sat side-by-side with one another from the get-go) then it's this "audition" that people are judged on and/or expected to fulfill down the line.
Article continues below advertisement

"Trust me when I say, as a divorce lawyer who you end up marrying is so, so important," Lee states. But the offer to pay isn't "just" for a woman who's on a first date with a man, but for the man who is making the gesture to foot the bill too.
Article continues below advertisement

He recommends that folks should offer to pay and then gauge the other individual's reaction. Do they offer to take out their wallet and split the check? Do they try and cover at least a few items or at the very least the tip?
Article continues below advertisement

Justin states that someone not making any motion or effort to pay could ultimately be a "red flag" that could lead to some problems between the two of you down the line. "In that moment, what did you just learn? [Do they] have, frankly, the audacity to expect a near-stranger to pay for them? Just imagine how someone like that will treat their significant other."
Article continues below advertisement

Justin's clip sparked a massive viral debate. Some stated that women have a much larger initial investment in the first date in terms of doing hair, make-up, and putting an outfit together that the man should be expected to pay. Others stated that whoever offered to meet up should foot the bill and that the other should simply offer to cover the gratuity.
Article continues below advertisement

Others thought that men should flat-out pay for that first date, while others said, "Equality until the bill comes. Just look at the comments."
What do you think? Does it boil down to whoever offered to go out to eat should pay for that meal? Or should a guy in a heterosexual relationship be the one to cover the check under any circumstances? Or should it always be dutch or does it depend on the situation?