D.J. Uiagalelei's Dad, Big Dave, Is Even More Famous Than the Tigers Quarterback
Here's everything you need to know about D.J. Uiagalelei's dad, Big Dave, and his mom. Because there's no way you won't be seeing more of them this season.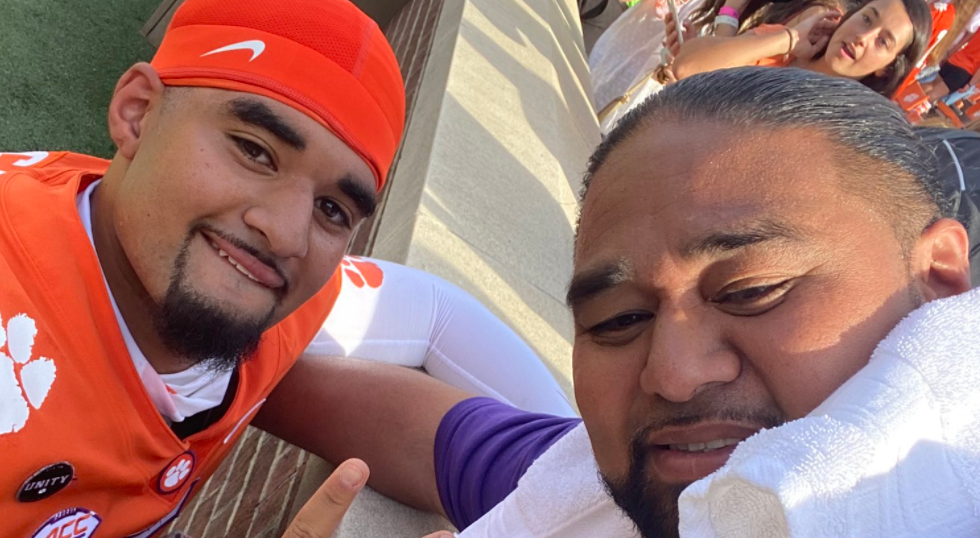 If you're a fan of David John "D.J." Uiagalelei (pronounced oo-ee-ANH-gah-leh-lay), quarterback for the Clemson Tigers, then you're also a fan of his dad, "Big Dave" Uiagalelei, who's his biggest hype man. It was pretty much all anyone could talk about during D.J.'s first game (when the Tigers played the Boston College at Death Valley). Big Dave was given as much — if not more — air time as his son.
Article continues below advertisement
"It was cool. I got about 400 text messages after the game," D.J. told USA Today. He added, "I know he's a happy dad, but sometimes he can be over the top. He likes the spotlight. I'm more like my mom; I'd rather be low-key."
Article continues below advertisement
Who are D.J. Uiagalelei's parents?
Big Dave is a former bodyguard who worked for celebs like Rihanna, DJ Khaled, Nick Cannon, and Meek Mill. But he gave that up to spend more time with his son, even though he made a lot of money as a celebrity body guard. When D.J. was 9, he asked his dad why he was away so much, so Big Dave quit his job as a body guard and became a resource officer at a school.
D.J. is from Bellflower, Calif, and his parents are first-generation Americans whose parents are originally from the Samoan Islands. D.J.'s mothers is Tausha, who's also a big fan of her son.
Article continues below advertisement
In order to make money for their family, Tausha became a surrogate mother six times, but was at least able to be there for D.J. and take him to practice while his dad was at work. "There was no way I could've done all that I did and get them to the practices, wherever they needed to go if I was working a full-time job," she said, per the Post and Courier.
Article continues below advertisement
Even though Big Dave made less money after he quit being a celeb body guard, he made sure that his son went to camp and received all the training he needed to become the rising football superstar he is today.
Big Dave told USA Today just how proud he is of his son (just in case anyone doubted this), saying, "D.J. doesn't like seeing all the rankings and what people say about him."
He added, "But someday he'll understand what it is to be a proud dad. I'm no LaVar Ball. I'm just grateful and thankful to have a great kid. I just want everybody to know that he is as advertised. I always knew this would happen. It was just a matter of time until the rest of the world found out."
Article continues below advertisement
D.J.'s internet-famous dad admitted that he hopes his son finds the success he didn't. Although he had the potential, he never trained like D.J. trained and didn't finish high school.
"Sometimes you look back at the life you've lived and you realize that's the reason I raised my kids the way I did. I didn't want them to follow in my footsteps. I want them to take advantage of all opportunities," Dave told USA Today.
There's no doubt we'll be seeing more of Big Dave cheering his son on in the games to come.