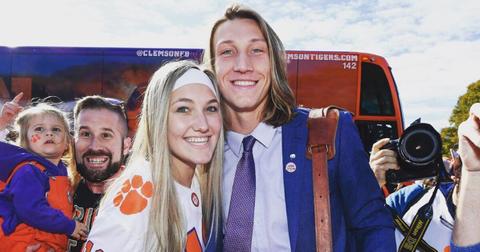 Trevor Lawrence's TikTok Twin Won College Football This Season
By Allison Cacich

Updated
Clemson may have lost the Football National Championship to LSU on Jan. 13, but the university's quarterback, Trevor Lawrence, can still crack a smile thanks to his TikTok lookalike.
Back in November, a 16-year-old girl from Georgia went viral on the video-sharing app for hilariously (and very accurately) imitating the longhaired athlete. Here's what we've learned about Trevor's doppelgänger.
Who is Trevor Lawrence's TikTok twin?
Bella Martina has also been compared to actress Ava Michelle.
The internet celeb joked that she's the love child of Lawrence and the Tall Girl star, who's 6'1". Martina made the connection as part of the popular "My Mom Met My Dad" trend on TikTok in which users pick two celebrities they resemble to be their "parents."
The audio that accompanies the video was created by TikTok user @steeerling and mocks those cliché introductions you typically hear at the beginning of teen movies: "It all started when my mom met my dad and they fell in love and they had me. Hi, I'm Ryan, and my life is kinda crazy."
"When men's size 13 Nikes meets sunshine," Martina captioned her version of the meme, most likely referring to the beloved Remember the Titans character who famously sported long hair like Lawrence.
Though Martina gained a following due to her impressions of the all star, it sounds like she's ready to retire the bit. "OK I promise I'm done stealing this man's identity," she wrote next to one video.
We've never been so bummed that college football season is over!