Doctor's Heartbreaking Message to Kids In Case She Dies Fighting Coronavirus Goes Viral
Doctors are facing shortages of the protective gear they need to avoid catching coronavirus.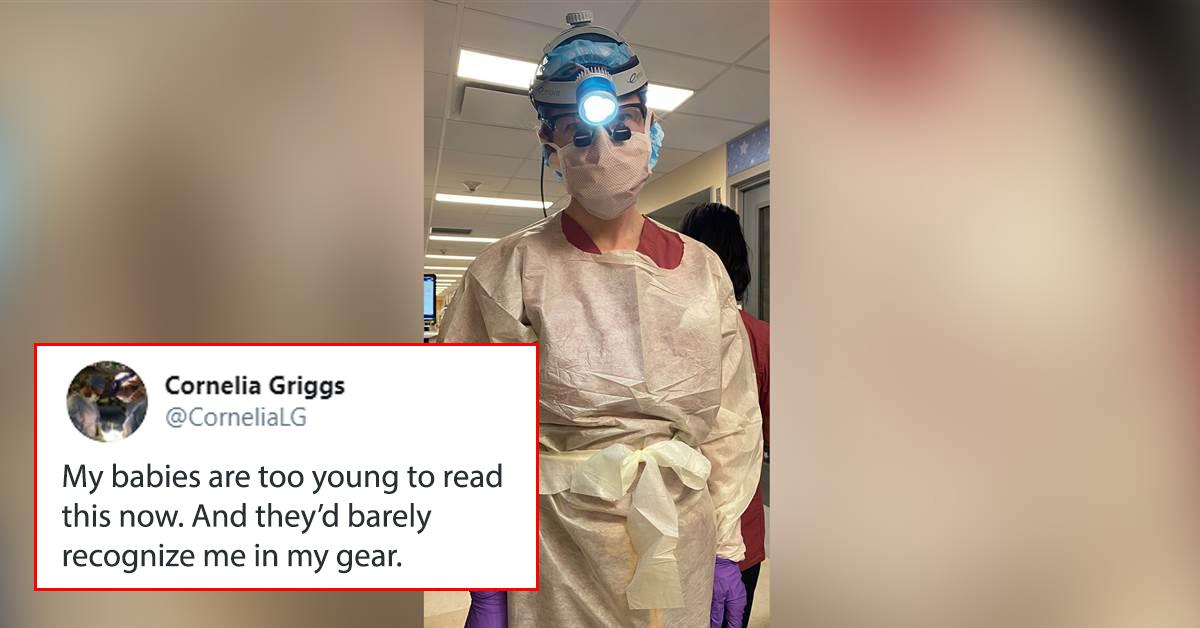 A doctor on the frontline of the battle against coronavirus has penned a heartbreaking message to her kids in case she dies as a result of the disease. Dr. Cornelia Griggs, a pediatric surgeon in New York City, shared a photo of herself in full protective gear along with the message.
Article continues below advertisement
The tweet has attracted over 100,000 comments and 600,000 likes as of the time of writing.
"My babies are too young to read this now," she wrote. "And they'd barely recognize me in my gear. But if they lose me to COVID, I want them to know Mommy tried really hard to do her job."
Article continues below advertisement
In a New York Times op-ed titled "A New York Doctor's Coronavirus Warning: The Sky Is Falling," Griggs explained further: "Patients are lining up outside of our emergency rooms and clinics looking to us for answers — but we have few ... Making my rounds at the children's hospital earlier this week, I saw that the boxes of gloves and other personal protective equipment were dwindling. This is a crisis for our vulnerable patients and health care workers alike."
Griggs' message attracted plenty of positive comments, with one writing: "Earlier, children used a cape to think of themselves as superheroes. The children of the future will wear PPEs to show themselves as superheroes. That's a superhero outfit."
Article continues below advertisement
While another added: "Your post choked me up. God bless you and protect you. I hope you receive the PPEs needed. Thank you for your work. Your children will be proud of you and may you live a long life and feel it! Thank you!"
Article continues below advertisement
Griggs ended her post with the hashtag "GetMePPE." Doctors and hospitals around the country have reported shortages of the protective gear they need to protect themselves from infection, with some reportedly forced to wear the same masks and visors for days on end.
Article continues below advertisement
Dr. Joseph Sakran, a trauma surgeon at Johns Hopkins Medicine in Baltimore, was one of those to speak out using the hashtag. In a Twitter post, he wrote: "It's hard to come to grips with the fact that when coronavirus is over some of us in healthcare will not be standing. And to think that is partially due to a lack of PPE is infuriating."
Article continues below advertisement
While Dr. Ayrenne Adams, a doctor at Brigham and Women's Hospital in Boston explained: "After examining a hypoxic woman in her 50s with no medical problems who likely has COVID, I had to clean my single-use face shield that I've worn the past three days with disinfectant used to clean hospital beds since we ran out of sanitizing wipes."
Article continues below advertisement
This emergency room doctor has even resorted to putting his protective gear in an oven to try and kill any viruses that might be on them.
Article continues below advertisement
And one doctor shared a photo of the bags that doctors are using to store their reused protective gear.
Protective gear is essential in keeping health workers free of the virus, and reusing gear increases the risk of infection. We need to do all we can to protect keep healthcare workers, who are caring for the most vulnerable in our society.
The best way to prevent contracting or spreading coronavirus is with thorough hand washing and social distancing. If you feel you may be experiencing symptoms of coronavirus, which include persistent cough (usually dry), fever, shortness of breath, and fatigue, please call your doctor before going to get tested. For comprehensive resources and updates, visit the CDC website. If you are experiencing anxiety about the virus, seek out mental health support from your provider or visit NAMI.org.