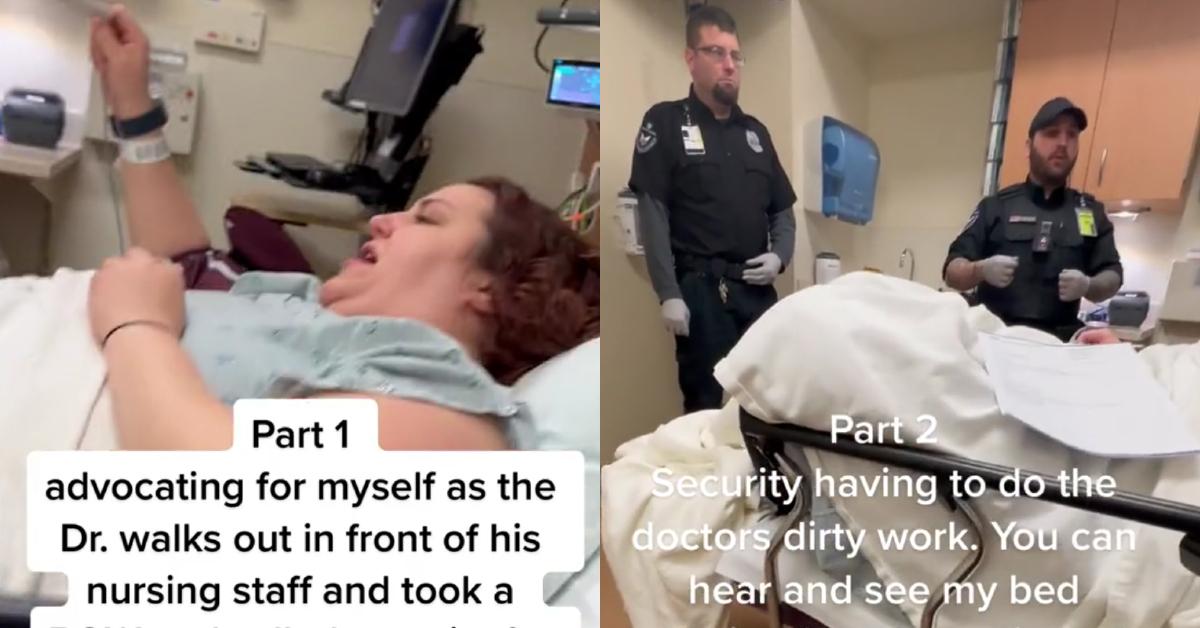 Doctor Threatens to Call Police on Screaming Patient in Pain, Sparking Debate
A doctor called security on a patient after she derided him for saying he accused her of drug-seeking behavior while in recovery for a spinal injury.
Amy Conrad (@amyconrad) recorded a series of difficult-to-watch videos on her TikTok account while receiving treatment at a hospital where she claims that a doctor called security on her after complaining about the quality of treatment she was receiving.
Article continues below advertisement
She claims that a doctor at Essentia Health-Fargo in Fargo, N.D., Dr. Tony Hamilton, called security on her after she started screaming in the hospital treatment room to meet with patient advocacy. "I want your patient advocacy...now," she tells the doctor in an initial clip she uploaded of her experience at Essentia.
Amy can be heard speaking with someone off-camera, presumably her doctor in her video. She says that she's been given medications but is unsatisfied with the level of care she's received. The individual recording the TikTok shows her blood pressure on a screen monitoring her vitals, which reads 170/117.
Article continues below advertisement
She writes in a text overlay of the clip: "advocating for myself as the Dr. walks out in front of his nursing staff and took a BOW and called security for them to call the police"
Article continues below advertisement
"How am I supposed to be moving when I'm in chronic pain?" she asks. In other TikTok videos she uploads to her account speaking to her gripe with Essentia Health, she references that she has a spinal cord injury over a screenshot of an email suggesting that she lose weight in order to help manage her pain.
Amy writes that she doesn't know anyone with a spine injury who has been incapacitated for 10 months and hasn't gained weight, while also criticizing the doctor for assuming she's a chronic smoker while her charts indicate otherwise.
Article continues below advertisement
In the video, she argues that she hasn't been monitored for 15 minutes and she "knows the rules" hospitals are supposed to abide by because she used to be a nurse. She also says that she has high blood pressure, "which is a stroke risk" and then calls out the doctor, saying that he should know this.
Article continues below advertisement
He then says off camera that he's going to call the police, and she replies, "call the police I don't give a s--- you're a horrible doctor, you're a horrible, horrible doctor. That's why you have a 3.4 rating."
She goes on to further yell at the doctor as he walks out of the room and she seems to indicate that she was being accused of exhibiting "drug seeking" behavior, which she says isn't the case, she's just looking for relief for her pain.
Article continues below advertisement
"I am trembling, I am not a drug seeker, you can look at my chart, he refuses to watch it, I'm supposed to be on a 15-minute watch and then he comes in here with the balls that he's gonna send me home?" she says to a security guard in the room.

Article continues below advertisement
In a follow-up video her legs can be seen shaking on camera as she continues to deride the doctor and the treatment she's received while she converses with two security guards stationed in her room. A text overlay in the clip reads: "Security having to do the doctors dirty work. You can hear and see my bed shaking from the pain and the spamming."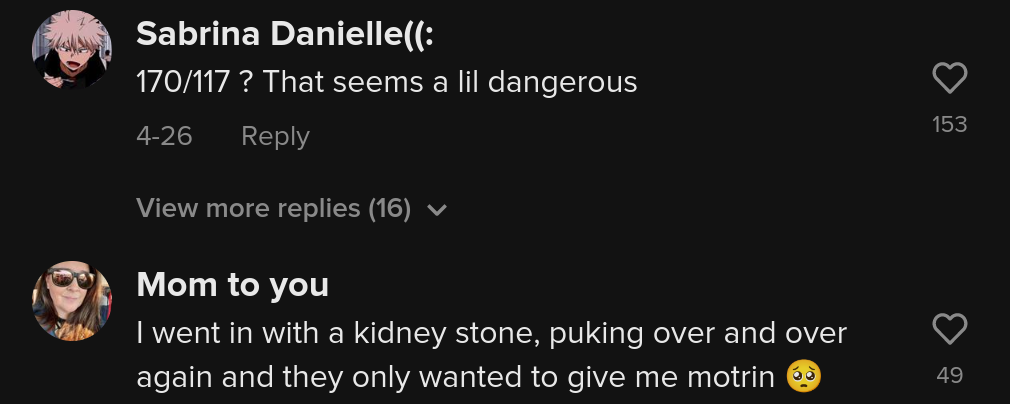 Article continues below advertisement
Amy cries in the video that the pain won't stop. A man recording the video says that he has had surgery done in the same center and that he commiserates with the woman's pain, "I know what she's going through and it's not fun," he tells the security guards. He then exclaims how shocked he was to see her treated by the doctor in that manner.
"My mind is blown," he says near the end of the second clip.
In a third video she demands that the doctor be arrested if he wants to call the police on her. In follow-up videos, she delineates that Essentia-Health would be conducting an investigation into her incident, but that she hasn't received any further information on that investigation.
Article continues below advertisement
In her most recent video about the incident, she lists the doctor's name in addition to his license number stating that there was 4 days left for them to review the incident out of the 30-day period she said it takes for them to look into her grievance.
Article continues below advertisement


A number of commenters expressed their shock at Amy's pain and her blood pressure results, while others shared their own awful stories from hospital visits themselves, stating that they too have experienced instances where doctors seemed reluctant to believe that they were in pain and that they were misdiagnosed in the process.