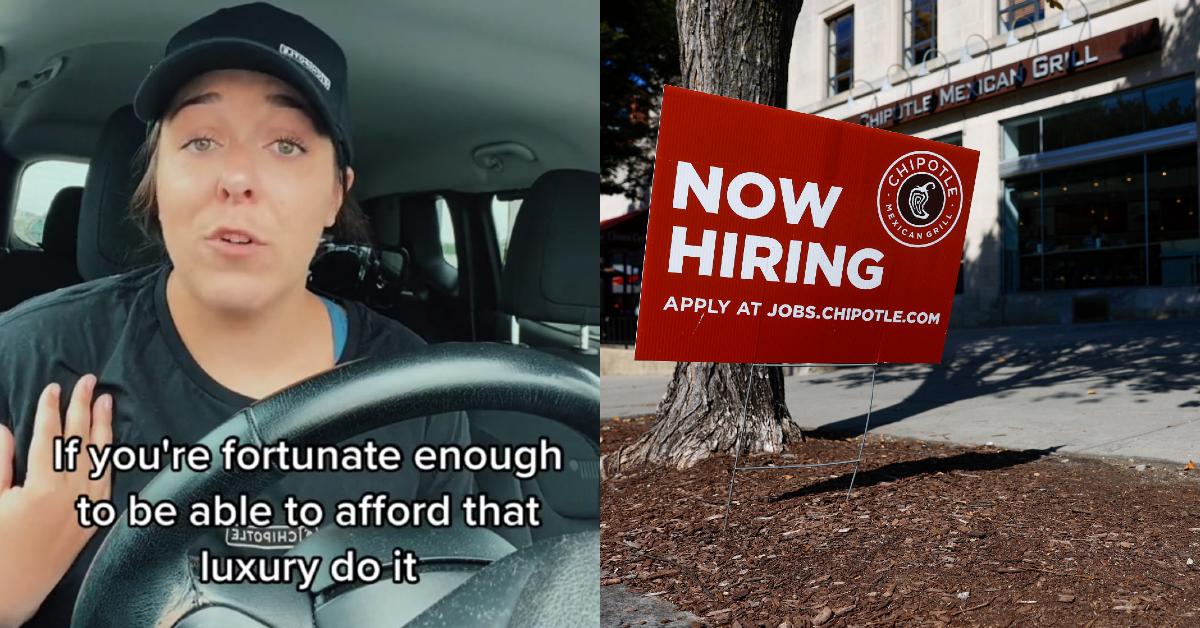 "Went From Making 115k to $15/hr." – Woman Says She's Happier at Chipotle Than Big Tech Job
A woman who went from making $115,000 a year in Big Tech says she prefers working in Chipotle after her layoff.
A woman who said that she was part of the recent swarm of tech job layoffs is now working at Chipotle but is much happier "rolling burritos" due to the amount of work she did at her previous position.
Article continues below advertisement
@Suburbconvert says that her tasks would spill on over to her family vacation time and she would bring her laptop while on the road. Ultimately, she found that her sacrifices were work went unnoticed as she lost her job anyway and she would much rather work a lower-stress job that didn't take a toll on her mental health or dig into her time with loved ones.
The TikToker speaks into the camera in a video that she records from her car: "I was part of the recent massive IT corporate layoff and like many of us I was a top performer that got let go with no notice."
Article continues below advertisement
She continued, "I can't tell you how many, no, all of my family vacations that I took while at that company I worked while I was on vacation. I brought my laptop and worked because I felt like that would be rewarded in the end."
Article continues below advertisement
She learned that this wasn't the case as she ended up becoming part of legions of tech layoffs that occurred in 2023. TechCrunch reports that some 168,243 employees were let go from businesses that included Google, Amazon, Microsoft, Meta, and many others.
Article continues below advertisement
@suburbconvert continued to say that folks who have managed to hold onto their good jobs should learn to set boundaries as she wishes she did so, citing that her dedication to the job ultimately didn't prevent the proverbial axe from falling on her.
"All this is to say that if you are still employed...set boundaries. What are they gonna do, fire you? If you don't set boundaries they're firing you anyways. And if you are a layoff victim, first of all I'm sorry, and second of all, go get you a $15 job rolling burritos."
Article continues below advertisement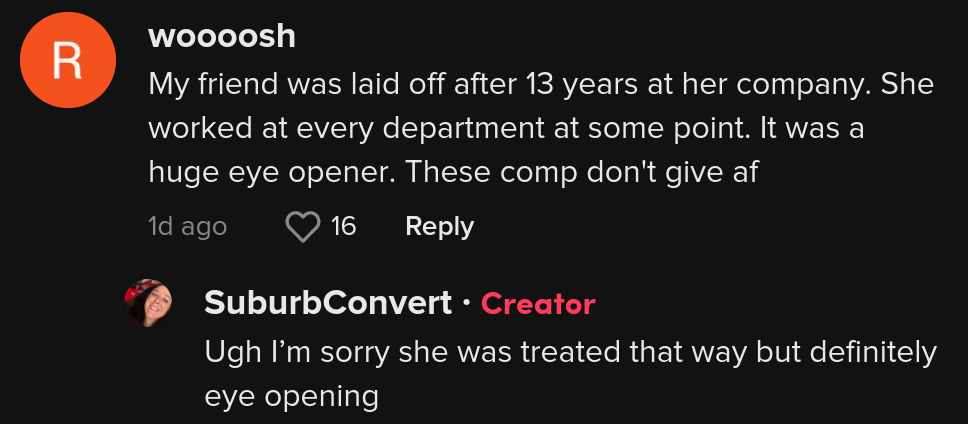 She then points to her own Chipotle work uniform as she says this. "If you're fortunate enough to be able to afford that luxury — do it. It's worth it, your mental health and your life is not worth the salary of accomplishment of a 'career'."
Article continues below advertisement
In a caption for the video, @suburbconvert writes that she seems to prefer working in a fast-casual restaurant versus big tech as she lives a more stress-free existence when compared to her previous position, and she urged individuals to care less about succeeding in the "career" of their dreams and to put more stock into their mental health instead.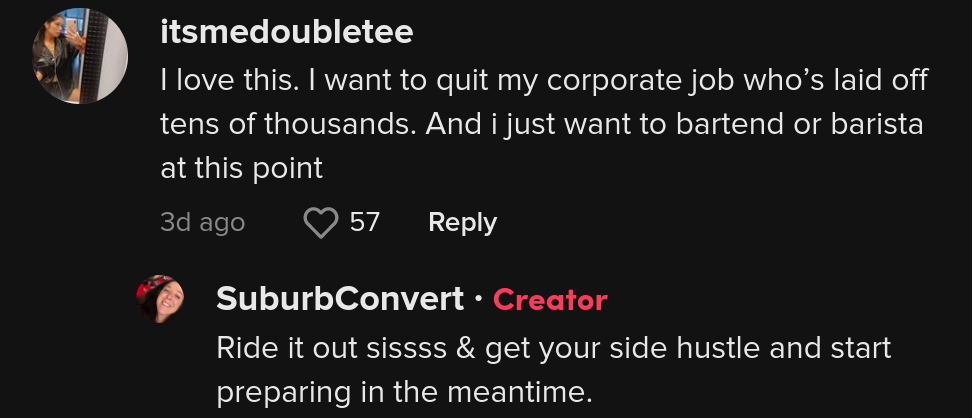 Article continues below advertisement
"Went from making 115k to $15/hr. And you know what? I recommend babes," she wrote.
One commenter said that they found it "insane that corporate trauma has us considering service/min wage jobs as a luxury"
Another person said that they learned to set boundaries for themselves in the workspace due to their stint as a consultant: "Consulting taught me a long time ago to have HARD boundaries - and stick to them. No one has access to me 24x7. Idk enough"
Article continues below advertisement

Someone else agreed with her statement that not setting boundaries will ultimately result in a person being fired anyway, applauding the message: "AND THATS REAL"
Article continues below advertisement

Another commenter remarked: "Never, EVER, work on vacation or go above and beyond at all ever. Ever"