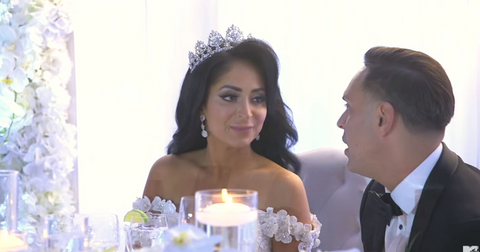 Angelina Seems Really Hurt by Her 'Jersey Shore' Castmates After Her Wedding (SPOILERS)
By Devan McGuinness

Updated
People tune into the Jersey Shore series to catch all the drama that follows the castmates around. Sometimes it seems fabricated to make for better TV, but other times the happenings seem so far out there it's painfully obvious it's real. One of those moments was the wedding episode of Jersey Shore: Family Vacation. As a result, people want to know: Does Angelina still talk to the Jersey Shore cast?
What happened on the wedding episode of 'Jersey Shore'?
Jersey Shore is known for drama, but this whole season has been leading up to the long-awaited wedding of Angelina Pivarnick, which was kind of a mess. More of a mess than viewers could have imagined. We got to see the aftermath of the bridesmaid speech that set Angelina off and had the guests booing at fellow Jersey Shore cast members, Jenni "JWoww" Farley, Deena Cortese, and Nicole "Snooki" Polizzi.
In their speech, Jenni, Nicole, and Deena turned a moment that's typically used to share their love and congrats to the new couple into a roast. Angelina stormed out of the room after the women made references to the new bride as "the trash bag to our house" and "the dump on our island."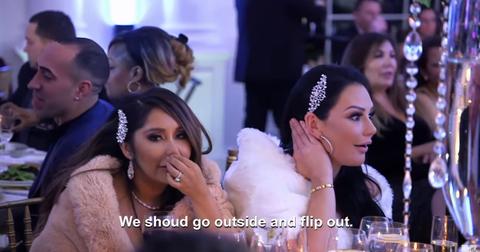 On the June 18 episode, Angelina made it clear how much that moment upset her. She called the moment "corny" and her new husband, Chris Larangeira, hoped it wouldn't ruin the rest of their special event.
"We're not going to let it ruin our wedding," Chris said to Angelina. "Ignore it and have fun. Don't let it ruin your night." However, Angelina couldn't let it go.
"I think we should go outside and flip out," she says. "I'm not happy. I was laughing at first, but then I looked at you and I'm like…it just kept going on and on and on. We should go outside and flip out."
She said she was trying to laugh it off, but she was hurt. "It's the wrong f***ing place. It's the wrong time. You don't do this at somebody's wedding. I f***ing lose it," Angelina said.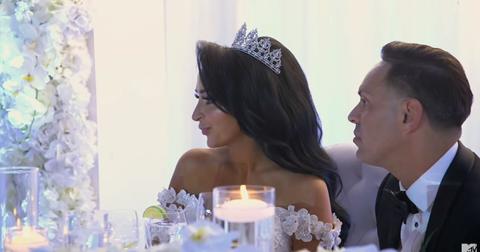 Does Angelina still talk to the other 'Jersey Shore' cast members?
People on social media could see why Angelina was so hurt. Fans and critics took to Twitter to share their input – that what Deena, Jenni, and Nicole did was wrong.
@angelinamtvjs looks like a beautiful Disney princess at her wedding, ❤️ The girls should have asked first, like couldn't they have toned down their dramatic jersey shore drama for one day, they had one job. Maybe they should have laid off the cocktails beforehand.

— Miss Halloween 🎃 (@MissHall0ween) June 19, 2020
However, there were also a lot of people who felt that Angelina played up the drama and should have let it go.
Angelina from jersey shore being overdramatic n childish at her wedding rn🥴🥴

— nicole (@nic_sorrentino) June 19, 2020
@JerseyShore I agree that speech was a bit much there is a time a place to joke around but Angelina made it worse I would of addressed it another day. I truly believe they didn't do it intentionally. Angelina you are making it worse for Chris enjoy that beautiful wedding

— Theresa (@Theresa3827) June 19, 2020
Fans were also curious, since the filming of the episode was several months ago, does Angelina still talk to the Jersey Shore cast?
The short answer: No, it doesn't seem like it.
Angelina apparently hasn't spoken to any of the cast members since her wedding, which happened in November 2019.
Jersey Shore Family Vacation Season 3 airs on MTV Thursdays at 8 p.m. ET.