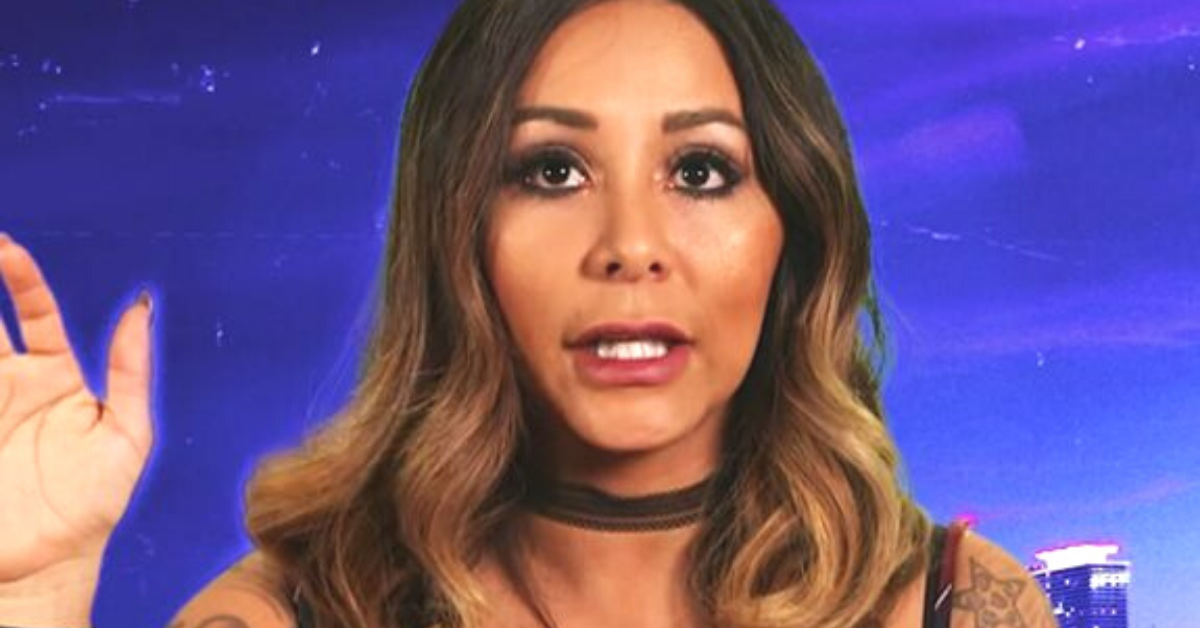 Snooki Fans Want to Know: Why Is Jionni Never on 'Jersey Shore'?
By Devan McGuinness

Mar. 18 2021, Updated 1:31 p.m. ET
One of the best parts about Thursday nights is being able to settle in bed with a salty snack and turn on Jersey Shore. The reality TV show has been a staple of things to watch for years and now that there's the Family Vacation continuation spin-off it's even better.
Article continues below advertisement
It's been fun to grow up along with the gang and see how they mature. Nicole "Snooki" Polizzi, in particular, has gone from party girl to wife and mom and it's been quite a journey for her. Now that she's a wife and mom, people wonder why her husband Jionni is never on Jersey Shore alongside her.
Why is Jionni never on 'Jersey Shore'?
There was a lot of speculation on the status of Snooki and Jionni's relationship a few years ago when he stopped appearing on the show. People were guessing that the couple were headed towards divorce. But, that's not the case. 
Article continues below advertisement
In January 2018, Jionni announced that he was not going to be featured on the show anymore and that it was his decision. In a post to Instagram, he wrote, "Hey Guys, I'm going to visit this subject one time and one time only so...." 
He continued, "my wife is filming a scene packing up and leaving for her new show to start and I AM CHOOSING TO NOT be on TV because I simply DO NO like it."
Article continues below advertisement
"Nicole and I are doing great and became even stronger together while raising our beautiful kids. HOWEVER you will not see me on her reality show." 
Article continues below advertisement
He went on to say that he's busy with his job and fully supports Nicole being on the show. The decision was just his priorities and comfort level being on TV. 
And since then, he's not appeared on the show.
Jionni doesn't like being in the spotlight and Nicole rarely posts photos of him on social media.
His absence from her social media photo grid also popped off divorce rumors, but Snooki set the record straight on that, too, in an interview with US Magazine in January 2019. 
Article continues below advertisement
"Jionni just wants nothing to do with the spotlight and I'm like, 'Babe, when you marry me, sometimes we got to take pictures together,'" she said. "He's like 'Nah, I'm good.' I feel like, when people don't see us together in pictures it's like, OK, something must be wrong." 
Article continues below advertisement
This is Snooki's last season on 'Jersey Shore'.
During an December 6 episode of her podcast, Snooki said she was done with Jersey Shore, too, after a drama-filled incident that she said resulted in death threats to her and the family.
"The main reason [I quit the show] is really….I just can't do it anymore," the star said on her podcast. "Literally, leaving my kids to film it is really hard on me. I try and quit every single day. I just hate being away from the kids. I don't like partying three days in a row. It's just not my life anymore. I want to be home with the kid. It's just really hard for me to leave the kids and film the show."
Article continues below advertisement
She confirmed her decision in an interview with People in May 2020 saying, "I needed to move on," she says. "It's just not for me anymore. Drama has never been my thing. Especially now, I don't want to leave my kids and not see them for days on end to do that. I want to leave and have a good time with my friends and roomies, and then come home and be a mom. So this season was very stressful, and I just wasn't having fun. I want to do something that's more uplifting in my life." 
Jersey Shore: Family Vacation airs on MTV Thursday at 8 p.m. ET.