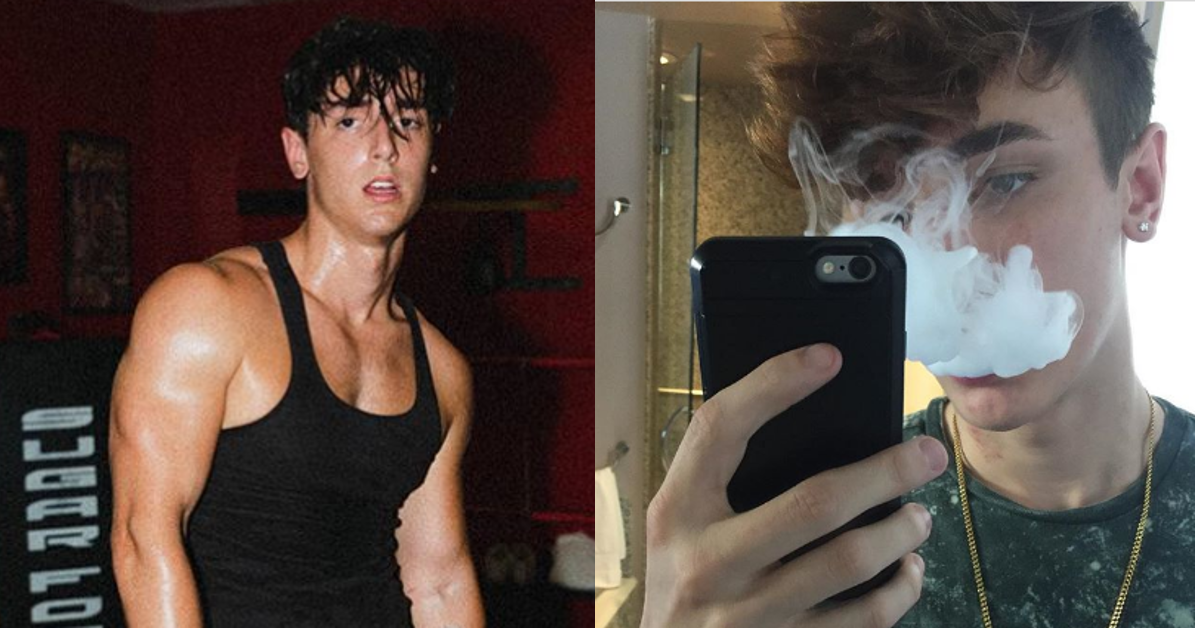 Does Bryce Hall Vape? The TikTok Star's Social Media Suggests He Does
Popular TikToker Bryce Hall has been seen vaping in a few of his social media posts, so does that mean he vapes regularly? Here's what we know.
The success of TikTok as a social media platform paved the way for a whole new slew of internet celebrities, but Bryce Hall gained some traction online well before the Beijing-based mobile application was released. Back when Vine was still the dominant video-sharing app all the cool kids were using, Bryce was crushing it on there.
Fans of the young man have seen him vaping in a few of his posts/videos, but does that mean he regularly vapes?
Article continues below advertisement
There are several posts that reference Bryce Hall vaping.
And not just from ones that are on the social media star's channels, either. Fellow famous TikToker Josh Richards features Bryce in a lip-synced bit with the two dudes acting out a portion of "Where's My Juul" by Full Tac.
In the video, Bryce shakes his head "no" when asked if he indeed took Josh's Juul and instead repeatedly puts his fingers to his mouth suggesting that he prefers joints instead. At least that's what appears to be going on.
Article continues below advertisement
However, there are some posts of Bryce's that show him vaping that date as far back as 2017, like this Instagram photo. Several people in the comments even responded to some folks who wanted to know if Bryce actually vapes on the regular, and some have pointed out that he has, indeed, vaped in some TikTok videos he's uploaded.
Article continues below advertisement

Is Bryce Hall really going to partake in an amateur boxing match?
It seems that these days, Bryce is getting his gym time in by engaging in the sweet science. There are videos of him hitting pads along with a ton of sweaty Instagram pics where he's wearing boxing gloves and standing in a ring.
He's also uploaded TikTok videos with Jake Paul, the latter who has earned some decent money in amateur bouts against fellow YouTubers.
Article continues below advertisement
While Jake actually showed some decent technique in his bouts, which is unsurprising considering all of the time he spends with fisticuffs-wunderkind Ryan Garcia, Bryce doesn't have much boxing experience to speak of.
But that hasn't stopped him from accepting a challenge from fellow TikTok creator Brandon Marshall.
Article continues below advertisement
Brandon, who has 38.1k followers on TikTok and is based in New Jersey, issued a boxing challenge to Bryce, who's one of the more popular users on the platform, and bet him $50,000 that he'd best him in the ring.
Instead of just shrugging him off, Bryce actually accepted the man's challenge. They're actually pretty evenly matched: they're the same age, height, and weight, so it'd be a good fight stylistically.
Bryce told Brandon to keep his $50k as it would be great content for his YouTube channel. But that doesn't mean the young man is taking the challenge lightly. He immediately enlisted the help of pro-trainers and has been posting a lot of boxing-focused content as of late.
Article continues below advertisement
Brandon has yet to post any videos to his YouTube channel, but it looks like he's using TikTok as a platform to try and break out and become a social media star/internet celebrity.
Are you looking forward to a fight between the two?