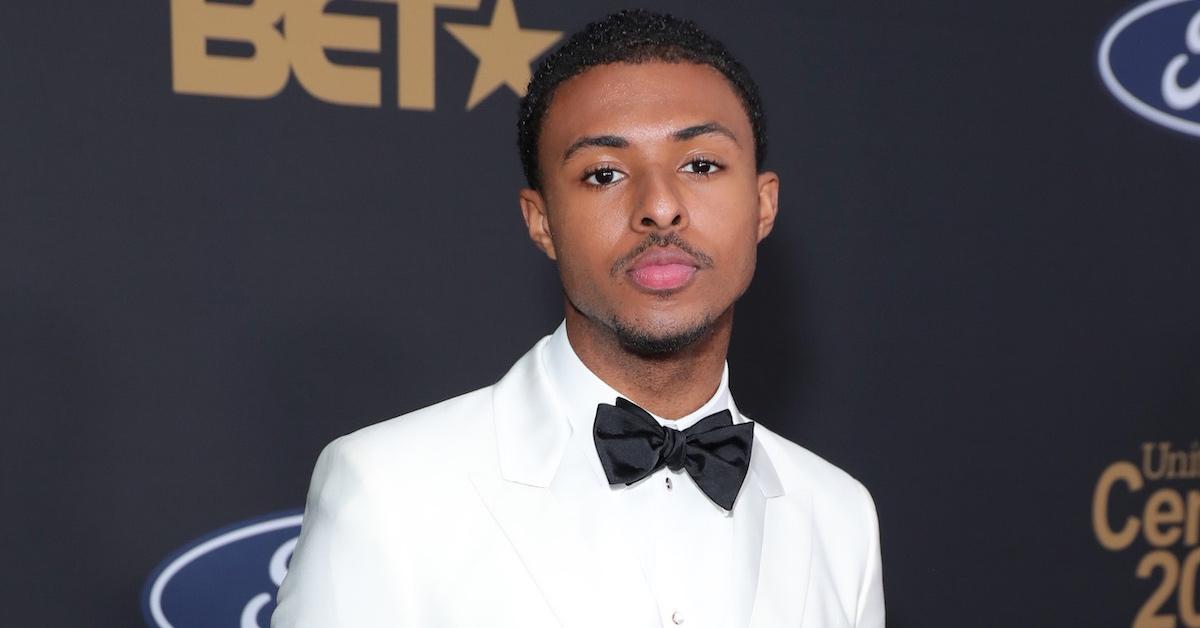 'Grown-ish's Diggy Simmons Does Not Have a Child, Despite Rumors on Social Media
Gone are the days of watching Diggy Simmons on the hit show Run's House. While we all watched Diggy (real name: Daniel Dwayne Simmons III) grow from a young impressionable boy to a teenager, we never thought that he would be considered one of Hollywood's hunks as he came of age.
Article continues below advertisement
That said, Diggy has charmed ladies throughout his career. There have even been talks of him dating Hollywood stars, but rumors tend to be part of the territory when you become a celebrity. And while rumors about the star have been innocent, it appears that there is one that could change his life. Fans on social media believe that the actor/rapper impregnated a woman. With that in mind, many people have been left to wonder if Diggy has a child. Here's the 4-1-1.
Article continues below advertisement
So, why do people on social media believe that Diggy Simmons has a child?
Social media comes with its ups and downs. While it's a great tool that allows us all to connect with millions of individuals, it can also be home to a nasty and vile culture that creates rumors out of the blue — especially without any solid proof. And Diggy is definitely feeling the heat.
While Diggy was once rumored to have dated Chloe Bailey from the R&B duo Chloe x Halle, they never really confirmed or denied their relationship. And to make matters worse, fans thought that the two broke up because of a cheating scandal that led to a woman getting pregnant by Diggy. And since many celebrity men have had baby scandals, it's not too far-fetched for people to believe.
Article continues below advertisement
Once Chloe x Halle released their sophomore album "Ungodly Hour," fans picked up that Chloe talked openly about a cheating ex in a number of their songs, mainly "Busy Boy." And of course, since rumors persisted that the two were dating after being spotted kissing at Dave and Busters, fans thought that she was referring to Diggy.
Article continues below advertisement
Not to mention, on "Do It," Halle sings, "No drama, no baby mamas." However, they don't name the cheating ex on any of the songs. On the flip side, Diggy raps about getting someone pregnant on 2018's "Momma Love," which people have since put together to believe the rumor.
Article continues below advertisement
Despite the rumors, Diggy does not have a child.
While it's clear as day that Diggy likes to keep his private life under wraps, a lot of things can easily become a guessing game in regards to the star. That said, the rumors of Diggy having a child are just that — rumors.
Article continues below advertisement
For starters, Diggy has neither confirmed nor denied that he actually got someone pregnant. And while many people are referring to his song as proof, that doesn't mean that art imitates life in this situation.
After all, there are many rappers that rap about certain topics or situations that they're not going through firsthand. In a lot of cases, they're creating songs based on situations that their close friends or family are going through.
Article continues below advertisement
Plus, there hasn't been much talk of the baby rumor outside of the social media world. Diggy has been tight-lipped about dating Chloe and the cheating rumors from the very beginning. So, the only way for us to know for sure if he actually has a baby would be for him to confirm it.
And since his father, Rev Run, along with his siblings, have also been quiet on the issue, we can just chalk this up to being another vicious rumor.