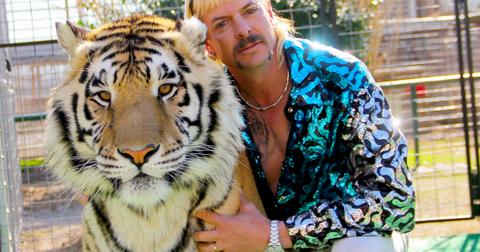 Some of Joe Exotic's Inmates Have Coronavirus, but Does He?
By Katie Garrity

Updated
If you've been living under a rock for the past two weeks or hiding under the covers because quarantine is just that draining, then you may not be familiar with the Netflix documentary Tiger King: Murder, Mayhem and Madness, which explores the wild and ruthless underground world of private big cat owners in the US, and its ragtag cast of characters.
One character in the docuseries, in particular, has caught ever viewers attention and made for some pretty hilarious memes. His name is Joseph Maldonado-Passage but you probably know him better as Joe Exotic. Some of Joe Exotic's fellow prison inmates tested positive for the new coronavirus, but does he himself have it?
Joe Exoctic broke many laws that landed him in prison, but did he contract the coronavirus there?
The big cat lover is currently serving a 22-year sentence for falsifying wildlife records, violating the Endangered Species Act by killing five tiger cubs, and federal charges for a 2017 murder-for-hire scheme targeting Big Cat Rescue founder, lover of flower crowns, and arch-nemesis Carole Baskin.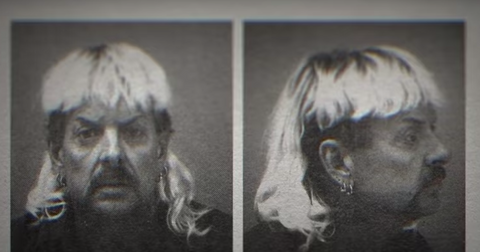 A jury in April found Joe guilty of 21 counts, including plotting to kill a sanctuary owner in Florida who had criticized his treatment of animals, as well as euthanizing the big cats. According to the New York Post, prosecutors said he offered $10,000 to an undercover FBI agent during a December 2017 meeting to kill the animal rights activist, Carole Baskin. "Just like follow her into a mall parking lot and just cap her and drive off," Maldonado-Passage said in the recording played for jurors.
Some of Joe Exotic's prison mates tested positive for COVID-19.
Exotic's fourth husband, 24-year-old bartender Dillon Passage, told Andy Cohen on his SiriusXM radio show that Joe had previously been isolated at the Grady County Jail in Chickasha, Oklahoma, over the coronavirus concerns. The facility is an hour's drive from Joe's former zoo, the Greater Wynnewood Exotic Animal Park, which is featured on the Netflix docuseries.
The facility "put him on COVID-19 isolation," due to the fact that "the previous jail he was at, there were cases," Dillon told Andy on his show, Andy Cohen Live.
Dillon continued, "We speak like three to five times every day, but since he's been moved to this new facility, they are putting him on COVID-19 isolation because of the previous jail he was at, there were cases...I've yet to speak to him since he moved."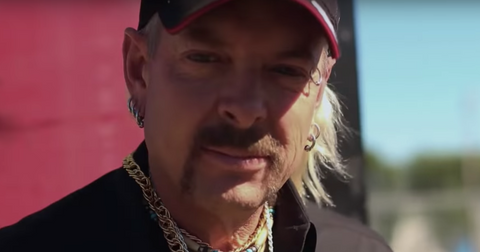 The US Bureau of Prisons announced as well that all those currently held in federal facilities approximately 146,000 inmates, including Joe, would be put in quarantine for 14 days. Dozens of federal inmates and at least 37 guards have tested positive so far.
Joe has now been moved from isolation to a medical center.
According to the New York Post, inmate records show that Joe Exotic is currently located at the Federal Bureau of Prisons-operated Federal Medical Center Fort Worth in Texas after spending time in isolation.