Joe Exotic Is Known for Animal Cruelty and Attempted Murder, but Where Is He Now?
Joseph Allen Maldonado-Passage, or Joe Exotic, is known for attempted murder of a prominent animal activist. But where is he now?
If the name Joseph Allen Maldonado-Passage doesn't ring a bell, it's probably about to. He's better known by his nicknames: Joe Exotic, or the Tiger King, as he liked to call himself.
And the notorious former-zookeeper who got millions of YouTube views is about to gain more fame, thanks to the Tiger King: Murder, Mayhem and Madness documentary that drops on Netflix on Friday, March 20.
Article continues below advertisement
The streaming service describes it as a "jaw-dropping true tale of con artists, polygamy, rivalry and revenge." And Joe Exotic is at the forefront of it all.
The world is morbidly curious, for good reason: Whatever happened to Joe Exotic? And what's he doing now?
Article continues below advertisement
Where is Joe Exotic now?
The controversial figure was once head of a popular exotic animal park — the Garold Wayne Exotic Animal Memorial Park in Oklahoma. The 16-acres sat just north of Texas, where he also lived. The grounds were filled with "majestic tigers, lions, bears, alligators, and even tiger-lion hybrids called tiligers."
Now he's headed to federal prison for 22 years after being sentenced in January 2020 for a 2017 murder-for-hire plot and several very serious wildlife violations, as CNN reports.
What exactly did the Tiger King do?
Joe Exotic was known for breeding large animals, with a collection of up to 1,000 animals at a time, from baboons to bears to all manner of big cats.
Over the years, he was heavily criticized for his treatment of animals, subject to a $25,000 fine from the U.S. Department of Agriculture for poor animal maintenance, and the recipient of an exposé from PETA.
It only gets worse from there.
Article continues below advertisement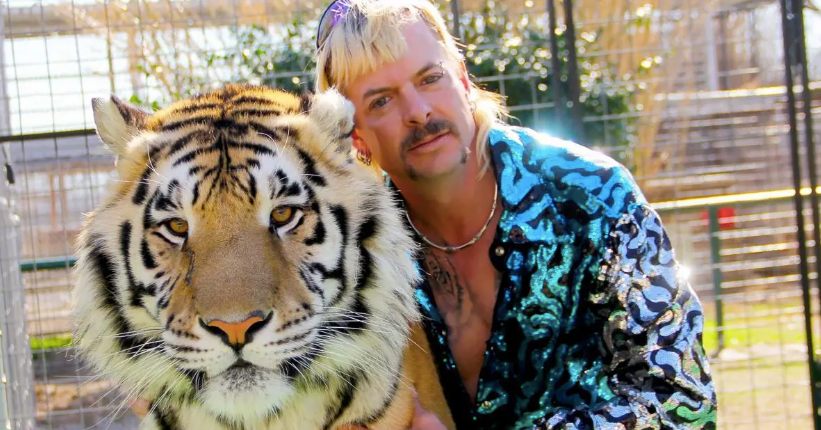 Joe shot and killed five tigers, and sold or offered to sell countless tiger cubs over state lines. Tigers are considered endangered, so he was also charged with nine counts of violating the Endangered Species Act.
He also sold baby lemurs and falsified paperwork claiming they were donated. And then there's the whole murder-for-hire debacle, where he tried to pay a hit man $3,000 to kill one of his most outspoken critics, and offered thousands more once the deed was done.
Article continues below advertisement
The person Joe wanted dead was tiger sanctuary owner Carole Baskin.
Carole is a well-known animal activist and owner of the Big Cat Rescue in Tampa. She dedicates her life to ending the abuse of big cats in captivity, stopping the breeding of big cats, and preventing their extinction in the wild.
According to NBC, Carole secured a $1 million-dollar judgment against Joe and his business in 2011. By 2012, Joe was posting threats to Carole via YouTube and Facebook.
He was caught trying to pay an undercover FBI agent $3,000 to kill Carole in November 2017.
But Carole is hopeful the documentary will help animals everywhere.
"Netflix can reach far more people than we ever could by just going out there with the facts about how abusive it is to be speed-breeding these cubs and snatching them from their mothers," she shares. "Hopefully some percentage of people will look into what they can do to help."