Post Malone Shaved His Head, and Some Fans Are Worried It's Because He Has Cancer
Post Malone's decision to shave his head has some fans wondering that he has cancer or another disease that would cause his hair to fall out.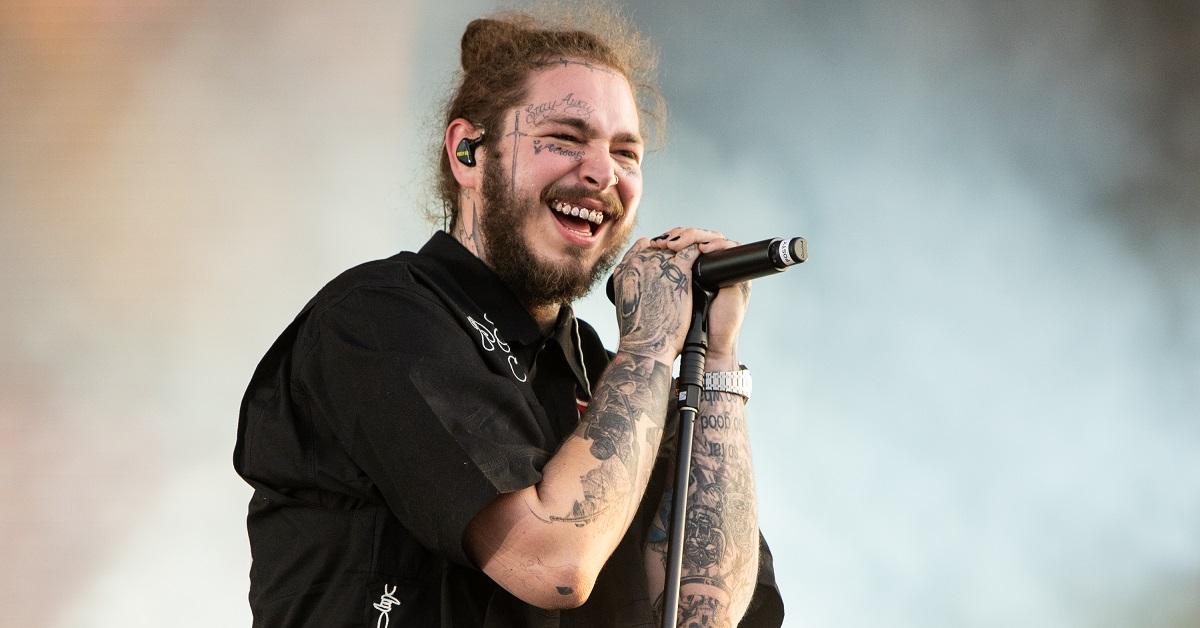 Recently, Post Malone took to Instagram to show off a new hairdo. In the post, the musician showed off his newly shaved head, which also featured some never-before-seen tattoo art. Post is famous for his tattoos and was already known for having them cover his entire body. Now, you can add his head to the parts of his body he's had inked.
Article continues below advertisement
Does Post Malone have cancer? It seems more likely he shaved his head for a new tattoo.
In the wake of Post's announcement that he shaved his head, some of the musician's fans have worried that it might mean he has cancer. While there's been speculation to that end, Post has given no indication that he's sick. Instead, it seems he shaved his head to get it newly inked, and he's keeping it that way so the tattoo can heal and he can show it off.
Article continues below advertisement
What is Post Malone's new head tattoo of?
Although the entire tattoo isn't visible in the post, it's clear that Post has had a giant skull tattooed on his head. It's a skull on his skull. "I have cut my hair even shorter, also skeletons are cool," he wrote in the caption to the incredibly dark photo. "Spread your heart as much as you can. A little love goes farther than you think. Stay strong, and keep kicking ass. Love, Austin."
Although this isn't the first haircut the musician has gotten recently, it's certainly the most drastic. His decision to get his head tattooed may mean that he's likely to be without hair for a while. After all, you don't get your skull tattooed just to grow hair over it so that no one can see it. Even if he did try to grow his hair back, it would likely take a while now that he's shaved it off entirely.
Article continues below advertisement
Post Malone's wine business is really taking off.
Even as he debuts new tattoos and haircuts, Post is also proving that he knows how to turn his career in music into other profitable business ventures. He recently launched a wine brand, and now it has sold 50,000 bottles in just two days. Those sales account for the pre-sale of the product, which totally wiped out the first batch of inventory.
Article continues below advertisement
What kind of wine did Post Malone make? A rosé that sells for $22 per bottle.
Post's wine, which is called Maison No. 9, is a rosé, and it combines a number of grapes to create its unique flavor. The wine is composed of 45% Grenache Noir, 25% Cinsault, 15% Merlot, and 15% Syrah. The ingredients mix to create a "Provincial Pink" color, and the flavoring includes hints of pineapple, pear and strawberry. According to Post, he's been interested in the wine business for a long time.
"Rosé is for when you want to get a little fancy. It's a nice switch up and I have been thinking about doing my own wine for a while," he said. "Maison No. 9 goes down smooth, and you're all going to love it!"
The wine will be available for sale again on June 22 online, and it will cost $22 per bottle.