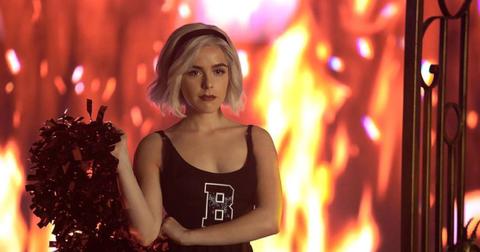 Sabrina Will Take up Cheerleading in the Next Season of 'Chilling Adventures of Sabrina'
By Leila Kozma

Updated
Season 2 of Chilling Adventures of Sabrina saw the protagonist risk losing her powers many times.
In "The Mandrake Spell," Sabrina cloned herself in a bid to sabotage the Satan's prophecy and save the world from the apocalypse. In "Mephisto's Waltz," she went further, pretending to be the Dark Lord's friend to annihilate him. No matter how ambitious, the plans proved to be futile. At the end of the Season 2 finale, she was left powerless.
What about Season 3? Does Sabrina get her powers back?
So, does Sabrina get her powers back?
"Let's go to gell and get my boyfriend back," Sabrina (Kiernan Shipka) pledged in the very last scene of the Season 2 finale.
Stripped from her witch powers, the young woman returns to her ordinary life at the Baxter High. As to her first endeavor as an average mortal? She sets out to save her boyfriend, Nicholas Scratch (Gavin Leatherwood), from eternal damnation in the darkest corner of hell.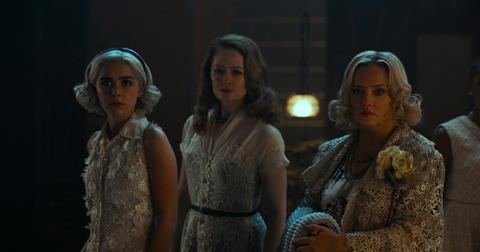 As the Season 3 trailer reveals, Sabrina will have to overcome several obstacles during the mightily ambitious quest. In a crucial scene of the clip, we watch the hell-bent witch try to open a beautifully-engraved, skull-covered, centuries-old door — to no avail. Eventually, she dusts off her trusty book of magic tricks, puts on her cape, and reaches out to Lucifer Morningstar (Luke Cook).
While it's uncertain whether Sabrina will resume her old life as a witch — Season 2 saw most of the coven perish —it does seem as though she will get the chance to exercise the powers required to bring back Nick and maintain some form of harmony between Hell and Earth.
To make things even more complicated, she will split her time between cheerleading practice — you read that correctly — and developing a masterplan that will help her force open the gates of hell and save her boyfriend without accidentally unleashing another apocalypse.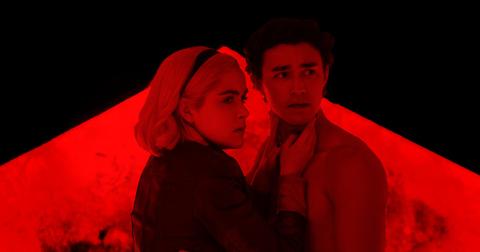 Sabrina lost her powers in previous 'Chilling Adventures of Sabrina' episodes as well.
Losing witch powers is a common experience for the witches who belong to the Church of the Dark Night. In Season 1, we watched one of Sabrina's aunts, Hilda (Lucy Davis), get temporarily excommunicated after she openly disregarded the will of the High Priest, Faustus Blackwood (Richard Coyle). "Chapter Three: The Trial of Sabrina Spellman," captured her attempts to come to terms with the disproportionate punishment, and pour her energy into making tonics.
Ambrose (Chance Perdomo) was subjected to even worse sanctioning. During his university years, he became involved in a secret attack against the Vatican. As a reprimand, Faustus Blackwood (Richard Coyle) put him under a binding spell confining him to the Spellman Mortuary.
Sabrina is no stranger to the phenomenon either. In "Chapter Two: The Dark Baptism," we watched the young witch give up on all powers in a bid to preserve her life in the mortal world. In "The Mandrake Spell," she cloned herself to save the mortal world from utter decay.
She voluntarily gave up on her witch powers — hoping that it would be big enough of a sacrifice to reinstate harmony. The plan backfired, but Sabrina did manage to get her powers back if only temporarily.
Will Sabrina get her powers back? What's up with the cheerleading outfit? There's only one way to find out.
Season 3 of Chilling Adventures of Sabrina will become available on Jan. 24 on Netflix.