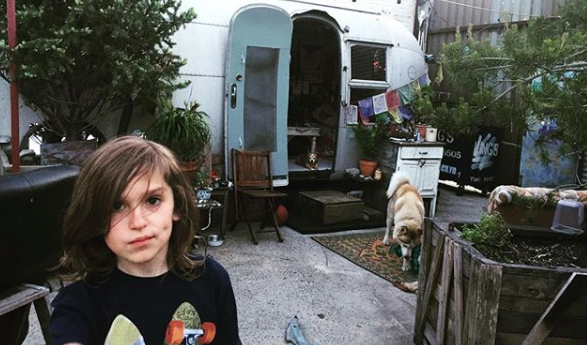 Inside Domino Kirke and Penn Badgley's Modern Family
Domino Kirke is pregnant with her second child, and her first with 'You' star Penn Badgley. Keep reading to learn about their modern family.
Despite Joe Goldberg's psychotic behavior on You, one of his character's most endearing traits is his soft spot for the children around him. In New York, it was his neighbor, Paco, and in Los Angeles, it's whip-smart Ellie, who Joe actively protects and keeps safe while he goes out and murders people.
Article continues below advertisement
It's a strange juxtaposition, but it works to humanize Joe's character and help viewers see that he isn't just a serial killing monster.
And now, actor Penn Badgley can emulate Joe's natural paternal qualities since it's been announced that he and his wife, Domino Kirke, are expecting their first child together.
Posting a bird's eye view of her new baby bump, Domino announced her pregnancy via Instagram with a heartfelt post in which she thanked her unborn child for "already teaching us how to stay in the day in a way we've never had to."
Unlike other first-time parents, this couple is a little more prepared for their new child since Domino Kirke already has a 10-year-old son. Keep reading for everything you need to know about the family.
Article continues below advertisement
Domino Kirke's son, Cassius, is from a previous relationship.
English-American singer Domino gave birth to Cassius Riley in 2009 with her partner at the time, another musician by the name of Morgan O'Kane. Although Cassius lives with his mom and stepdad in their Brooklyn home, he also maintains a strong bond with his bio dad, Morgan.
Article continues below advertisement
Cassius and Penn also share a special relationship. "He's such a good stepdad," Domino gushed in an interview with US Weekly. She went on to say that Penn "doesn't have to be 'dad' so he can have more fun with [Cassius]. It's really nice. The stepparent thing is definitely uncharted territory for me cause I didn't grow up with one but ... he takes care of him really well."
Domino and Penn started dating over five years ago.
Domino has admitted that she wasn't too serious about Penn when the couple started dating back in 2014 because of her son, Cassius. She had recently split from Morgan and "was sort of getting used to being a single mom," she said about her early days of dating Penn.
Article continues below advertisement
"Penn and I were dating, but it wasn't nearly as serious as it is now, of course," she added. "I didn't think marriage was in the cards for us."
Article continues below advertisement
Well, it was! The relationship got serious three years into meeting and the couple tied the knot on February 27, 2017, first in an intimate civil ceremony at City Hall, and later in a second, larger wedding party with a guest list that included Mariska Hargitay, Debra Messing and Zac Posen.
The road to pregnancy was a difficult one.
In her pregnancy announcement, Domino candidly shared that she and the Gossip Girl star had a difficult time conceiving, and have been through two miscarriages in a row leading up to this current pregnancy. The musician, who moonlights as a birth worker, is no stranger to difficult pregnancies.
Article continues below advertisement
However, she said the losses took a toll on her and Penn and that they almost gave up on the idea of having a child together. "I stopped trusting my body and started to accept the fact that I was done," Domino wrote in her heartfelt post.
Fortunately, Domino and Penn pulled through and are now happily expecting. Domino said she is feeling extremely grateful for the "10 years worth of [doula] experience to pull from .... and the knowledge I have."
We wish the couple and their new addition a very bright and joyful future!