DoorDash Driver Asks Customer to Pay for Their Gas — TikTok Weighs In
A DoorDash driver just handed the customer their gas receipt. Should the customer be required to pay for gas? TikTok debates on the matter.
Ordering food from delivery platforms like DoorDash and UberEats definitely does a number on your wallet. Suddenly, that $10 item is almost $30 after delivery fees and the tip. It can sometimes be hard to justify paying that much extra, which is why customers lower the tip because that's the only amount in extra fees they actually have control over.
Article continues below advertisement
However, customers don't always look at it from the driver's perspective, who's actually picking up the food. Delivering food doesn't just cost time and energy, but it costs gas. According to Ridester, DoorDash doesn't pay for its employees' gas, despite the uptick in gasoline prices. Financial Panther confirms that UberEats has the same policy.
So, should customers be paying for drivers' gas? One driver just tried to give a customer their gas receipt.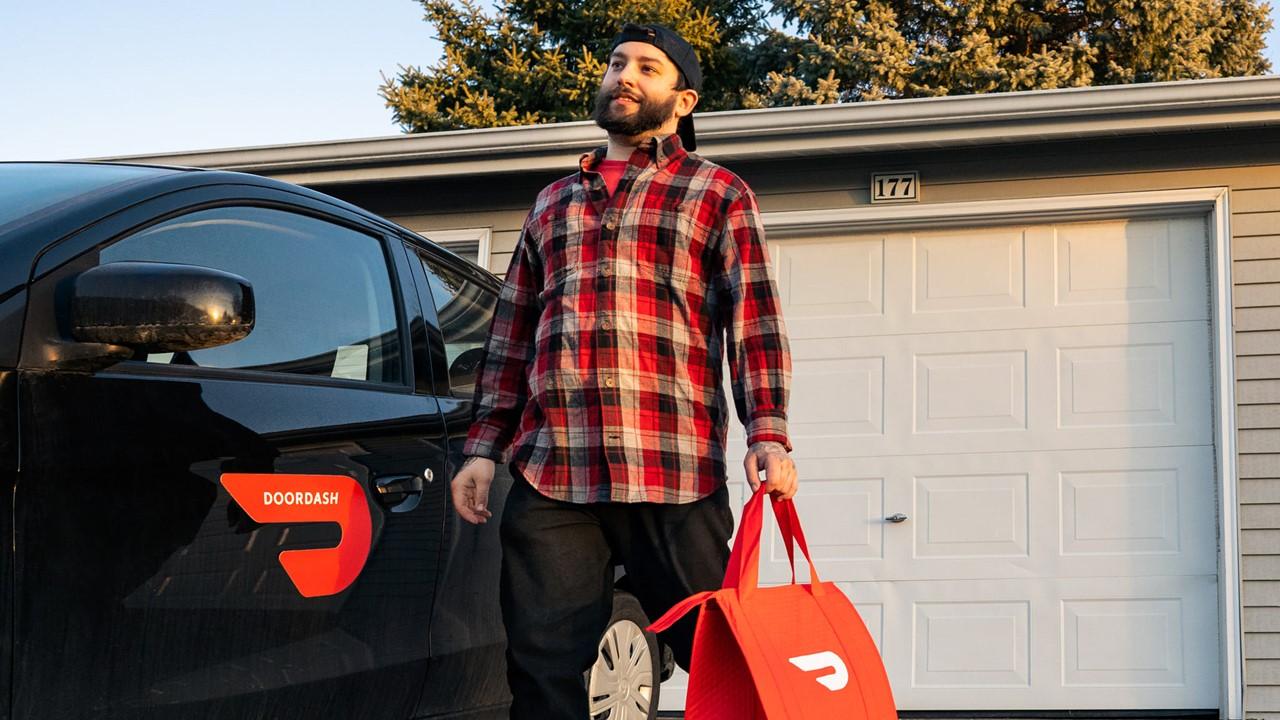 Article continues below advertisement
A DoorDash driver gave a customer their $20.84 gas receipt.
The awkward moment when your DoorDash driver gives you their gas receipt with your order. No, but seriously, that's what happened to one customer.
A TikTok user named Karissa (@secretlykarissa) recently shared her experience with DoorDash and her Chick-fil-A came with a bill. "My dasher wants me to compensate him for his travel so he gave me his gas receipt with his order," she wrote in the copy of her video.
Article continues below advertisement
The receipt showed that the driver had gotten a little more than six gallons of gas, which cost them $20.84. It isn't clear if Karissa was expected to pay all of that or just a portion of it. Regardless of the amount though, should Karissa feel obligated to pay a driver for gas?
The comment section on her video had a lot to say. Many folks automatically thought the driver was in the wrong. "They act like owe them," wrote one person.
Another joked that the driver should have doubled the amount and asked the next customer to pay up.
Article continues below advertisement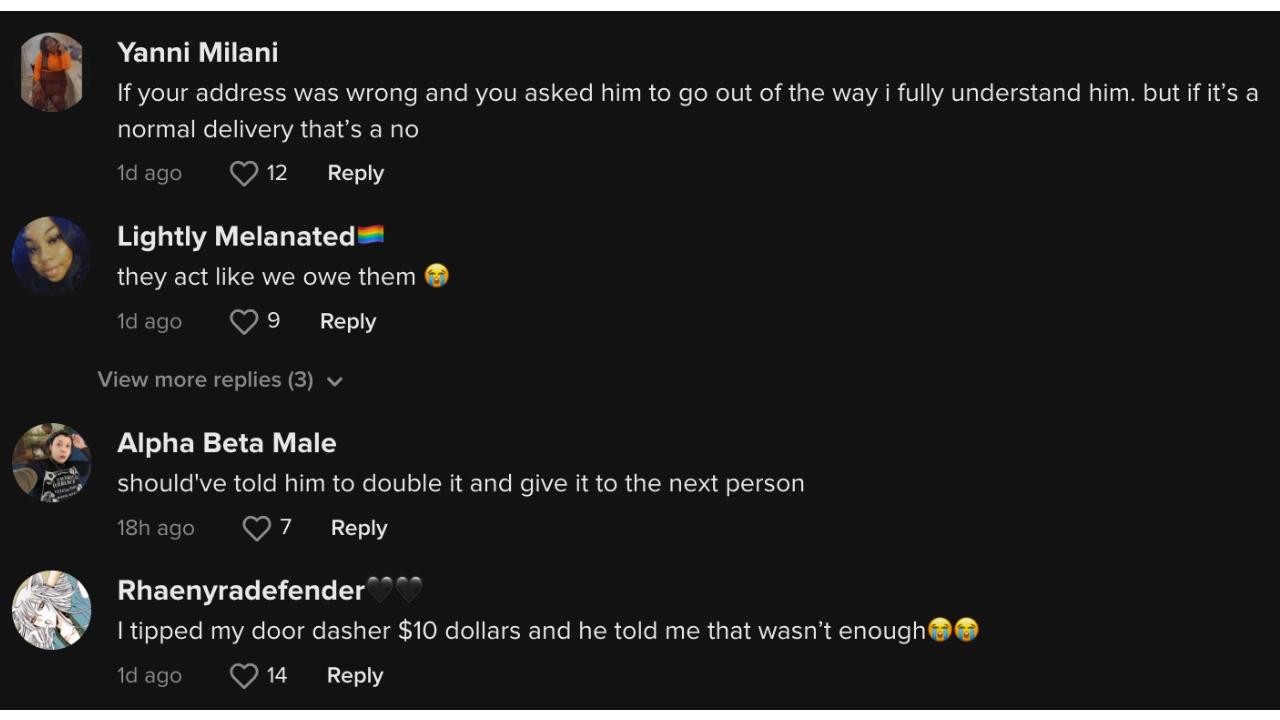 But others had more sympathy for the drivers — stressing that most of those pricey delivery fees that customers have to pay don't actually go to the driver.
"Dasher base pay is so little for the miles you travel so the tip is usually where we actually make money," wrote one user.
Article continues below advertisement
Another user added, "They really need to just up the delivery fees and give them to drivers. It's crazy they gotta ask like this."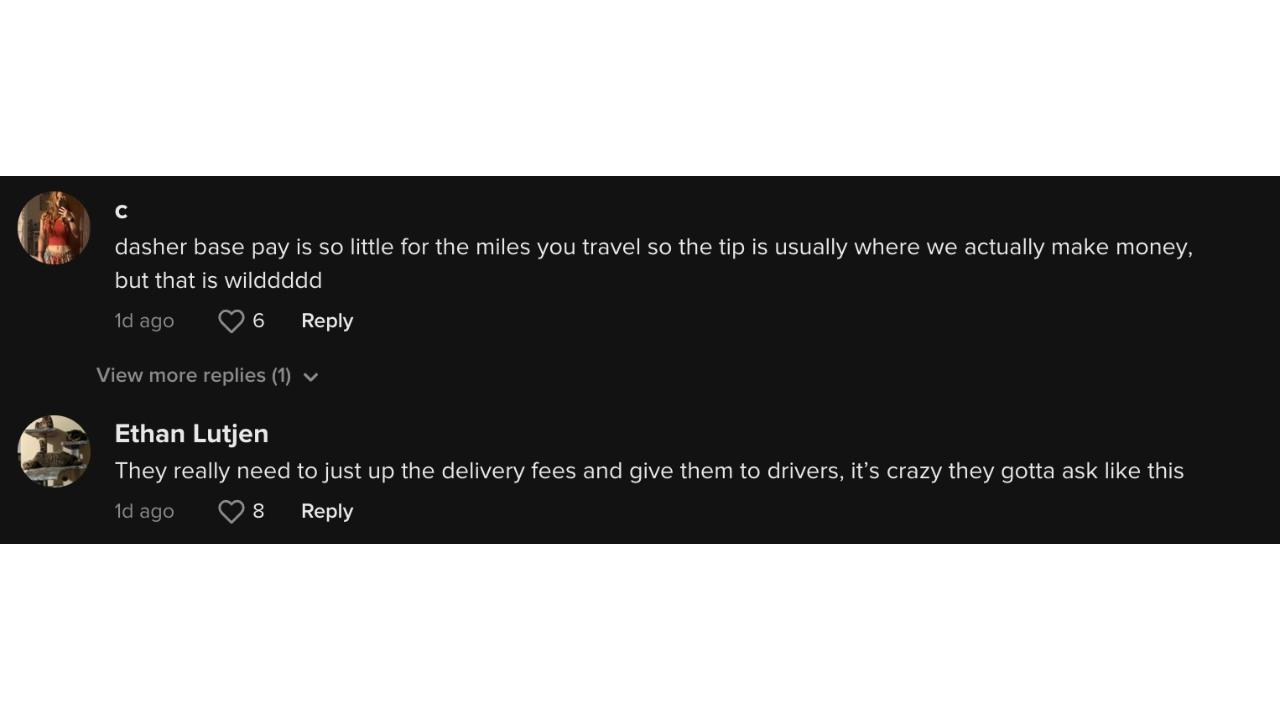 Article continues below advertisement
TikToker shows how much money she made after DoorDashing for an hour — and it's in the negatives.
In another TikTok recently shared by a user named Tiana (@tiana.com), she showed just how much money is in DoorDash.
She tried an experiment where she DoorDashed for an hour. During her 60-minute stint, she said she made $21. But here's the kicker: After gas, she had actually lost $4.
This proves that gas prices are really eating up the money that delivery drivers do make from the app.
Article continues below advertisement
In the comments of her videos, folks agreed that DoorDash wasn't a good source of income. "I DoorDash too and it takes me all day just to make $100, there's no money."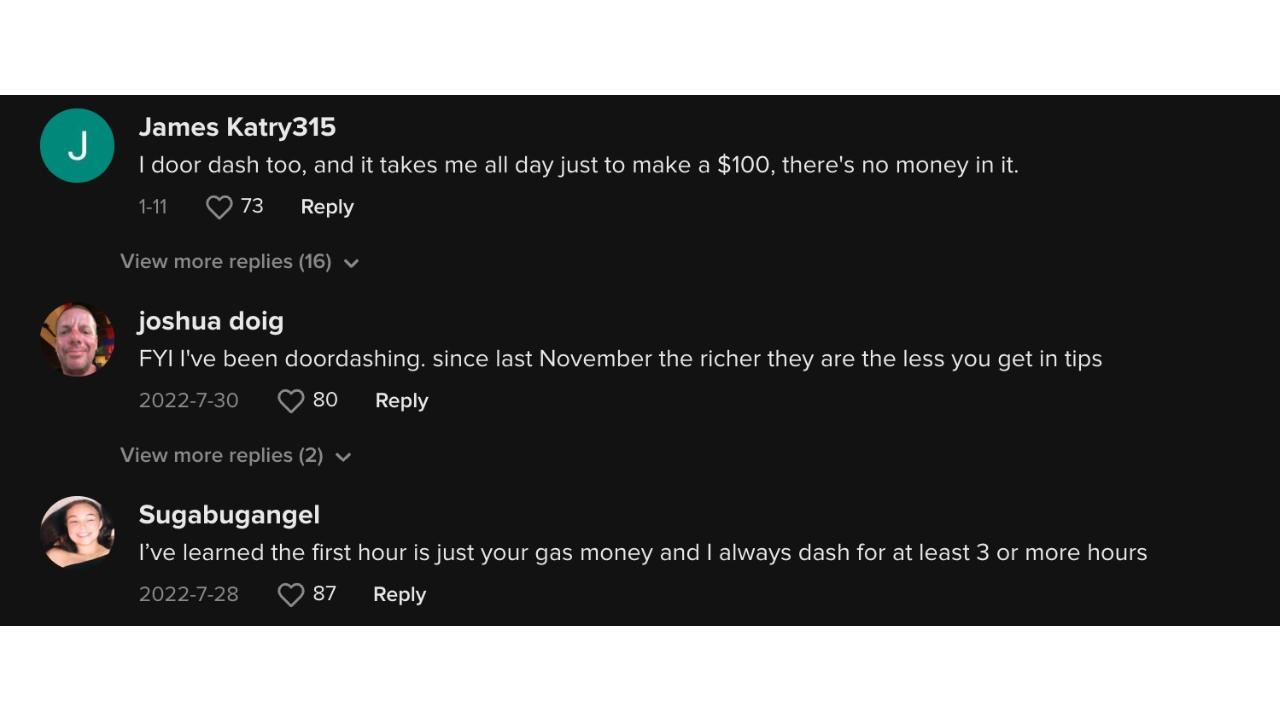 Article continues below advertisement
Another user shared an observation they had made as a DoorDasher: the richer the customers are "the less you get in tips."
One comment noted that "the first hour is just your gas money," which is why they "dash for at least 3 or more hours."
Bottom line: Delivery drivers aren't compensated for gas and it's on customers to tip them more.
While Karissa's Dasher probably shouldn't have handed her their gas receipt, it kind of makes sense why they did. They were likely frustrated with how little money they were earning. Drivers aren't paid a fair wage by delivery platforms. While the pressure should be on DoorDash and UberEats to pay their workers more, it's now on the customer.
The best thing you can do is that if you do order from one of these platforms, be generous with your tip. Think of all the gas the driver used to get to you and deliver your order.