DoorDash Driver Shocked After App Tells Him He Completed His Order "Too Fast"
A DoorDash delivery driver said that they weren't allowed to mark an order they fulfilled as completed because he delivered it too fast.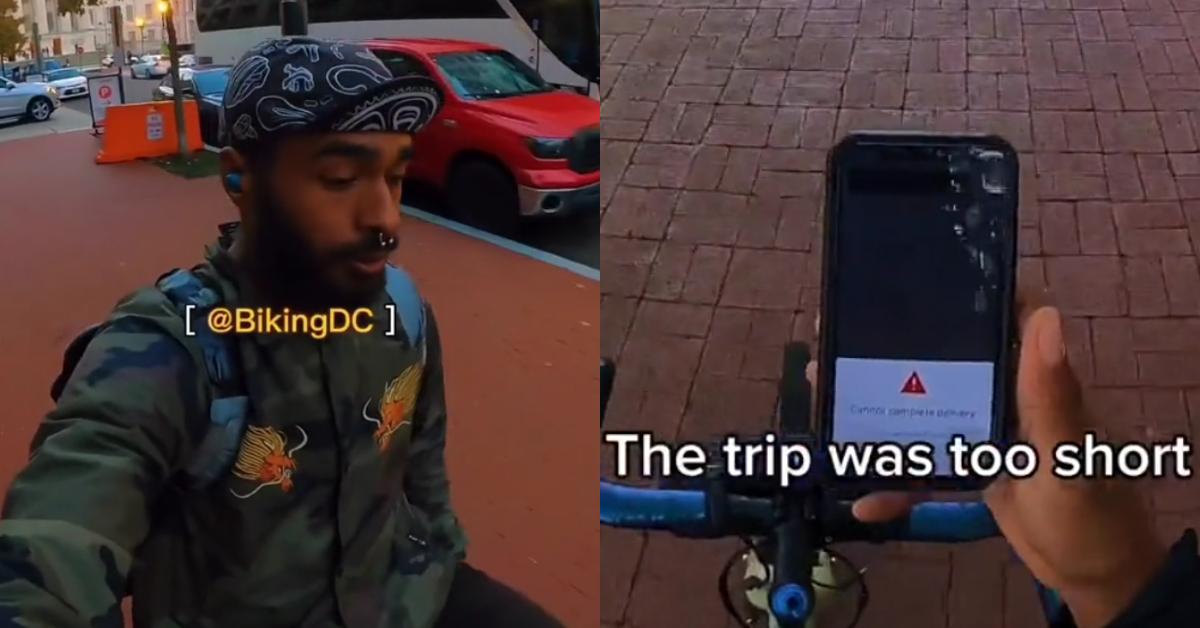 While the idea of being able to use a smartphone application to have pretty much any food that you want to be delivered to your day seems like an exciting prospect, there are a few things that can hinder your food delivery experience, especially when it comes to restaurants that weren't originally designed as delivery operations.
Article continues below advertisement
If you've ever ordered from the litany of popular food delivery apps like Seamless, Uber Eats, GrubHub, or DoorDash, then you may have balked at the upcharges for some of the items that would traditionally cost much less if you just went to the establishment and picked up your food in person.
And this is before a gratuity for the driver is even factored into the equation. But even if you're fine with the premium you're paying in order to have McDonald's brought straight to your doorstep, then you still have to make sure that the restaurant is preparing your food in a timely fashion, and that the delivery driver themselves get your food to you in a reasonable amount of time.
Article continues below advertisement
Because getting room temperature, or cold fast food, soggy fries, watered down and flat soda, etc., isn't really an ideal dining experience.
And while there are plenty of complaints from folks about the performances of their delivery drivers, there's one DoorDash employee who appears to take their jobs very seriously and that he was so good at it, DoorDash's app refused to even recognize his delivery.
Article continues below advertisement
Well, that, and the fact that the specific order he was asked to fulfill ended up only being a short distance for him to complete, even on a bicycle.
Food delivery worker and TikTok user @bikingDC uploads videos of food deliveries they make on a bicycle in the DC area. In a recent clip, he was asked to pick up an order at Five Guys to drop off at a nearby location.
Article continues below advertisement

When he arrived at the restaurant, employees told him there would be a 5-minute wait, which he used to eat some peanuts and read through some of the comments on his TikTok account.
Article continues below advertisement
Once the food was done he hops on his bike and then pedals to the destination, where the customer, who appears to be a security guard, is waiting outside of the building.
The customer explains that it's "hard for [him] to get out of the office," which is why he had to place a lunch order even from a location that was so close.
Article continues below advertisement
@bikingdc didn't seem to mind as he tells the customer it ultimately makes things easier for him and he still gets paid as a result. However, when he went to mark the order as completed, he came across a problem.

Article continues below advertisement
Apparently, the DoorDash application thought that the TikToker was being way too efficient at his job, as it wouldn't allow him to mark his delivery as completed.
"The trip was too short to complete," he says while checking his phone. "Look at this. Slide to deliver," he uses his thumb to move the slider across the screen, when he does, he's met with an error message: "Cannot complete delivery. Trip was too short. Like what?"
Article continues below advertisement
He writes about the incident further in a caption for the video: "Imagine doing your job so fast they app tells you to slow down Homie ordered down the street because he cant leave post and i can respect that … but like i still need paid"

Article continues below advertisement
Many commenters also seemed to think that the "too short" error message should be addressed by app developers: "Too short to complete they need to fix that"
Someone else wrote: "dude did his job too well company wouldn't recognize it"
While the app only prevented him from completing the order for a few minutes, this ultimately means that the DoorDash user in question is locked out of accepting other orders for the time being because that delivery hasn't been completed yet. Time is money, and even though it didn't seem an intentional blockage on the part of DoorDash, @bikingdc was prevented from immediately starting on another delivery as a result of the error message.