"The Prices Are Doubled" — Woman Exposes Christmas Tree Shoppe Increasing Prices for "Sales"
A Christmas tree shop showed that the store's giant closeout discount sale may ultimately be a big scam — multiple items had double price tags.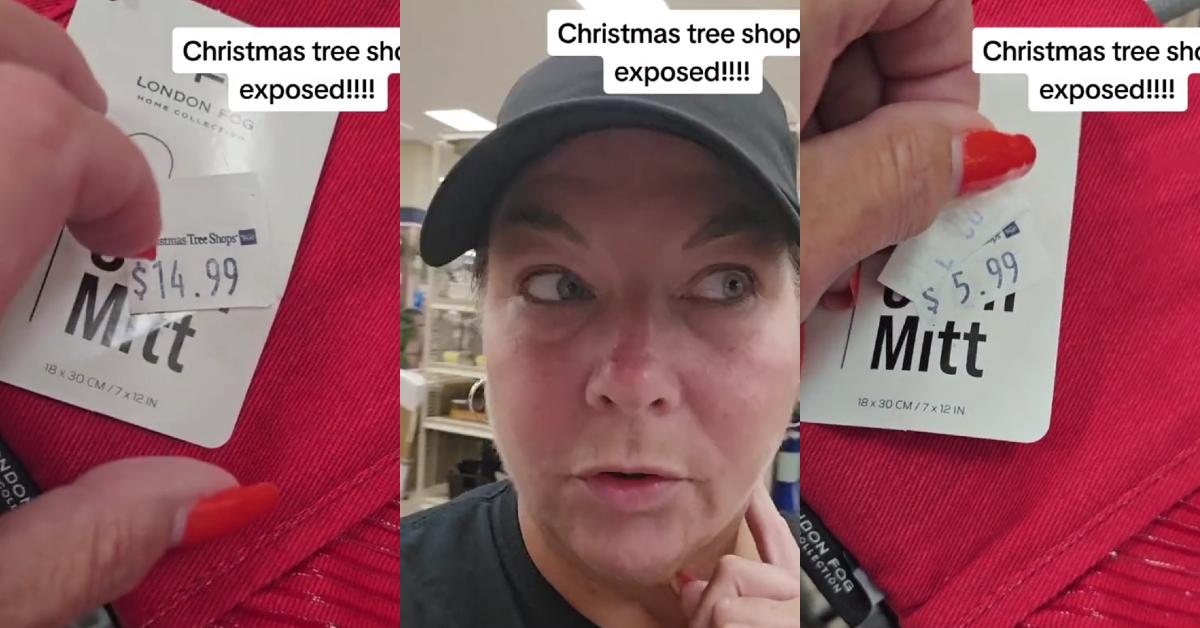 Despite its name, Christmas Tree Shops are open year-round and offer a variety of different products that aren't crafted just for the Yuletide season. The stores sell tons of different seasonal decorative goods, often at discount prices, for shoppers to get their holiday groove on regardless of the celebration.
Article continues below advertisement
But they also carry a bunch of novelty goods, including a wide breadth of different snacks and goods, dining equipment, furniture, tapestries, linens, bedding storage products, just a crazy hodgepodge of different things that make the store seem like a massive extension of the checkout section of a Marshall's — just one that's been turned into an entire store.
Article continues below advertisement
As is usually the case with retailers that is getting rid of the entirety of its inventory, one would expect that there are some truly great deals to be had at the Christmas Tree Shop.
However, TikToker @novie0915 says that this isn't necessarily the case.
Article continues below advertisement
The social media user uploaded a video she recorded from the interior of a Christmas Tree Shop location where she speculates that the brand is engaging in some Black Friday pricing shenanigans, where the "original" pricing of items are inflated in order to dupe shoppers into believing they're getting steeper discounts than they actually would be getting otherwise.
She says in the video: "At the Christmas Tree Shop in Linfield, Mass, as you know everything is on sale because they're going out of business. So, me and my friend are walking around and looking at the prices."
Article continues below advertisement
At this point in the video she flips the camera around in order to show the discount signs on various goods throughout the store. "10% off, $38.00," she remarks commenting on a glassware set being sold at the store.

Article continues below advertisement
"Let's see, let's see what's under here," she begins peeling off the $38.00 price tag sticker on the box of glasses, to reveal an original price that's less than half of what the new sticker says.
"Huh, look at that, $14.99, hmm." She then walks away from this section of the store, "Let's go look at something else."
She stops at a red oven mitt sitting in a shopping cart. "One, single oven mitt. $14.99." She removes the updated price tag. "Let's peel it back $5.99."
Article continues below advertisement
The TikToker continues to walk throughout the store: "Everything in here is marked up, and marked down." She then zooms in on various price tags where its clear that a new sticker has been placed over a previous one.

Article continues below advertisement
She goes to another oven Mitt, "$12.99 let's see how much this is. Oh $5.99 says it right there. $24.99, $19.99. Shame on you Christmas Tree Shop, shame on you. Marking things up like that. And taking only 10% off, there's nothing in this store except for Christmas floor mats that are 50% off."
She went on to lambast the prices of the various items in the specific Christmas Tree Shop location: "Everything else is marked up if its got two price tags on it, like this, $14.00, you can see right underneath, that it says $6.99. Everything has double prices on it and everything underneath is much less."
Article continues below advertisement
It seems that there were other shoppers who've visited Christmas Tree shop stores who had similar experiences at their respective locations. One commenter penned: "I went to the one in Foxborough. I walked right out. I picked up on that right away. They had a solar lanterns that would be $5 anywhere for $34.99"

Article continues below advertisement
Another person wrote: "I was at the one in NY and I noticed the same thing"
Someone else in the comments section, who said that they used to work at the Christmas Tree Shop, remarked that this was a common practice while they were on the job: "used to work at a christmas tree shop and we would always mark stuff up. if someone came in my lane i would mark it down or give them a discount"
It's hard to imagine why management would think that this is a good idea. Perhaps folks who've never visited the store, upon hearing that its having a liquidation sale, might head inside to take a look at the store's wares thinking they're getting a deal on these items, and because they aren't familiar with the brand's prices, may make a purchase, may just end up very well buying their products.
Article continues below advertisement

However, in many of the items that the TikToker showed off in her video, it's pretty plain to see that they're all rocking double price tags. Does this kind of retail tomfoolery grind your gears? Or do you understand if a business is trying to make as much money as possible before it closes all of its doors for good?