"Sorry, I Don't Do Ice Scream Dates" — Woman's Rejection to Man's Date Idea Riles Up Internet
A woman refused to go on an ice cream date and her reason for denying such a delicious suggestion was quite baffling. Let's dig in.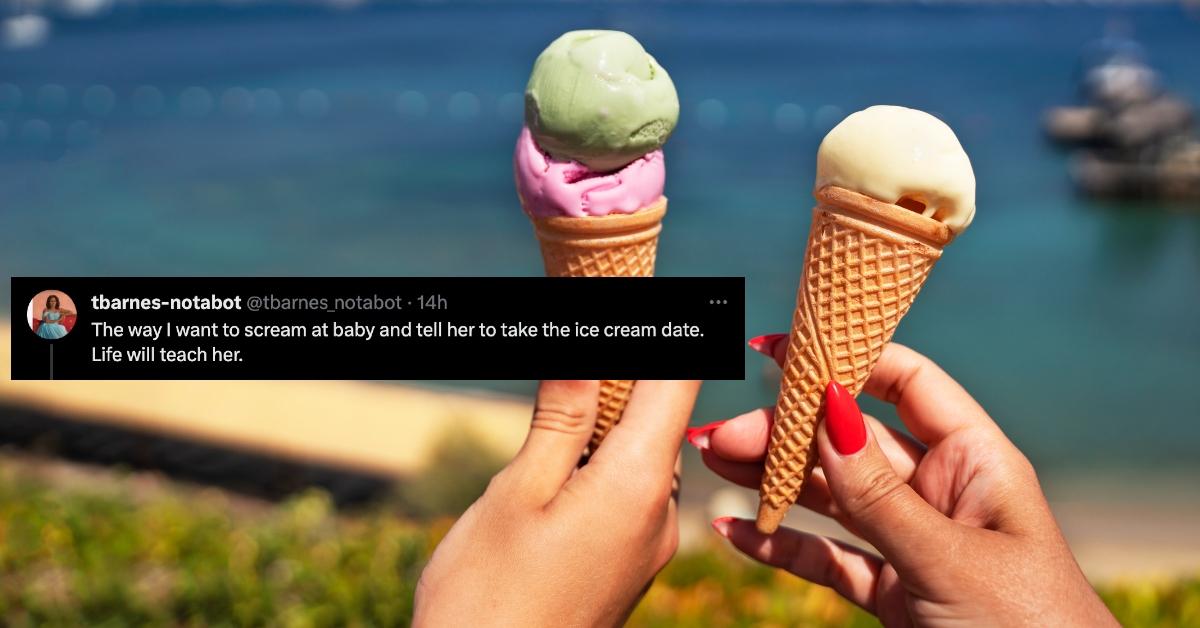 I scream, you scream, but not everyone screams for ice cream. First of all, take a minute to imagine a world where people are screaming about ice cream. How terrifying would that be? Secondly, ice cream is complicated because it's kind of a tricky dessert. It's delicious, but eating it is truly a race against time. No one likes a bowl of ice cream soup, or sticky fingers.
Article continues below advertisement
For one young woman, the prospect of an ice cream date was unacceptable. Twitter user Shay Stewart Bouley, aka @blackgirlinmain, posted a screenshot of a conversation between a 26-year-old woman and a potential date. We don't know where this screenshot originated, but its contents have created quite a stir. When asked out on a date that involved getting some ice cream, the woman not only said no — but she was also offended. Was she bitten by ice cream as a kid? Here's what we know.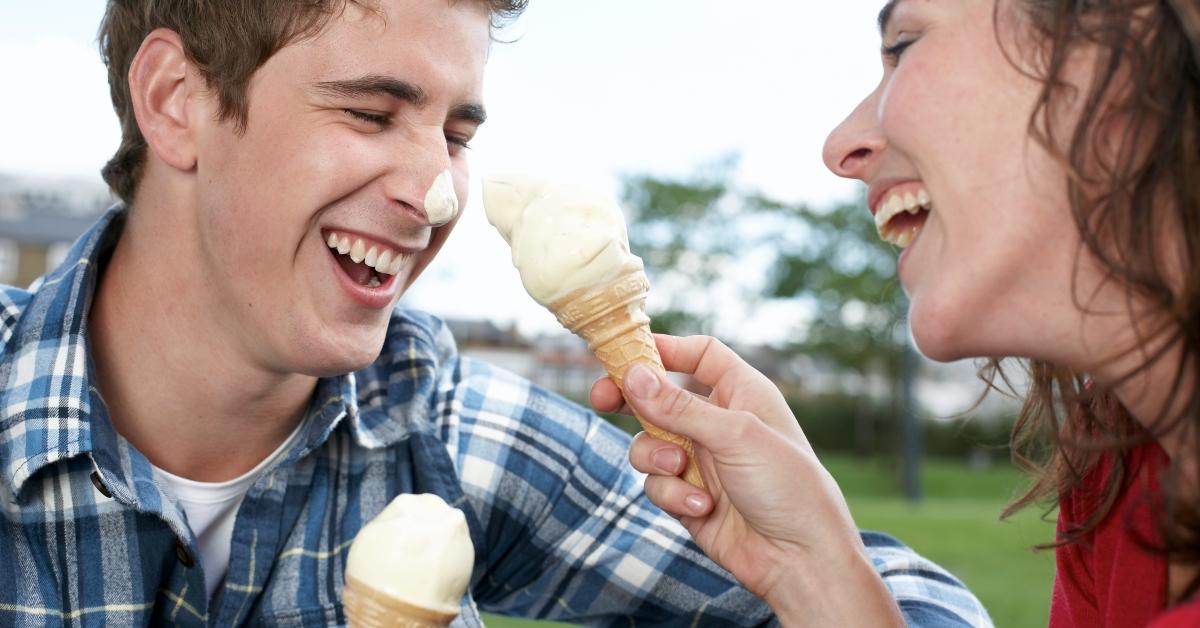 Article continues below advertisement
Why all the hate for a ice cream date?
In the text back-and-forth from the screenshot, things start out quite normally. "Hey, this is Vance," texts a man we assume is named Vance. He follows it up with a smiley face, old-school style. I get the impression this is the first text exchange between two people who might have connected on a dating app.
The young woman replies in kind with a simple "Hi," and a smiley face emoji. So far, so good. No one has suddenly texted any unsolicited pics of body parts. It's crazy to have to mention that, but it happens too often not to.
Article continues below advertisement
"Hope you've had a good day," writes Vance. Immediately, I am in Vance's corner. I understand that might look like a low bar, but it's shocking how many folks would jump right into talking about themselves without giving a thought to the person on the other end of the phone.
Article continues below advertisement
Vance goes on to say he is excited for tomorrow, then offers to pick the woman up with an addendum: "If you're not comfortable with that, we can just meet there." It's hard to say if "there" references a place they already picked out, or the place they will end up deciding on. Regardless, Vance then says he is feeling like getting some ice cream in the hot weather.
Things take a very wild turn at the mention of ice cream. "Sorry if this comes off as rude, but I don't do ice cream dates," she responds. While I think ice cream is certainly not a crazy suggestion, am I to understand this person is besieged by ice cream dates? So much so, that she has formed an opinion about them? There must be more to the story.
Article continues below advertisement
"I'm a 26-year-old woman, and a date like that seems like the absolute bare minimum for me," she writes.
I am struck by two things here. The mention of her age suggests that ice cream is not a timeless treat. While the frozen sweet dish itself has an expiration date, the enjoyment of it certainly does not. Is it childish to feel joy?
Article continues below advertisement
Secondly, what does "bare minimum" mean here? It feels like this is a first date, which is generally used to feel out a person. What is the difference between grabbing a drink, snagging a cup of coffee, or enjoying some ice cream? I'm of the mind that a first date should be an event that doesn't lock two people in for longer than necessary. A full dinner would do just that.
In closing, this woman decided that "meeting up would be a waste of our times, since we probably don't have the same vibe." It ends with "Best wishes." To Vance's credit, he respects her wishes and replies with "Cool," and the sunglasses emoji.
Article continues below advertisement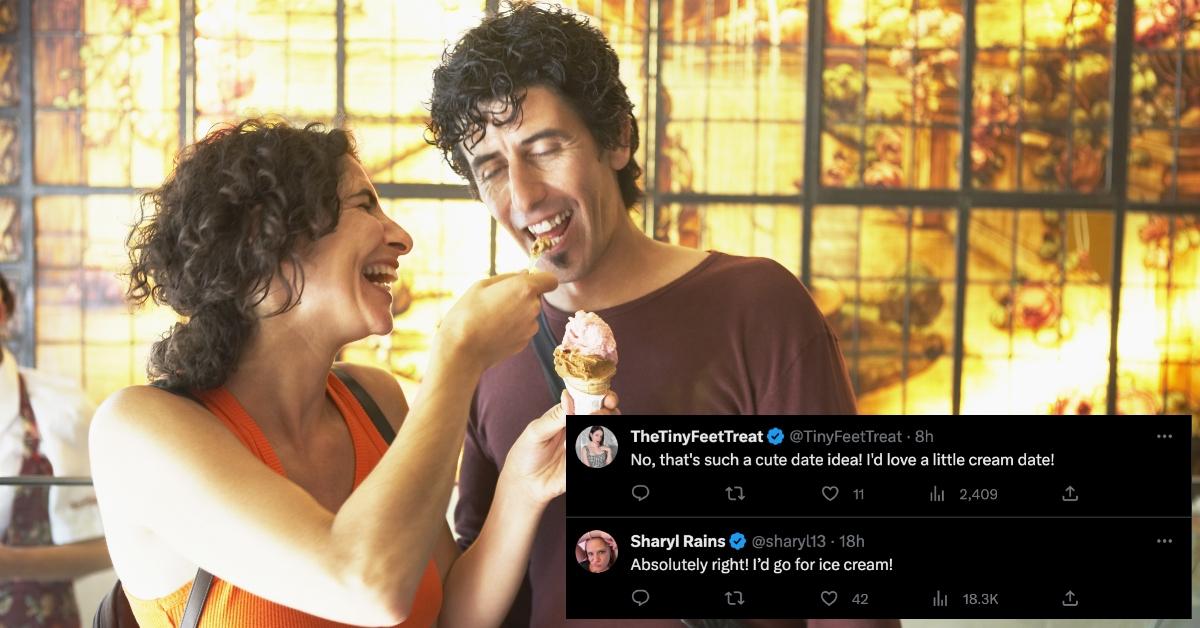 Most people in the tweet replies seem to be in favor of ice cream dates.
"I don't get the attitude," said B---- Media cofounder Andi Zeisler. "You can learn a lot about someone from an ice cream date. Plus, you get ice cream, literally what is not to like?!" There was even anecdotal evidence that an ice cream date can work out. "My wife and I had our first date over ice cream at 1 in the afternoon. The date lasted about 12 hours," said @yogabbathegreat
A few folks posited that perhaps there was some underlying trauma here, or an unpleasant experience that fueled a response that didn't seem to match the offer. If that's the case, I suggest this woman put a pause on dating until she can come from a place of honesty. Perhaps something along the lines of, "I love ice cream but in the past a more simple date has translated to someone not putting in the same amount of effort as me. I prefer a dinner date."