Woman Accidentally Meets Up With the Wrong Guy in New York for a First Date
One woman went to meet a guy for a date in New York City and ended up walking away with the wrong guy. We share the hilarious story below.
Going on a first date can be so nerve-wracking. There's so much to worry about from what you're wearing to the impression you make.
But among these typical worries, you also want to make sure to confirm that you are meeting up with the right person. After all, since so many dates are made while using dating apps, you often don't know what the actual person looks like until you meet in person.
Article continues below advertisement
Take it from this TikTok user who after meeting up with a guy for a date, learned that he actually wasn't the guy she had made plans with. Here's how a woman picked up the wrong date.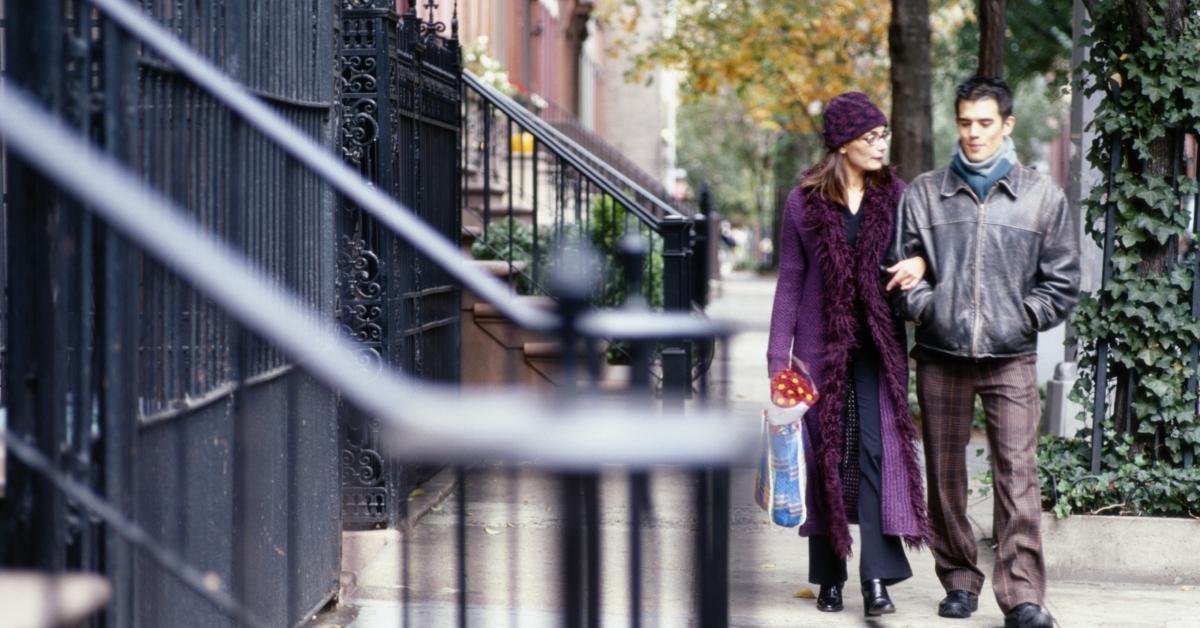 Article continues below advertisement
Woman meets up with wrong guy for date.
Well, here's a unique first date story that you don't hear too often.
One TikTok creator named Elsa (@elsagill_) took to the platform to explain how she almost ended up on the wrong first date with the wrong guy in New York City.
"I just showed up to a date and I hadn't met him yet in person," she explained at the beginning of her video. 'So I see this guy that's like a similar height and hair color standing out front and I said his name and he was like, 'Yeah.'"
Already, she felt weirded out as this man looked nothing like his pictures.
Nonetheless, she began walking with him and they made light banter about how their day went. However, the conversation began to alarm Elsa as it seemed that everything she thought she knew about him was a lie. For example, he had previously told her he lived on the Upper West Side, but now he claimed to live in the Meatpacking District.
Article continues below advertisement
"And so I was like 'Oh, so you lied to me?'" Elsa said. "And he said "I never said that.'"
Elsa continued to ask him how work was going to which he said, he didn't have a job. But as Elsa recalled, he had previously told her he had one.
Article continues below advertisement
But finally, things start to make sense when she gets a text from her actual date that reads, "Where are you?"
She ends her video by saying, "I was walking with the wrong person."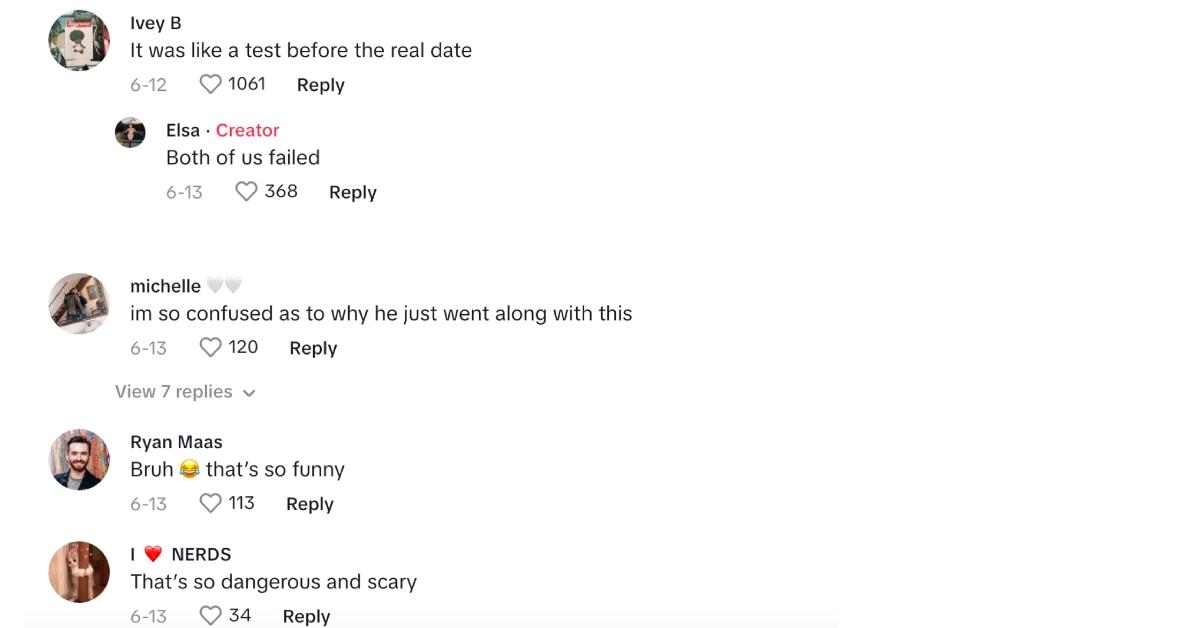 Article continues below advertisement
In the comment section, users got a kick out of Elsa's story. "It was a like a test before the real date," one user teased.
Others couldn't believe the odds that he had the same name as her actual date, to which she clarified, "Only the first letter of their name was the same. [I] don't know why he said yes to the wrong name."
In a follow-up video, Elsa continued talking about this first date mishap.
After receiving the text from her real date asking where she was, she informed the guy she was walking with what had happened.
"I turned to him and said 'Omg we are on the wrong date.' And he was like, "Wait, you're not … and he said her name and I was like, "No, I'm Elsa.'"
Article continues below advertisement
They then turned around and started walking back to where they had first met up, trying to distance themselves so their dates wouldn't see them walking up together.
Elsa explained that his date also had blonde hair like she did.
When Elsa finally got to meet her real date, he wasn't as amused by the mixup as she was. "My date definitely didn't find it as funny as I did. I was laughing and was like 'you won't believe it,'" she said.
Article continues below advertisement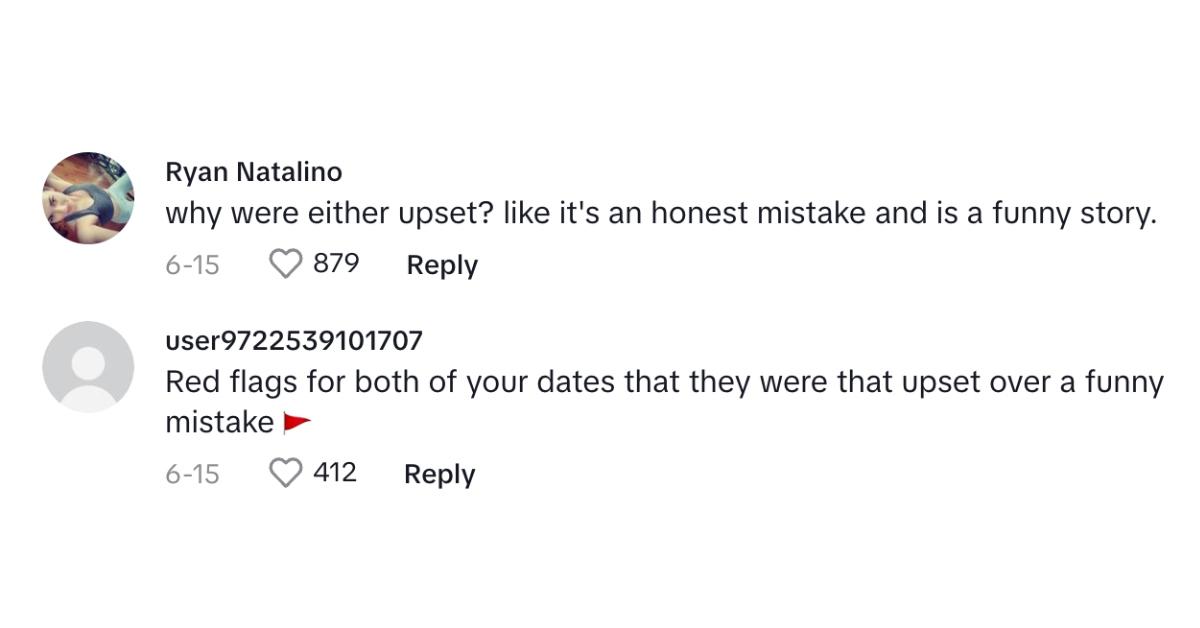 Overall, she said that her date went well, but added, "But i don't understand dating in New York. I think we just ended up as homies."
Many users pointed out the fact that it was a red flag that her date didn't find the story funny.
We're just glad that everyone is safe.