DoorDasher Responds to "No Soliciting" Sign by Doing Just That
Unfortunately this DoorDasher didn't seem to understand the "no soliciting" sign on the front door of a house also included unwanted texts.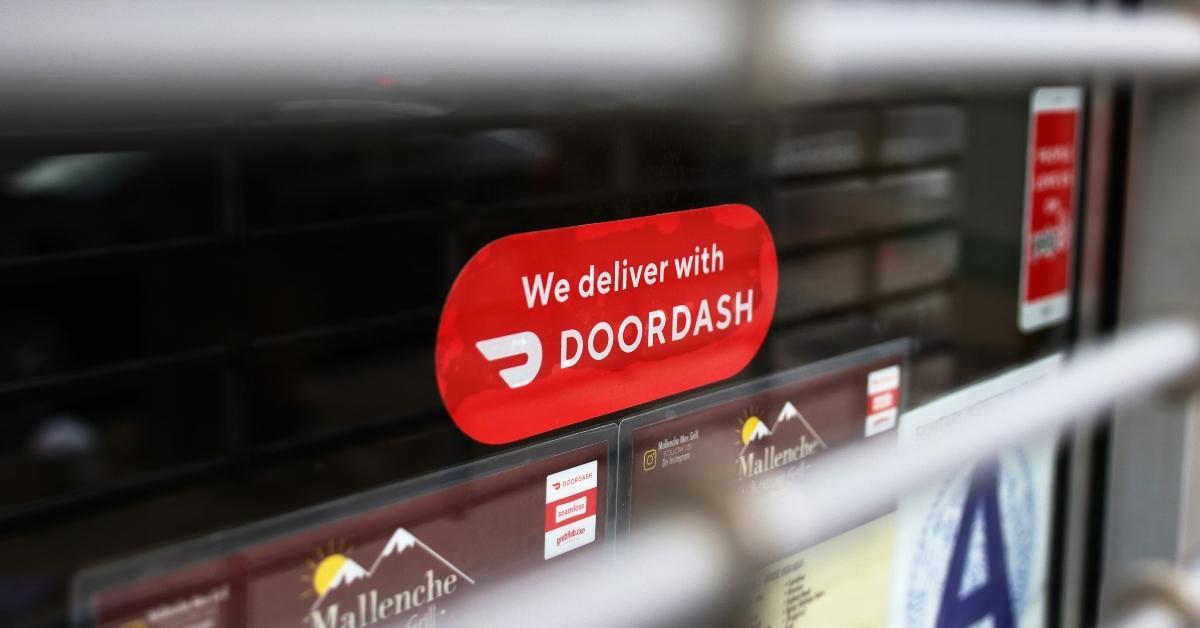 Everyone is entitled to their opinions. And those opinions can be flung into the world via various mediums. There is social media, an open mic, a street corner, and of course your own mouth. If you have something to share, there is always a place where that thought can live.
Article continues below advertisement
However, sometimes people are very clear about their lack of interest in other people's ideas. For example Reddit user u/meowthv, who we are calling Darlene, had to deal with a DoorDash driver who couldn't read the room, or rather the door. They texted Darlene after seeing their no soliciting sign, and the text feels a lot like soliciting. Here's what happened.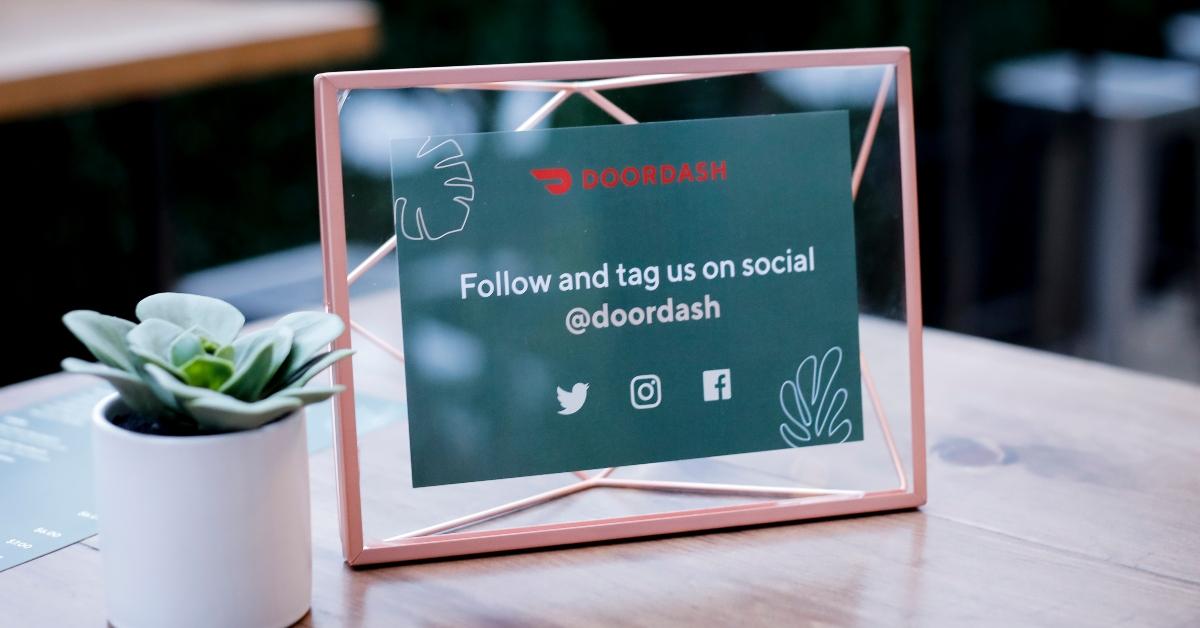 Article continues below advertisement
Just leave the food and leave! Here's this Redditor's story about a DoorDash driver who responded to a "no soliciting" sign.
After you order a meal from DoorDash, it's standard practice for the driver to text a picture of the food after it's been delivered. This of course covers everyone's butts when it comes to anything that might have gone wrong. Sadly this DoorDash driver took it a step further after taking note of Darlene's sign.
"I saw your sign and I just wanted to say, I used to be that way too," the text begins.
(And what way was that — being a person who wants to create an oasis of peace in their home without someone trying to sell them something, like a deity or a new roof? Wanting space from the rest of the world is perfectly fine.)
Article continues below advertisement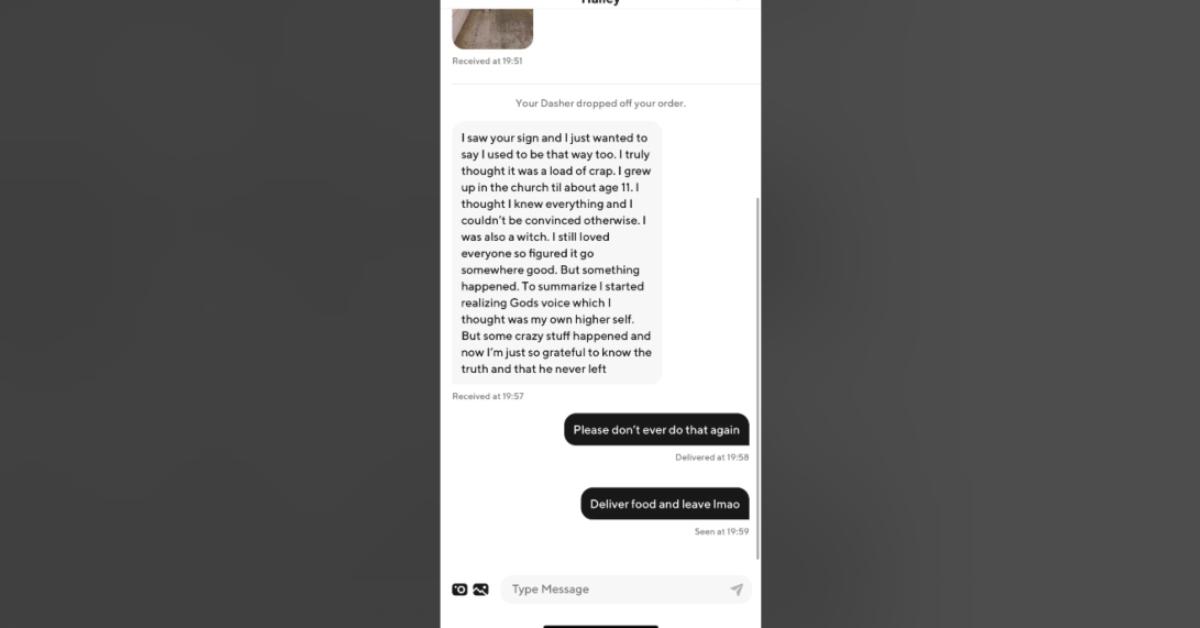 The text continued, "I truly thought it was a load of crap."
If you're about to ask what "it" is, don't worry, it's coming.
"I grew up in the church 'til about age 11," the text continued. "I thought I knew everything, and I couldn't be convinced otherwise."
It's wild to think that anyone knows anything as a pretreen, but things quickly take an intriguing turn.
Article continues below advertisement
"I was also a witch," the text went on.
Now hold on; rarely do these two things meet outside of something like the Salem Witch Trials. Are we to understand there might be some Pagan Presbyterians out there? Sadly we never get into the Wiccan of it all as the proselytizing steps in. Bummer!
At this point the DoorDash driver lets the delivery recipient know "I still loved everyone" and figured that had to go "somewhere good." As you can see, this isn't exactly a linear message.
Article continues below advertisement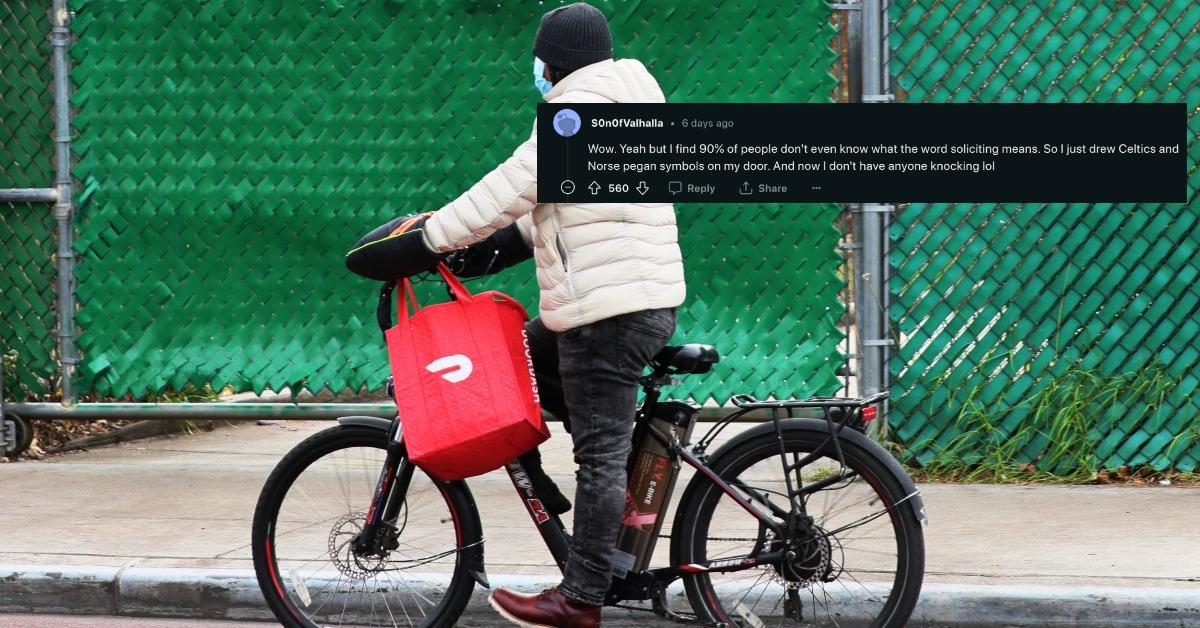 Here comes the big finale. "But something happened," the text went on.
Perhaps this person lit the black flame candle and brought the Sanderson Sisters back to life? Unfortunately this didn't take a Hocus Pocus route.
"To summarize, I started realized God's voice which I thought was my own higher self," the text said.
OK, that sounds intriguing, but not intriguing as the next tease.
Article continues below advertisement
"But some crazy stuff happened, and now I'm just so grateful to know the truth, and that He never left," the message concluded.
Once again we are begging this person to go into the "crazy stuff." We want witch stories and we want bonkers adventures. Truly, we are ready to solicit these things!
The response to this DoorDasher's message was succinct and did not suck.
What can one say to this absolute roller coaster of unwanted emotions? How about, "Please don't ever do that again. Deliver food and leave, LMAO." Everyone in the replies applauded Darlene's response and felt that dropping off the food and then leaving is really all that needs to happen.
Article continues below advertisement
One person asked how "no soliciting" automatically translates to not being religious. Darlene was quick to chime in: "That's what I'm saying, LMAO, I just don't like people coming to my door to sell stuff, man."
After scrolling for what felt like 40 days and 40 nights, we happened upon the one person who disagreed with Darlene's methods. "Your response is childish and now you're online looking for validation. Your life could probably be more fulfilling," they said, clearly not understanding that they too are posting online. Hopefully this won't be Darlene's last supper, via DoorDash!