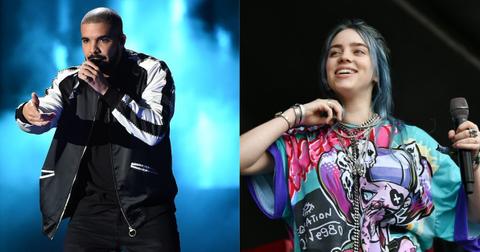 Billie Eilish Explains Her Unlikely Friendship With Drake: "[He's] the Nicest Dude"
By Lizzy Rosenberg

Updated
While Drake is well-loved for his catchy club jams (and — of course — his role on Degrassi), many of us can't figure out what his deal is. Why does Drake text so many younger female artists, and what are his intentions with them? Last year in 2019, the rapper was reprimanded for contacting Millie Bobby Brown from Stranger Things, who is only 15 years old.
And most recently, the "Nice For What" singer was criticized for texting 18-year-old Billie Eilish. As you could probably imagine, fans of both singers are somewhat disgusted by Drake's lapse of judgment — Drake and Billie apparently began texting before Billie became of age, and as the music industry has a reputation for older men taking advantage of younger women, fans are suspicious. So, here's what she had to say about the backlash.