Billie Eilish Says She Texts Drake Regularly and People Think It's Kinda Weird Because She's 17
Some people are taking issue with the fact that perennial pop/hip-hop charter Drake reportedly texts underage girls like Billie Eilish. Details.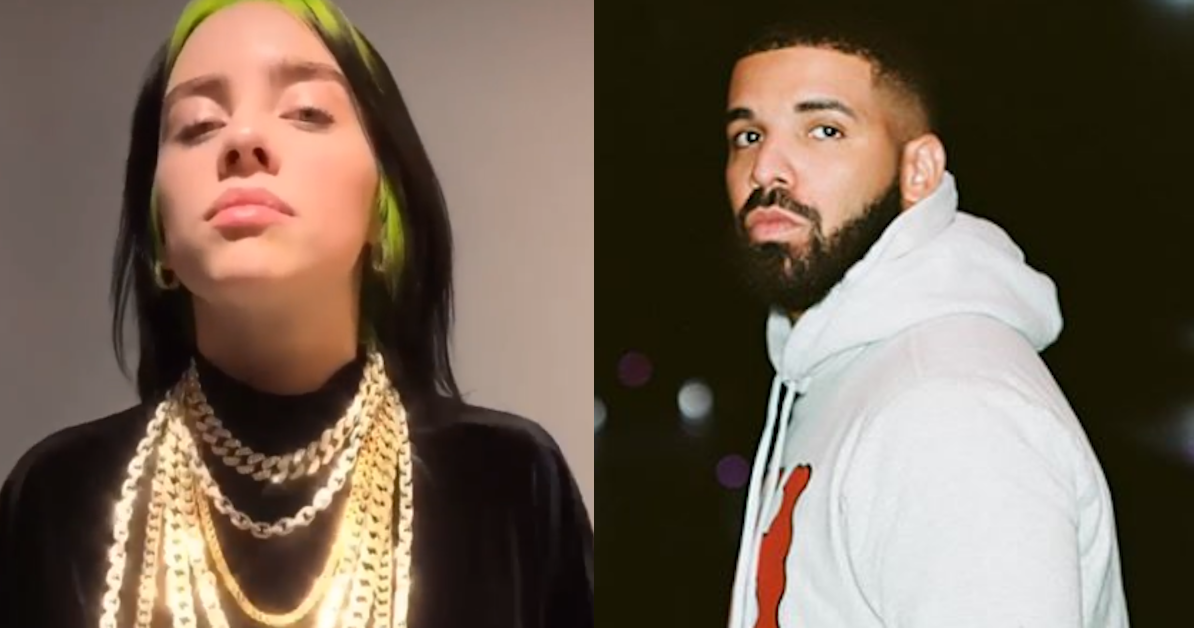 When Billie Eilish revealed in a recent Vanity Fair interview she texts Drake, people began pointing out she's not the only underage girl who has him in their phone.
If there was a list of successful pop stars that get a ton of hate, I'd say Drake probably is near the top of that list. The man is constantly criticized for *not really* being a hip hop artist and is more "emo-pop" with a dash of rap.
Article continues below advertisement
He also gets loads of heat for using ghost writers on his tracks, and let's not forget the dragging he received, when, at the height of his Pusha T. beef, it was revealed he had a son with Sophie Brussaux, an adult entertainer who is now a full-time painter (and she's pretty darn good at it). Drake also gifted the world with the lyric, "I wasn't hiding my kid from the world, I was hiding the world from my kid." Giving an out to actual deadbeat dads everywhere.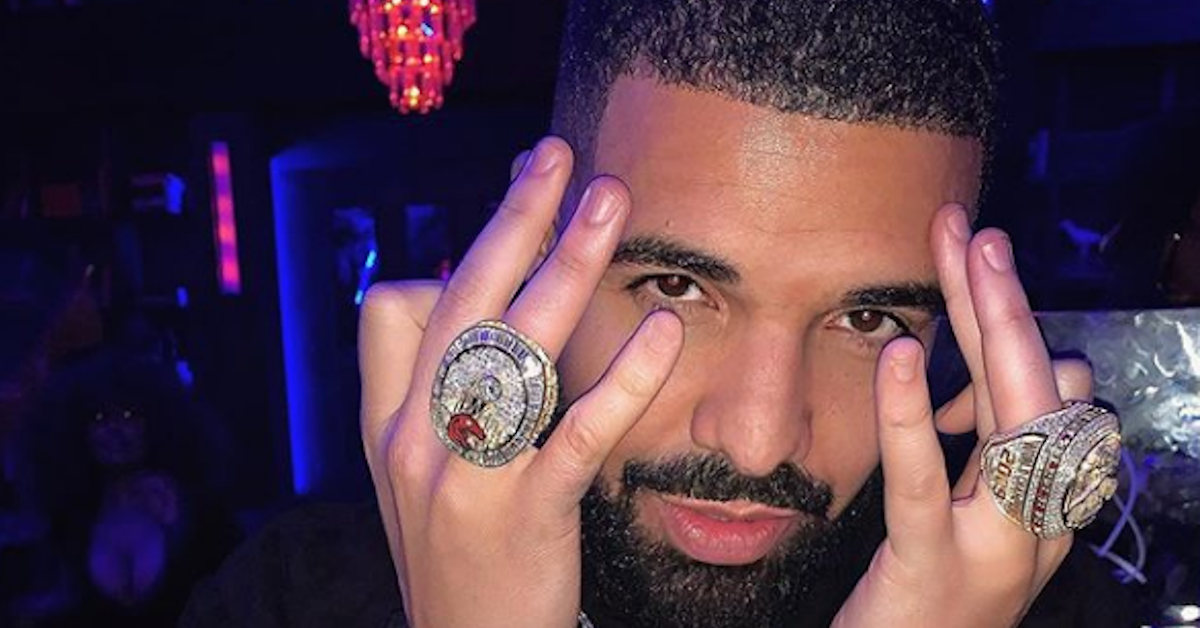 Article continues below advertisement
Who could also forget the fact that Drake was pulling for the Toronto Raptors to win the NBA Finals, all while covering up a tattoo celebrating their opponents, the Golden State Warriors, a squad that managed to win multiple championships themselves. Recently, the man was booed off the stage at Camp Flog Gnaw, because fans thought Frank Ocean was going to be the closing act. Drake asked the audience if they wanted him to continue playing, and they shouted, "We want Frank!" and "No!"
Why is Drake texting underage girls?
Drake put up on Instagram that he signed a 10-year residency with Flog Gnaw, likely as a response to the concert drama. While he's always had fans supporting him, the man's been receiving a lot of hate recently, and now it looks like he's getting another heaping spoonful of it thanks to sad-girl extraordinaire's Billie Eilish reveal that Drake is the most famous person in her contacts list.
Article continues below advertisement
She told Vanity Fair, "Drake is, like, the nicest dude I've ever spoken to. I mean, I've only, like, texted him, but he's so nice. Like, he does not need to be nice, you know what I mean? He's at a level in his life where he doesn't need to be nice, but he is, you know?"
This made some people who heard about the story a bit confused and some thought it was a bit weird that Drake was texting someone who's only 17 years old.
Article continues below advertisement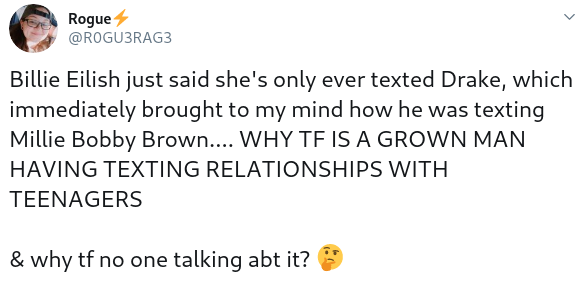 It also got other people talking about the fact that Billie's not the only young star Drake has reportedly been texting, Millie Bobby Brown, who was only 14 years old at the time, revealed the artist also texts her.
The Stranger Things actor responded to the criticism surrounding her texts with Drake, stating on Instagram, "U guys are weird...For real. I'm lucky to have people in the business extend their time to help me further my career and offer their wisdom and guidance."
Article continues below advertisement

Article continues below advertisement
That still didn't stop people from piling on their criticisms, stating that it's not OK for the 33-year-old to be texting underage girls, even if it is to offer "guidance," "career advice," or as just a "marketing" move. Multiple people have gone so far as to call it "creepy."
But, there were others who defended Drake, offering up that being a former child entertainer himself, he wants to impart some words of wisdom to younger artists.

Article continues below advertisement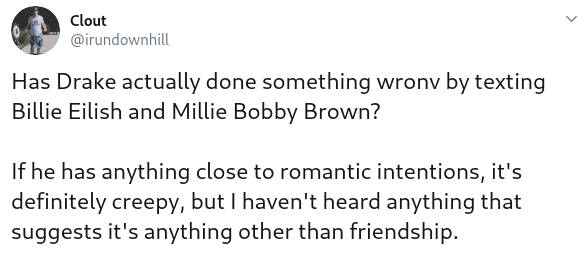 Some have responded to fans' social media posts that support the Toronto-based artist insisting that he hasn't done anything wrong by alleging the singer is "grooming" young women to be romantically interested in him from a young age so that he could "swoop in" when they're older. This is a similar tactic that R. Kelly's been accused of employing against underage girls in the past.
Article continues below advertisement


What do you think about Drake being on a texting basis with Billie Eilish and Millie Bobby Brown? Do you think it's problematic? Or do you just think it's one entertainer connecting with other go-getters in the industry and providing some guidance and possibly laying the groundwork for further collaborations down the road? The music industry is as much about quality songwriting as it is staying on top of trends, and Billie Eilish is certainly a hot commodity right now.