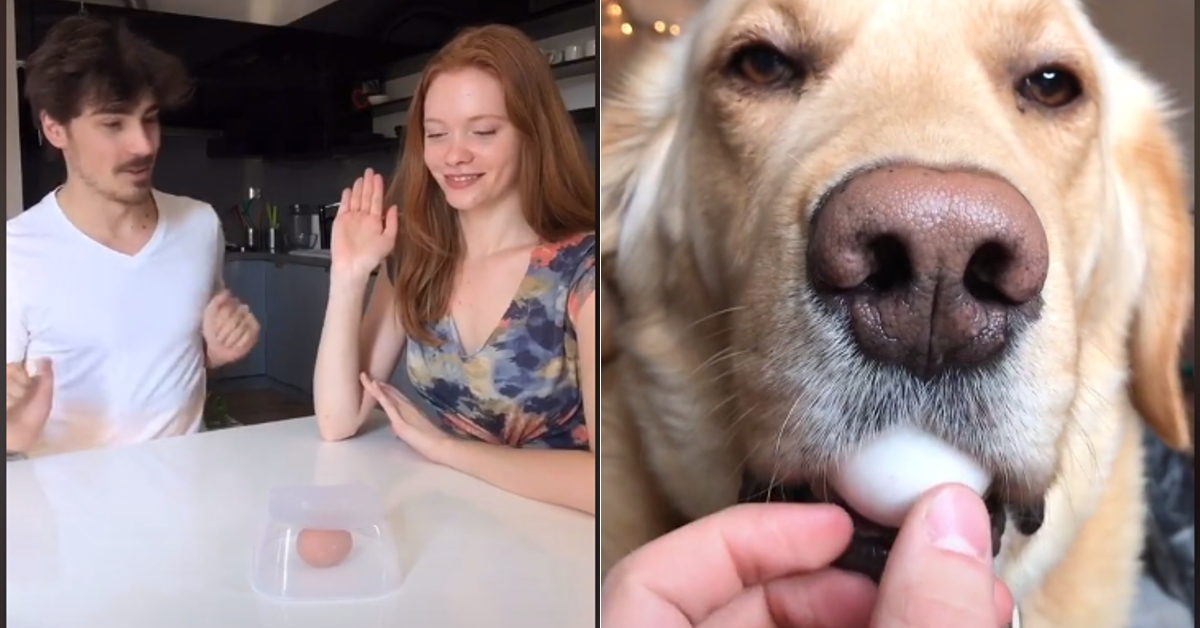 There Are Two Types of Egg Challenges on TikTok: Ones With Dogs and Ones Without
Different social media platforms are jam-packed with a variety of challenges and games you can do with your friends, family, co-workers, or maybe even secret enemies whenever you want to have some fun.
While some challenges are mean-spirited "gags" that could lead to bodily injury, like the dreaded skull breaker trend, there are plenty of innocuous and good, clean, fun gags you can perform with nothing but a plastic container and an egg. This is all you need for the egg challenge on TikTok.
Article continues below advertisement
What is the egg challenge on TikTok? It depends on who you ask.
A surefire way to get more eyes potentially viewing your videos is to engage in a popular trend, and there are tons of egg challenge clips that are popping up all over TikTok.
Here's how you perform the first one that was all the rage in 2020: You and another person place an egg on a hard, flat surface. Then cover that egg with a cup, glass, tupperware — pretty much any sturdy covering that you can pick up with one hand.
Then you take turns smacking the covering hard enough to make a loud noise, then one person is going to remove the tupperware while the other person is preparing to smack the covering. The trick is: Will they have a quick enough reaction time to stop their hand before slapping the table and causing the egg to crack? Or will it come crashing down on the table and cause a huge mess?
Here's the egg challenge in action.
Article continues below advertisement
Article continues below advertisement
But there's another egg challenge on TikTok that involves testing the "tenderness" of doggie jowls.
In case you haven't heard, golden retrievers are so gentle and have such soft mouths that they're able to hold an egg in their puppy maws without cracking it. But are they the only dog breeds capable of such gentility and delicate behavior?
That's what a bunch of TikTok users decided to find out for themselves.
Article continues below advertisement
As it turns out, there are plenty of puppers who aren't golden retrievers who sensed that they were holding a delicate item in their mouths and instinctively knew not to bite down on it and have it explode over their gums.
There could be a variety of different reasons as to why some dogs know not to do this. It could be an evolutionary trait that they picked up over thousands and thousands of years.
Article continues below advertisement
Article continues below advertisement
Or maybe, it's just because most dogs don't like eggs, or they know that there are babies gestating in there and there's some cosmic nature force telling them not to mess with the circle of life.
But of course, there were some dogs who weren't as gentle as their other canine counterparts.
Article continues below advertisement
Do you have a puppy you want to try the egg challenge with? Or are you more inclined to try the game out with a friend of yours?