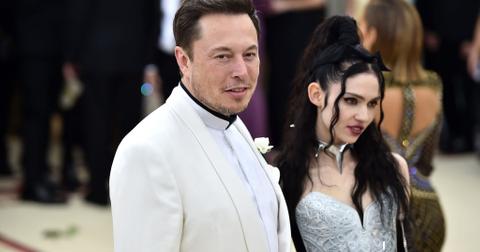 These Are the Best Theories About What Baby Musk's Name Means
By Gina Vaynshteyn

Updated
On Monday (May 4), couple Elon Musk and Grimes welcomed their first child together. As to be expected, we learned about this through Elon's cryptic reply on Twitter (not even a standalone tweet!), when he wrote "Mom & baby all good" when Twitter user @Gaelic_Neilson asked about it. Today, Elon "announced" the baby's name on Twitter as well (as a reply, obviously), claiming it's X Æ A-12 Musk.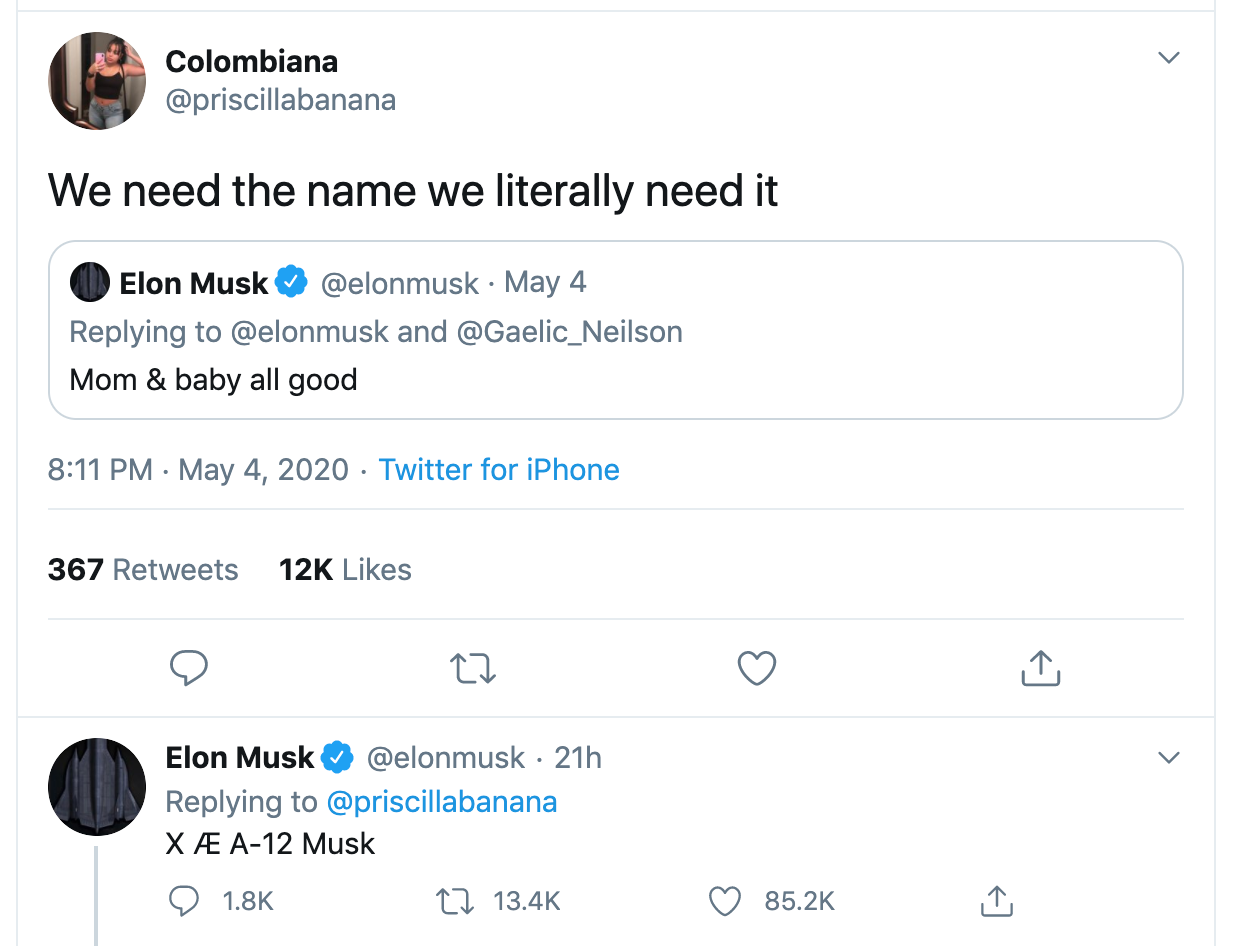 We also got several photos of Baby Musk out of Elon as well. The first one was a bit unconventional. Elon photoshopped tattoos on the baby's face either for fun or maybe to protect his little one's privacy.
Maybe it was just for fun because shortly after, Elon posted a photo of himself holding the baby boy. This time, sans baby face tats.
But, okay. Back to Baby Musk's name. Is Elon joking? He must be joking. Can you even name your baby X Æ A-12? Is that legal? Here's what we found out.
What does Elon Musk's baby's name mean even?
"X Æ A-12" has completely baffled the internet, leading us all down a weird and wild rabbit hole. One Twitter user's theory, which is the most popular so far, is that X Æ A-12 stands for or can be interpreted as "X Ash Archangel." "Æ" is pronounced as "ash," and "Archangel" is supposed to be a codename for the CIA's A-12 aircraft. Elon even liked the tweet, but who knows if that means anything.
Another Twitter user pointed out that the name could be a reference to The Book of Genesis, which is the first book of the Hebrew Bible and Old Testament. Grimes has an album called Genesis, and the character letter Æ is in the name of a song in Grimes's latest album, Miss Anthropocene (which came out earlier this year). There's gotta be some significance here, right?
X = 10 in Roman numerals, 10 is an angel number representing god and his government on the earth, 'god said' appears 10 times in Genesis I. Grimes has a song titled Genesis. Maybe X means Genesis. 🤣

— Tierney Mannion (@tierney_mannion) May 5, 2020
One person thinks the name simply means "Ash" and the theory is kind of a combination of all the theories.
Theory: this is true and the baby will be called Ash (representing the world tree of Norse mythology perhaps?). The song 4ÆM on Grimes' new album is a coded dedication to their son. 4ÆM = 'For Ash Musk'

— Tanisha (@VivaTanisha) May 5, 2020
But is it legal to name your baby X Æ A-12?
As for whether naming your baby X Æ A-12 is legal or not: According to Slate there's really no definitive answer, because rules vary state by state. And apparently government databases "will strip out punctuation and internal capitalization, substitute AE for Æ and reject numeric characters. So X Æ A-12 would become Xaea." Which could very well be the real name, who knows! But what it sounds like, is even if Elon and Grimes wanted to name their baby X Æ A-12, it might just get automatically translated into something more, um, type-able.
The Elon Musk and Grimes's baby's name memes are also on point.
Maybe the best part of Baby Musk's maybe name drama is all the memes. We don't know whether or not Elon is being serious about X Æ A-12, but we do know these memes are hilarious.
ELON MUSK: *accidentally drops a drawer full of silverware*

GRIMES: [hearing the sound it makes] Thats the perfect baby name

— Extreme Good Person (@SortaBad) April 30, 2020
Maybe one day we'll find out what X Æ A-12 means — and if it's really Baby Musk's name. Until then, we'll keep playing robot noises to pronounce his name — Elon and Grimes wouldn't want it any other way.