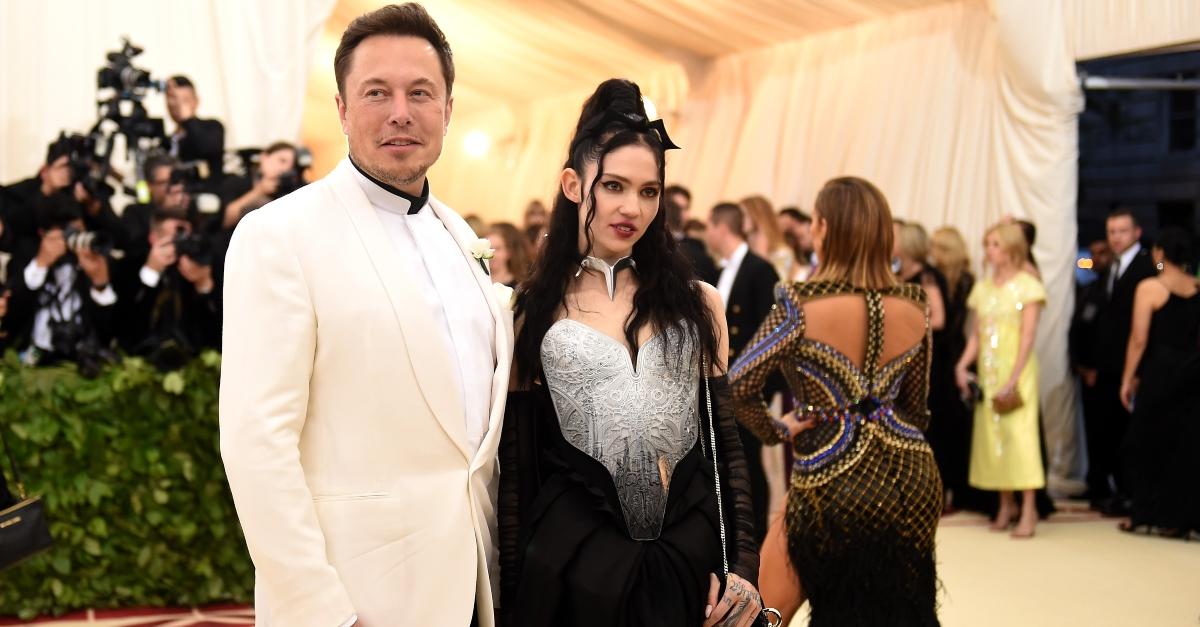 Elon Musk and Grimes Reveal Secret Baby No. 2, Daughter Exa Dark Sideræl
By Shannon Raphael

Mar. 10 2022, Updated 11:46 a.m. ET
When tech entrepreneur Elon Musk stepped out on the red carpet for the 2018 Met Gala with Canadian singer Claire Boucher, aka Grimes, the internet went wild over the odd pairing. In spite of the haters, the two continued with their relationship and Grimes even defended him in interviews, saying he's "great" and they were in love.
Article continues below advertisement
In May 2020, Elon and Grimes welcomed a baby boy together. His name definitely raised some eyebrows: X Æ A-12, which was amended to X AE A-Xii on his birth certificate to adhere to state naming laws. Fast-forward to March 2022, and it was reported that Elon and Grimes secretly welcomed baby No. 2, daughter Exa Dark Sideræl, via surrogate.
Read on to find out about more Elon's kids.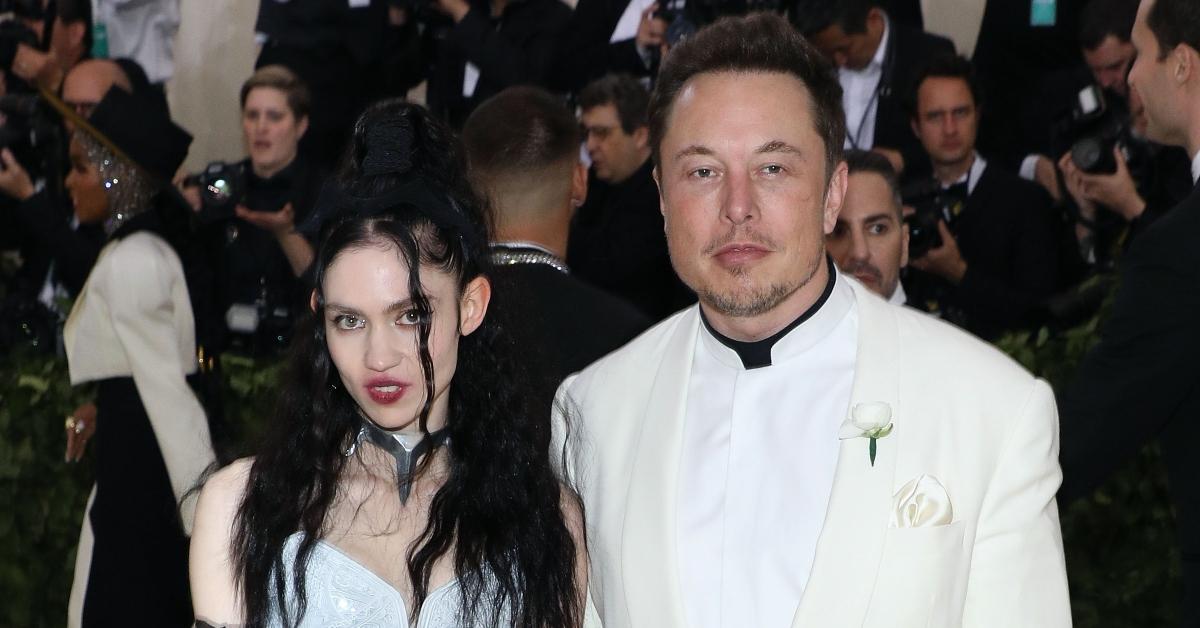 Article continues below advertisement
Elon Musk has children with both Justine Wilson and Grimes.
Elon was married to Canadian author Justine Wilson from 2000 to 2008, before his extreme success really began.
The couple welcomed their first child, Nevada, together in 2002. Tragically, Nevada passed away from sudden infant death syndrome (SIDS) in 2002 at just 10 weeks old.
The couple then decided to go through IVF to grow their family. Justine gave birth to twin boys Griffin and Xavier two years after Nevada's death.
Two years after that, the couple had triplets sons Saxon, Kai, and Damian.
The couple announced their divorce in 2008, and Justine went on to refer to herself as Elon's "starter wife." She alleged that he treated her poorly, and that he often demeaned her.
Article continues below advertisement
In 2010, Elon married British actress Talulah Riley, whom he started dating shortly after his divorce from Justine.
The couple — who didn't welcome any children together — first split in 2012, but they remarried one another a year later. They split again in 2014, but later reconciled. They ended their marriage for good in 2016.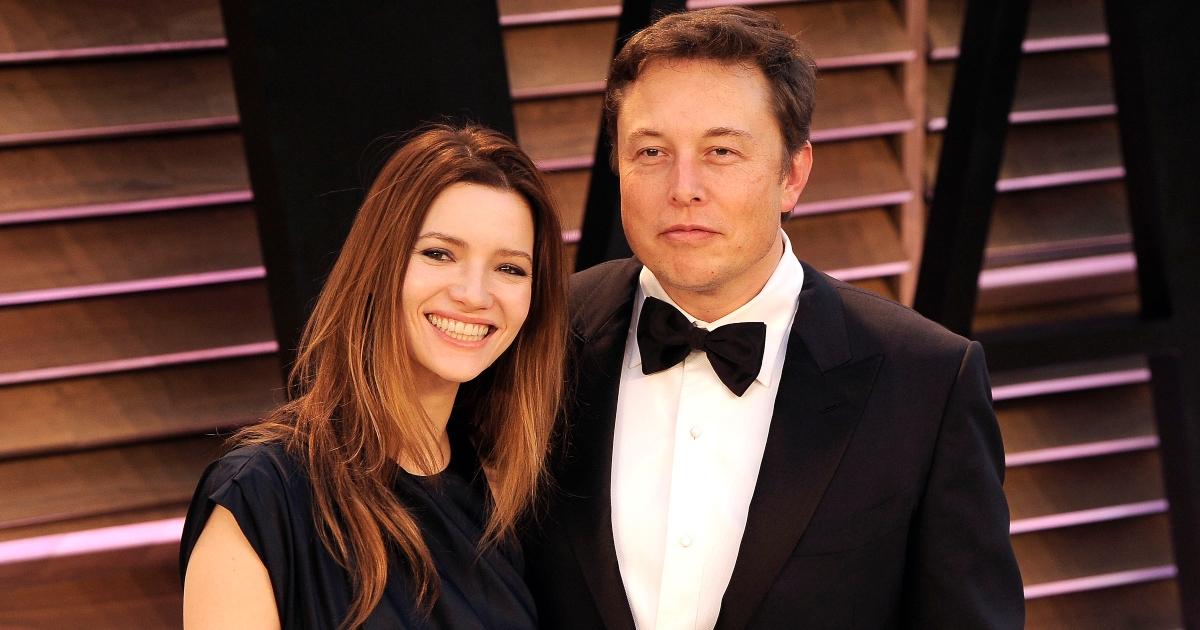 Article continues below advertisement
Grimes revealed she was pregnant in January 2020.
The internet went abuzz for Elon and Grimes when the singer posted a photo that hinted she was pregnant. In the NSFW photo, Grimes was topless, and her stomach was protruding.
She first captioned the photo "being knocked up is a very feral & war-like state of being. Might as well be what it is."
When Instagram removed the picture for nudity, she re-posted a censored version of the shot. But, her caption changed to "Censored for insta haha — almost got away w[ith] it."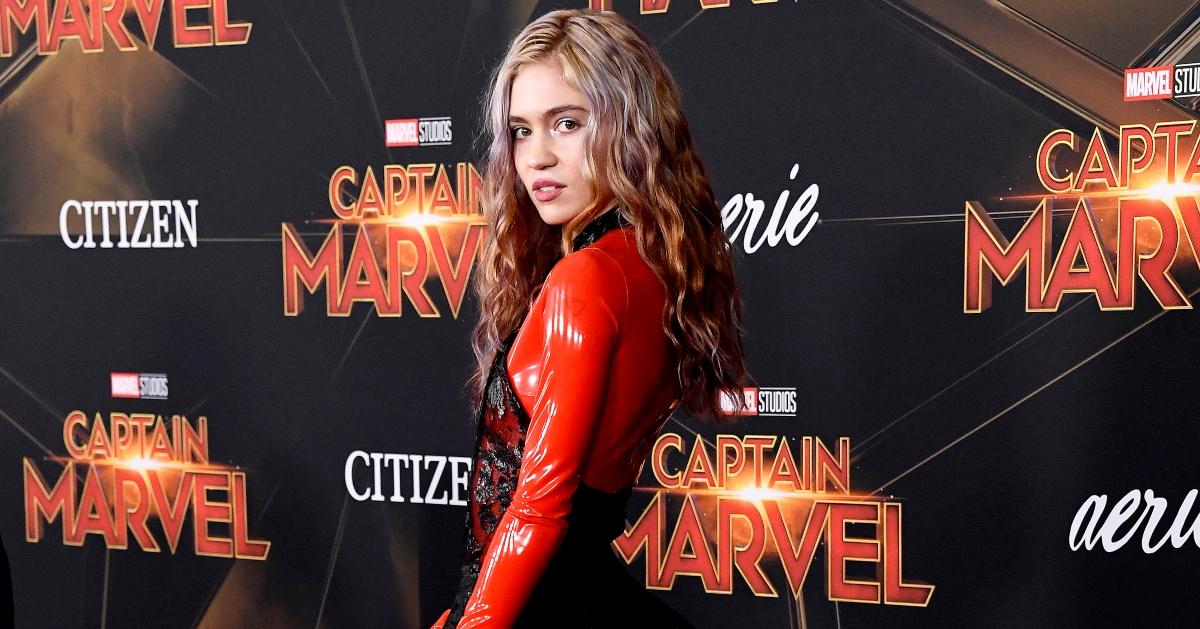 Article continues below advertisement
Elon and Grimes announced the birth of their son in May 2020.
On May 5, 2020, Elon took to Twitter to announce the arrival of his son. "Mom & baby all good," he wrote, before sharing a photo of himself and the newborn.
The next day, Grimes explained the meaning behind their son's unusual moniker. "X, the unknown variable," she wrote. "Æ, my elven spelling of Ai (love &/or Artificial intelligence). A-12 = precursor to SR-17 (our favorite aircraft). No weapons, no defenses, just speed. Great in battle, but non-violent + (A = Archangel, my favorite song) (metal rat)."
Article continues below advertisement
Later that month, a fan on Instagram asked Grimes if she had changed her son's name. "X Æ A-Xii," she replied.
Another follower responded with, "Nice! Just removed the numbers to confirm to California law," to which Grimes wrote, "Roman numerals. Looks better tbh."
Grimes later revealed the nickname she uses for her son: Baby X.
Article continues below advertisement
In March 2022, Grimes revealed she and Elon welcomed a baby girl via surrogate.
In a cover story for the April 2022 issue of Vanity Fair, Grimes revealed she and Elon secretly welcomed a daughter in December 2021 via surrogate. The baby's full name is Exa Dark Sideræl Musk, though they call her Y.
Grimes explained the meaning behind their daughter's name, telling the outlet that Exa refers to the term exaFLOPS, while Dark is "the unknown. People fear it but truly it's the absence of photons. Dark matter is the beautiful mystery of our universe."
As for Sideræl, the word references "the true time of the universe, star time, deep space time, not our relative earth time," while simultaneously acting as a nod toward Grimes' favorite Lord of the Rings character, Galadriel.