Emily Ratajkowski Is Expecting First Child With Husband Sebastian Bear-McClard
A baby is entering the world soon as Emily announces she's expecting! What is Emily Ratajkowski's due date? Details on her pregnancy ahead.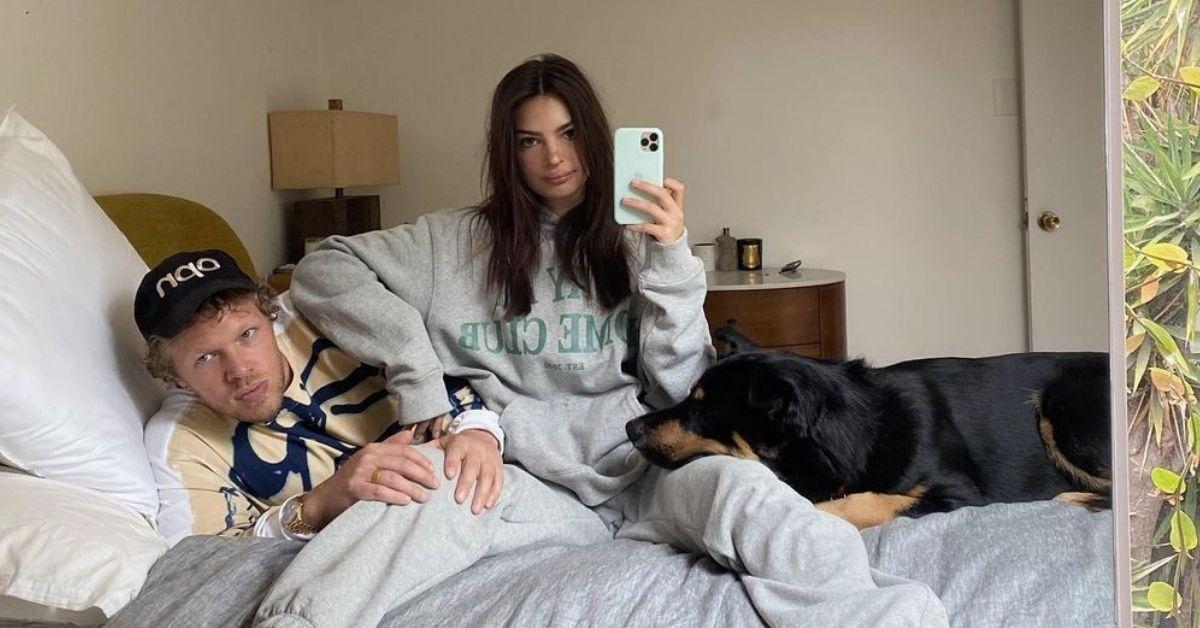 It's always good news when a pregnancy is announced. When it's one of our favorite celebrities, it's another layer of excitement. Emily Ratajkowski announced that she's expecting her first baby with her husband, Sebastian Bear-McClard. What's Emily Ratajkowski's due date? Here's what we know.
Article continues below advertisement
Emily Ratajkowski is pregnant, and her reveal was extraordinary.
Emily Ratajkowski doesn't do things like regular people. She doesn't have a normal job, a normal life like the rest of us. So, when it came time to share the news that she was pregnant, she went in a direction that most regular people could not do.
The pregnancy reveal news came with a digital Vogue magazine cover, and an artsy video shot by Lena Dunham. That's pretty huge and not a typical way someone would share the news that they're going to become a mother. On Oct. 26, 2020, the 29-year-old model shared on Instagram that not only did she have a Vogue cover to share with her fans, but she also has some big news.
Article continues below advertisement
"Grateful and growing," she wrote on Instagram along with her latest Vogue cover, which features her growing bump. She also thanked the magazine for the "very special cover."
She also shared a clip of the video directed by Lena Dunham, which is quite artsy and follows her pregnancy journey.
"I'll cherish this video as long as I live … I'm so grateful," Emily gushed. "You all made this the most special. Written and filmed by me. Shot at home."
Article continues below advertisement
Emily Ratajkowski's due date hasn't been confirmed, nor the sex of her baby.
In the video, we see several shots of Emily's growing belly, alongside a few ultrasound photos, and she talks about how she's felt so far. While she doesn't say in her video, in the Vogue article that came along with it, or on social media what her exact due date is, we can guess she's likely at least halfway through her pregnancy.
Article continues below advertisement
Although she's hasn't confirmed a date, we're only able to make a guess based on the size of her adorable belly, which is hard to predict as all mothers show differently. By our best estimates, we can likely expect a very late 2020 baby or a delivery in early 2021.
Emily also hasn't confirmed if she knows the sex of her unborn baby yet, however, noting in her Vogue article that she doesn't have plans to reveal the sex. She does have an "instinct" that she's carrying a boy, which she did share with the magazine.
Article continues below advertisement
"I used to use magical thinking whenever I wanted something to go a certain way. Now, though, I don't try to envision a pink or blue blanket in my arms. I'm too humbled to have any false notions of control," she wrote.
Article continues below advertisement
"I'm completely and undeniably helpless when it comes to almost everything surrounding my pregnancy: how my body will change, who my child will be," she continued. "But I'm surprisingly unbothered. Instead of feeling afraid, I feel a new sense of peace. I'm already learning from this person inside my body. I'm full of wonder."
Article continues below advertisement
She wrote, "Pregnancy is innately lonely; it's something a woman does by herself … No matter what her circumstances may be. Despite having a loving partner and many female friends ready to share the gritty details of their pregnancies, I am ultimately alone with my body in this experience. There is no one to feel it with me."
Huge congratulations to Emily and Sebastian! We can't wait to hear their baby's name and see a photo when they're born. There's no question the babe will be as cute as a button.