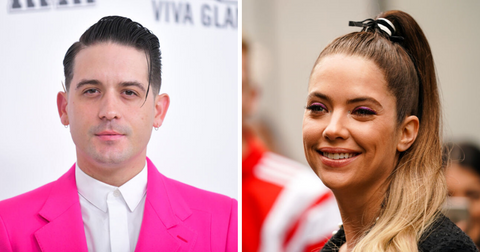 G-Eazy Confirmed He's Dating Ashley Benson in a Sweet Birthday Tribute
By Devan McGuinness

Updated
Fans were heartbroken over Cara Delevingne and Ashley Benson's sudden split in April 2020 — and then many were left scratching their heads when Ashley started showing up out and about with rapper G-Eazy. Is she G-Eazy's girlfriend now? Did Ashley so quickly jump into a new relationship? Here's what we know.
Article continues below advertisement
Ashley and G-Eazy were spotted together in May 2020.
According to sources, Ashley Benson was dating Cara Delevingne for several years, but the two broke up on April 21. By May 2020, she had been hanging out with G-Eazy and the two of them were spotted kissing.
Article continues below advertisement
A fan account posted a screenshot of an article written about the two, and sources say that Ashley herself liked the post, indicating that maybe she's not together with G-Eazy, but just friends?
"You can't say they are dating just because of a like and some comments," the post caption read. "Can't Ashley have friends now? STOP SAYING ASHLEY CHEATED! OR EVEN CARA! They just need friends right now more than ever!"
Article continues below advertisement
G-Eazy seemingly confirmed Ashley Benson is his girlfriend in December 2020.
On Dec. 19, the rapper took to Instagram with a sweet birthday shoutout to Ashley.
"Happy birthday beautiful," he captioned a series of photos of the actress/model/singer. "@ashleybenson I love you to the moon & back."
Article continues below advertisement
Meanwhile, the birthday girl posted a photo on her Instagram enjoying a celebratory drink. "Celebrating my birthday with my favorite @casamigos," she captioned the shot.
Article continues below advertisement
G-Eazy and Ashley Benson worked together in the past.
Speculation about the relationship between G-Eazy, whose real name is Gerald Earl Gillum, and Ashley started in May when they were spotted hitting up a grocery store together. Other than being in the same car, there was no indication that they were more than friends.
It shouldn't be a secret that G-Eazy and Ashley are friends. The two collaborated on a song, a cover of Radiohead's "Creep," which G-Eazy shared on his YouTube channel back in late April.
Article continues below advertisement
G-Eazy has been linked to several other women in recent years.
G-Eazy dated singer Halsey back in 2018, and the pair were together for about a year. Next, he was linked to model Yasmin Wijnaldum, and their relationship was made official in early 2020, with the 21-year-old model sharing photos of her and her 30-year-old boyfriend on social media.
Article continues below advertisement
Rumors later started swirling that G-Eazy was cheating on Yasmin when he was linked to Megan Thee Stallion, after posting a video of the two in bed together.
Article continues below advertisement
Although she claimed the two were not dating, the rumors took a bit to die down. On Feb. 4, she tweeted, "Lol alright nowww y'all got all y'all jokes out but I am not f--king G Eazy."
So far, it doesn't seem that Ashley has publicly addressed her relationship with G-Eazy. (Then again, it's not all that surprising — considering she has previously been very secretive of her personal life, including her relationship with Cara.) But we're going to go ahead and consider G-Eazy's birthday tribute to be the official announcement fans have been waiting for.