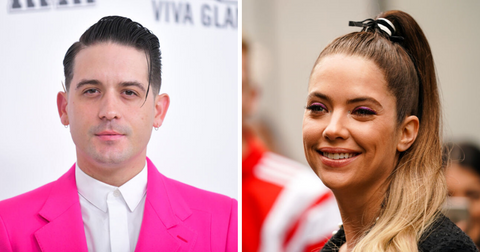 Wait, Is G-Eazy Dating Ashley Benson Now?
By Devan McGuinness

Updated
There isn't a whole lot exciting happening in the lives of us regular people. Most of us are stuck working from home and don't even have office drama to talk about. So, we're getting our fix with celebrity gossip, and their lives are far more interesting than ours. Many of us were recently heartbroken over Cara Delevingne and Ashley Benson's sudden split, but we've also been left scratching our heads when Ashley started showing up out and about with G-Eazy.
Article continues below advertisement
Ashley and G-Eazy have been spotted together but they aren't confirming their boyfriend / girlfriend status.
The quarantine is affecting a lot of people, and it seems there have been some changes in the relationship status of G-Eazy and Ashley Benson. According to sources, Ashley Benson was dating Cara Delevingne for several years, but the two broke up on April 21. Now, she's been hanging out with G-Eazy and the two of them were spotted kissing.
Article continues below advertisement
A fan account posted a screenshot of an article written about the two, and sources say that Ashley herself liked the post, indicating that maybe she's not together with G-Eazy, but just friends?
Article continues below advertisement
"You can't say they are dating just because of a like and some comments," the post caption read. "Can't Ashley have friends now? STOP SAYING ASHLEY CHEATED! OR EVEN CARA! They just need friends right now more than ever!"
Article continues below advertisement
G-Eazy and Ashley Benson worked together in the past.
Speculation about the relationship between G-Eazy, whose real name is Gerald Earl Gillum, and Ashley started a few days ago when they were spotted hitting up a grocery store together. Other than being in the same car, there was no indication that they were more than friends, and given her recent breakup, they may just be friends, after all.
It shouldn't be a secret that G-Eazy and Ashley are friends. The two collaborated on a song, a cover of Radiohead's "Creep," which G-Eazy shared on his YouTube channel back in late April.
Article continues below advertisement
G-Eazy has been linked to several other women lately.
G-Eazy dated singer Halsey back in 2018, and the pair were together for about a year. Next, he was linked to model Yasmin Wijnaldum, and their relationship was made official in early 2020, with the 21-year-old model sharing photos of her and her 30-year-old boyfriend on social media.
Article continues below advertisement
Rumors later started swirling that G-Eazy was cheating on Yasmin when he was linked to Megan Thee Stallion, after posting a video of the two in bed together.
Article continues below advertisement
Although she claimed the two were not dating, the rumors took a bit to die down. On February 4, she tweeted, "Lol alright nowww y'all got all y'all jokes out but I am not f--king G Eazy."
While Ashley or G-Eazy haven't made any official statement on their relationship — whether it's romance or friendship — Ashley has previously been very secretive of her personal life, including her relationship with Cara.
Chances are G-Eazy and Ashley are just friends, and we all need to chill out. But like we said, their lives are more interesting than ours right now.