Home Depot Employee Fired for "NPC" Livestream During Work, Accidentally Sharing Customer's Info
A Home Deport employee was purportedly fired for live-streaming while at work and broadcasting a shopper's personal information.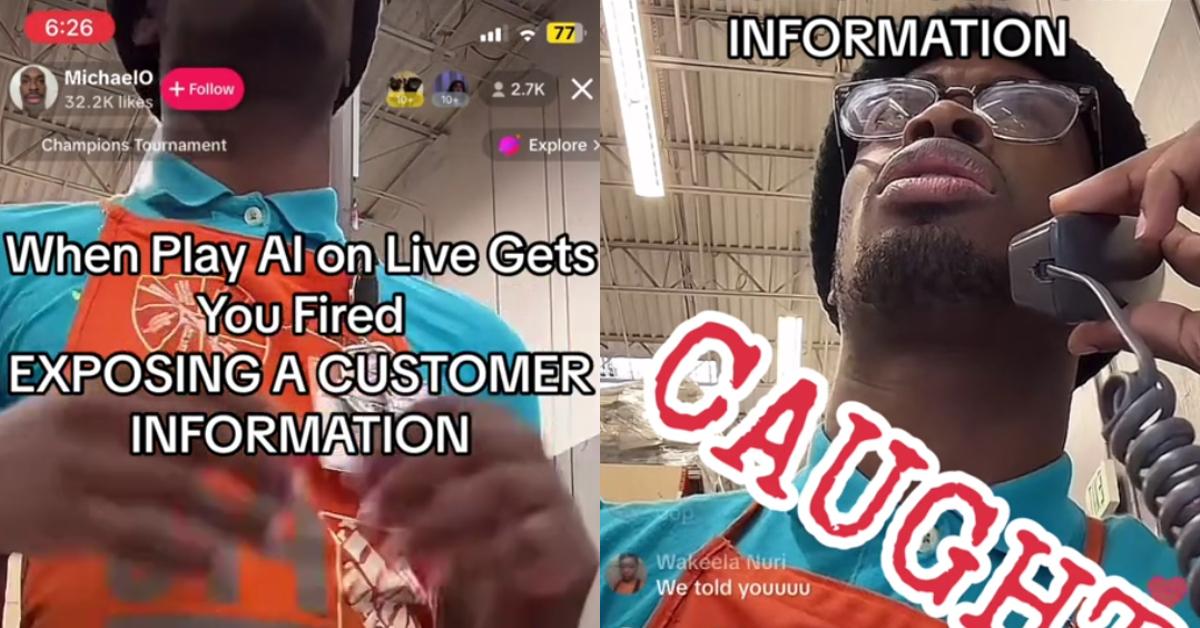 Article continues below advertisement
In fact, there are throngs of people who even record themselves while they're at work, or even live-streaming their shifts to post to popular social media applications in the hopes of producing more content for their followers. Some folks have even been fired from their jobs for uploading content to TikTok while at work.
This is what appears to have happened to this Home Depot employee who, while helping out a customer during an A.I. game live stream on the platform, unknowingly revealed their personal information to the entirety of the internet.
Article continues below advertisement
Some TikTokers are pretending to be "live" versions of artificial intelligence NPCs on TikTok, and are raking in big bucks in the process of doing so, like one user on the platform who claimed to earn $700 in just three hours by rattling off a series of "prompts" usually associated with emojis during their live streams.
Article continues below advertisement
One user on the platform, @lolabunny3248, uploaded a recording of a livestream being conducted by a Home Depot employee while they were on shift, presumably double dipping as part of their A.I. live play game, acting out the corresponding emojis that pop up on their screen.
The video begins with the worker swaying back and forth as part of their A.I. character, until they see that they're being approached by a shopper at the store. "All right may I have a phone number for the account?" the Home Depot worker asks.
Article continues below advertisement

The customer relays their information in the video, much to the apparent chagrin of some of the users, who warn the streamer to mute themselves in the video. Others quipped that they're going to call their manager for exposing the information, and the worker must've either forgotten to mute their audio, or not seen/heeded the messages popping up in their live stream chat.
Article continues below advertisement
After the customer leaves, it seems that the worker realizes they didn't mute the customer's number, and one of the viewers must've ascertained from the area code of the phone number that the employee's Home Depot was located in Lakewood, New Jersey, which they confirm in the live stream.
The video then transitions to the TikToker answering the phone, as a red text overlay that reads "CAUGHT" is plastered over the screen.
Someone can be heard talking on the other end of the phone and judging from the livestream performer's initially muted reaction, it doesn't seem like information being relayed to them is pleasant.
Article continues below advertisement

"Ok, for what?" they reply to the person on the phone. "Sure no problem," they say, looking down at their phone. "Can you ask him what is it for?"
Article continues below advertisement
Viewers checking out his phone caught on to the awkward silences, one person penned: "fired," while someone else wrote "bro scared"
There were other users who saw Lola's video who also thought that things didn't end well for the Home Depot employee.
One person joked: "Now he got plenty of time to play AI"
While someone else just couldn't seem to comprehend why anyone in their right mind would think that this would be a good idea to try and pull off while at work: "I just don't understand doing this at work, it's a recipe for disaster"
Article continues below advertisement

Which was a sentiment echoed by someone else who said: "why do this at work though. you can't wait to go home i never understood going live at work"
Article continues below advertisement
"Now he got no choice but to do AI for a living," another TikToker said.
One TikToker said that the fix could've been simple: all the user had to do was simply hit the pause button on their streaming: "All he had to do was pause the live smh"

What do you think? Is it fine for people to live stream their experiences while at work, just as long as they help customers and don't broadcast their personal details on the internet? Or does it just scream unprofessionalism?