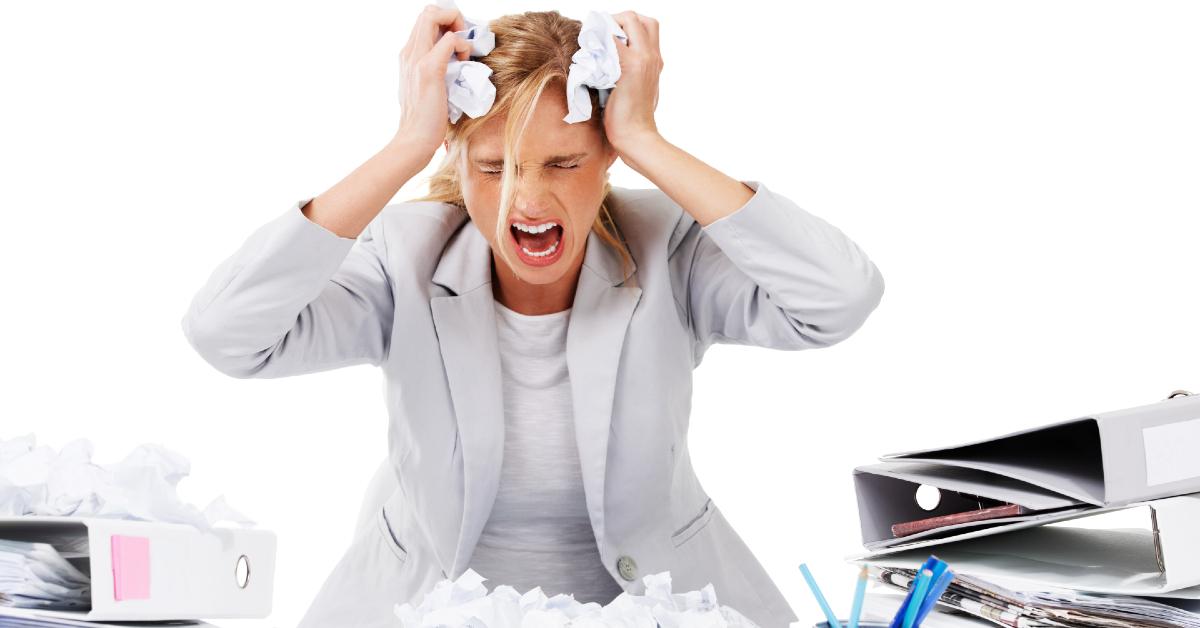 TikToker Records Themselves Quitting Job After Boss Blamed Them for Scheduling Issue
According to Fortune, recent surveys conducted on employed Americans indicate that a whopping 40-41 percent of them have either thought about or have already planned on leaving their jobs, in a piece titled "Great Resignation shows no signs of slowing down."
Article continues below advertisement
What's more troubling is that other reports indicate the real number is much higher. Business Insider claims that, in October 2021, 73 percent of those surveyed thought about ditching their jobs, and just a few months before that, that number was as high as 95 percent, citing "burnout" as the number one reason for them feeling this way.
And many folks on social media say they've decided to quit their jobs regardless of the financial implications that might come, like this one Redditor who was miffed that Associa management didn't honor his PTO request, even though they were informed of this time off during the job interview itself.
Now, a TikToker is going viral for "nope-ing" out of work:
Article continues below advertisement
Jonesy, who posts on the popular social media platform under the handle @itsoohsojonesy posted a snippet of what appears to be a conversation she is having with a co-worker. She writes in a caption for the video: "Im done!" with a smiley face attached to the message, hashtagging #rudecoworkers and #stressedout along with #remotejobs in the video's description.
Article continues below advertisement
She further explained in a follow-up video: "OK so all I need was one person to ask me for a story time and that's enough ammunition for me to tell y'all my business." Jonesy said she works as a recruiter who helps connect potential job candidates with prospective employers looking to fill their open positions.
Article continues below advertisement

Right now in America it is an employee's market, as there are 1.9 jobs for every job-seeker (as of this writing). Jonesy says her job duties centered around scheduling candidates to meet with with hiring managers for various "higher end" positions like "VPs of communication and marketing...just crazy stuff."
Article continues below advertisement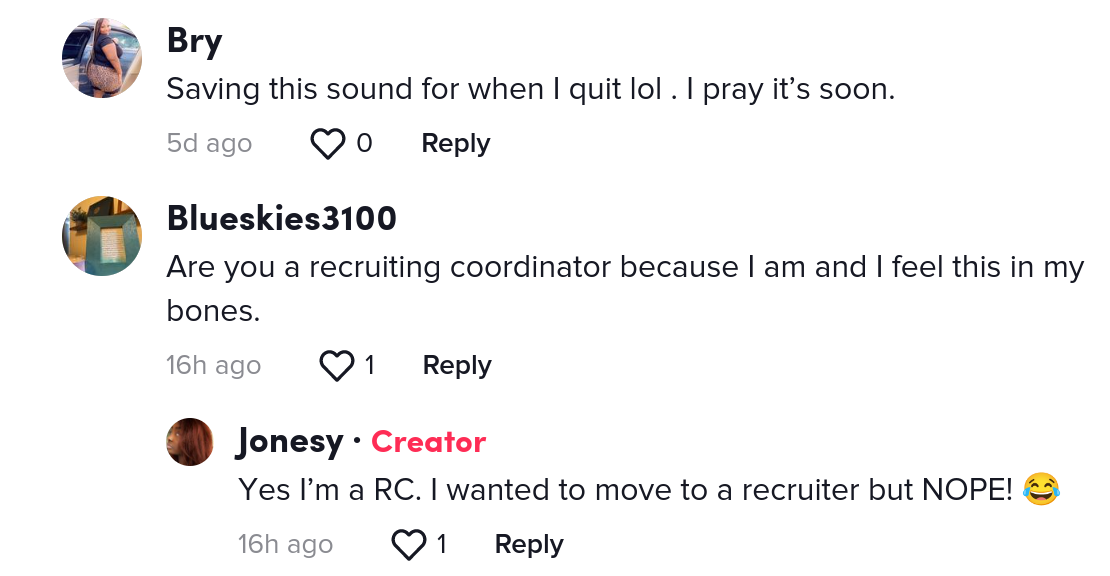 She says the folks she's helping to staff at these companies are making "crazy money" with "crazy sign-on bonuses." As a result, she urges folks who are seeking new jobs to not take no for an answer when it comes to their salary requirements because, from her end of the table, she's seeing everything high-level folks are earning, and it's a lot of dough, apparently.
Article continues below advertisement

Jonesy goes on to describe that her frustration resulted from a lapse in communication between the hiring manager, the recruiter, and the prospective candidate. The original interview Jonesy set up for the candidate and employer was supposed to be for 30 minutes. However the employer asked for an hourlong meeting instead.
Article continues below advertisement
So, Jonesy canceled that meeting, but the candidate declined the hourlong meeting invitation and opted to only take the 30-minute one, something that she said made her life "immediately hard." Then she received flak from the recruiter, who wanted to know why she scheduled an 60-minute interview instead of 30 minutes. Jonesy explained the situation again.

Article continues below advertisement
Of course, when she went back to try and schedule the hiring manager and the candidate for their interview, that initial time she put aside for their interview was "no longer available," which sent Jonesy into a game of phone tag trying to find a meeting time that worked for both of them.
However, the candidate wasn't being communicative, "When I tell you this man made my life so hard...I asked for his availability ten times and he was like I'm only available at 10, I'm only available at 10." Jonesy then said she spoke to the recruiter to inform them that the man wouldn't "budge" on the timing.
Article continues below advertisement

This prompted the recruiter to take their frustrations out on Jonesy. To make matters even more infuriating for the TikToker, she said the candidate began giving her a hard time too, and was trying to get her "in trouble," so she decided that she was "done."
At that moment, she decided to shut off her computer and quit her job. What do you think? Given her version of what happened, do you think that you would act in a similar fashion? Or do you believe that Jonesy could've handled things differently?