A "Ghost Voice" Was Heard During Queen Elizabeth's Funeral and Viewers Are Convinced It's Diana
A viral clip from ITV has folks thinking that there's a voice from beyond the grave — namely Princess Diana's — commenting on Queen Elizabeth's passing.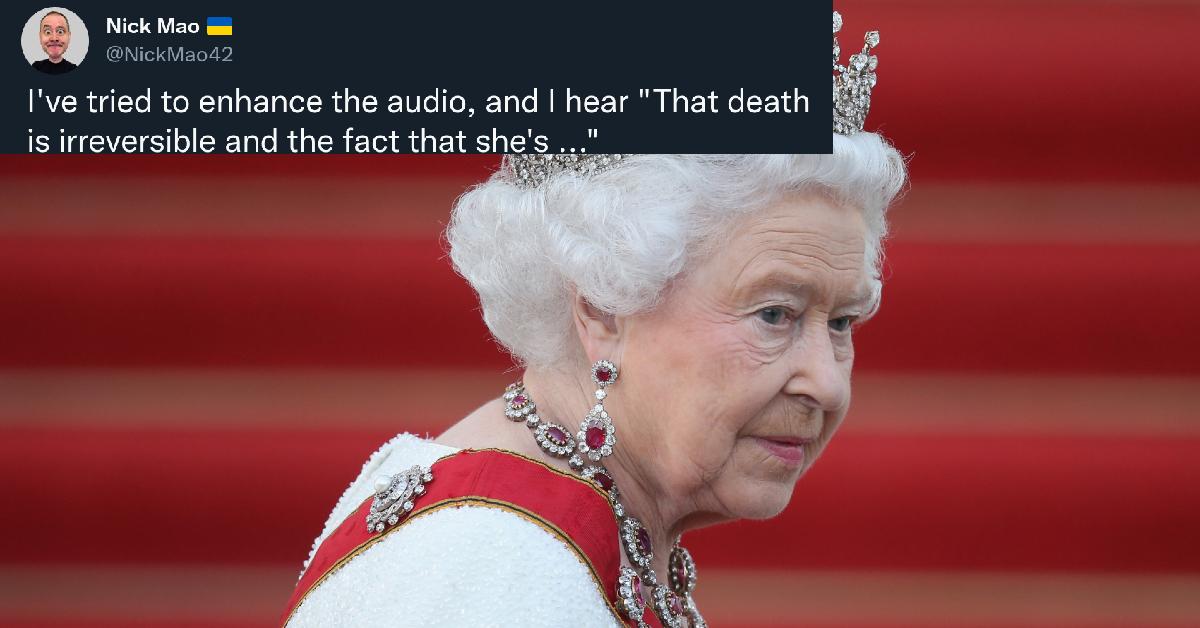 People love a good ghost story, especially ones that pack revelations from beyond the grave. Call me pessimistic, but I think a lot of that has to do with the fact that most people don't plan on changing their lives for the better and want to believe that somehow their deaths will culminate in a magic reconciliation, unveiling all of life's mysteries and connecting all their vain pursuits with some magical, meaning.
Article continues below advertisement
All rights are wronged because their physical frames ceased to exist and now they can release their shallow trappings of humanity instead of actively struggling to make sense of them while they're alive.
Personally I think death should scare us into realizing that the only time we have on this world is what we're given, so we need to make the most of it while we've got it.
That's not to say there aren't documented beyond-the-grave phenomena that defy explanation. A huge part of my life has been dedicated to the study of the paranormal, and I've managed to capture voices of people who aren't there, at least not in a physical sense. Is it a ghost? Trapped "energy"? Reverberations throughout time? Who knows.
Well, some folks believe they've captured an eerie electronic voice phenomenon (EVP) while watching footage of Queen Elizabeth's funeral.
Article continues below advertisement
In the clip, a woman's voice with an English accent can be heard saying: "The death is irreversible and the fact that she's tra-" and the voice cuts off as a male broadcaster starts speaking.
The breathiness of the voice, coupled with the audio cut out led many folks watching at home to believe that they captured the voice of a ghost commenting on Queen Elizabeth's passing.
Article continues below advertisement
Throngs of people believed that it was Princess Diana sending a message to everyone watching around the world. Why would this be the case? If you were an ardent reader of tabloids during the '90s when Diana died in a car crash, a lot of folks believed the British Crown had something to do with her death because she had the audacity to leave the royal family.
Article continues below advertisement
Many feel Prince Charles' marriage to Diana was a PR stunt pushed by the royal family to sell a Cinderella story to the public: A beautiful "commoner" — Diana was actually the daughter of an earl — marries a Prince and gets to have the dream wedding at the end of every Disney movie we watched growing up. You know, minus the part where the princess looks absolutely miserable.
Article continues below advertisement
By all accounts, Charles was madly in love with Camila Parker Bowles well before he met Diana, and purportedly continued to see her even before his heavily publicized first marriage.
Charles and Camila first went public with their relationship in 1999, around two years after Diana died in a car crash with Egyptian film producer Dodi Fayed, who was the son of retail billionaire Mohamed Al Fayed. The bulk of the elder Faye's wealth came when he sold his stakes in Harrod's, leaving Dodi with plenty of cash to produce movies like Hook and The Scarlet Letter.
Article continues below advertisement
Many people on social media honestly think Diana's somehow "getting back" at Queen Elizabeth after death, but there have been numerous pragmatic explanations for the voice that appeared on airwaves. And, in purported paranormal occurrences, the most practical explanation is usually true.
Article continues below advertisement
One Twitter user said that they watched the broadcast live and it was actually a grief counselor in the studio that day who made the comments.
The National explains that a guest — a real-life, flesh-and-blood guest, not the otherworldly kind — was present in the studio, "whose voice was picked up by the presenter's microphone."
Article continues below advertisement
If you're unfamiliar with EVP theory, it's rooted in the belief that paranormal events are somehow related to electronic phenomena. Voices theoretically can be captured through electric energy. The belief was first popularized by once paranormal skeptic turned full-blown believer Sarah Wilson Estep, who purportedly documented several EVPs via magnetic tape recordings.
Article continues below advertisement
The horror film, White Noise, starring Michael Keaton, is about electronic voice phenomena. Brandon Alvis and I (my brother from another mother I met on Ghost Hunters and am now producing a new show, Haunted Discoveries with) have captured EVPs of our own.