Engaged Couple Charges Guests $112 Attendance Fee for Wedding, Sparking Debate
A woman says she was charged $112 from a couple to attend their wedding, sparking a viral debate in a popular Mom blog.
Weddings can be extremely stressful, extremely expensive endeavors. While one would think that the love between a newly married couple would be enough for them to not freak out too much over their wedding plans, a lot of folks seem to put more energy into having their "perfect wedding day" than finding that special someone they'd happily fight to have a perfect life with.
Article continues below advertisement
Wedding stress doesn't just affect the couple getting married. Guests attending the wedding may be privy to the fact that the couple is going all out, which means they will likely feel obligated to give a hefty gift, whether it be something pricy off the registry or a fat envelope stuffed with cash.
These are pretty much implicit rules when it comes to gifts at weddings, and some couples almost almost seem to be budgeting their celebration based on the expectation of receiving money from their guests.
Article continues below advertisement
But aside from putting "No Boxed Gifts" on a wedding invitation, no one really asks their guests for money, right? Because that would be crass.
A Mumsnet user, however, said that they encountered this in an invitation they received recently from an engaged couple.

Article continues below advertisement
A visitor to the site who posts under the handle @Cookiemonstersnana said they received a wedding invitation that was to take place towards the end of January 2023. On the note, the couple asked guests to pay £100 each — which comes out to $112 USD — for the food.
To top it all off, @Cookiemonstersnana said the invitation was written in a way that suggested the guests were getting a deal by only being asked to pay $112 for their food.
You'd figure, if you were being asked to fork over that much cash, that the couple getting married would have some crazy five-course meal planned.
Article continues below advertisement

While the jury is still out on what kind of grub is being served up on the wedding, OP knows they will have to pay for their own drinks at the celebration. Here's a possible clue, though: OP then received another invitation to a different event hosted by someone related to the newlyweds. And that party apparently will have a van where guests can purchase pizza.
Article continues below advertisement

OP wanted to know if it was normal for couples to straight up ask their guests to subsidize the wedding with an "admission fee" and suggest they'll need even more of their financial assistance for the honeymoon.
Article continues below advertisement

Tons of commenters said this most certainly isn't the norm and they wouldn't expect anyone to explicitly charge guests for food.
Article continues below advertisement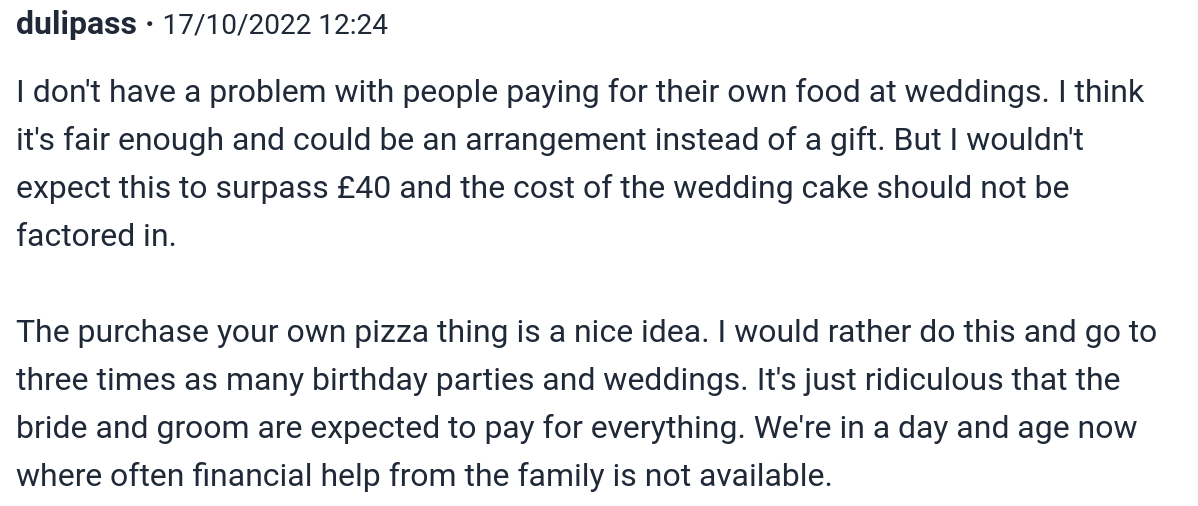 Others said that if OP has a problem with the wedding and the expectations set by the bride and groom, they simply don't have to go to the wedding.
Article continues below advertisement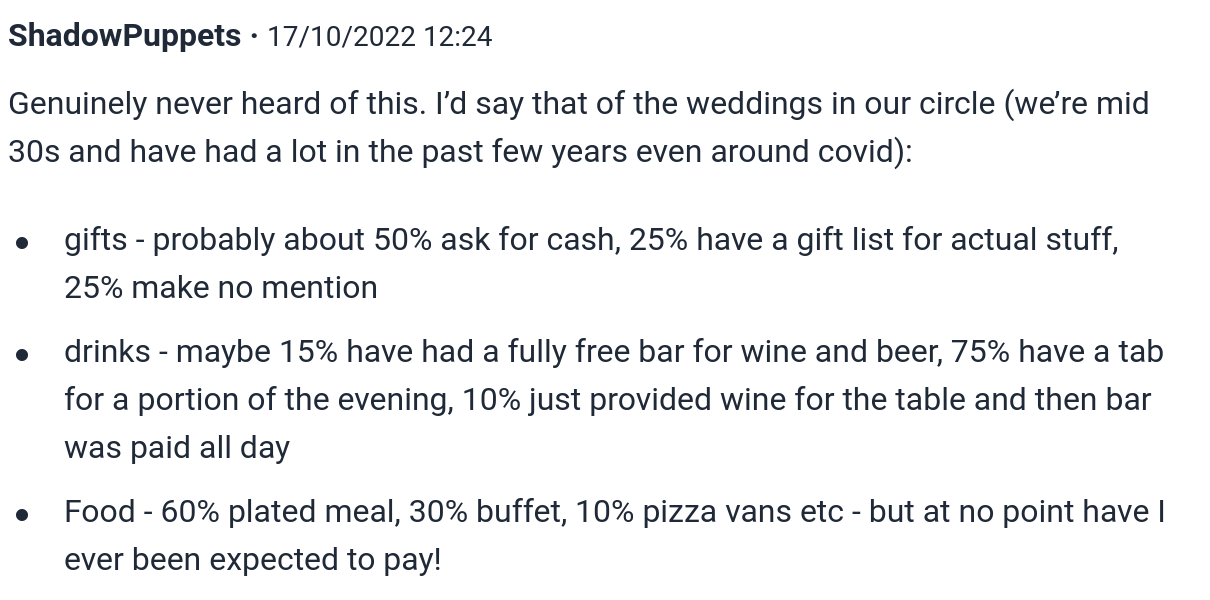 And then there were those who thought the Pizza Van birthday celebration invitation was actually a good idea, but conceded that outright asking guests for $112 as an "admission fee" for a wedding was ludicrous.
Article continues below advertisement

What do you think? Is it absurd for folks getting married to tell their guests they're relying on them to basically fund their special day? Or do you believe that since this is the expectation from the get go, that it doesn't really make a difference either way?