Eric Trump's Flag Pin Has Twitter Users Wondering What Exactly Was on It
Eric Trump wore a flag pin for his speech at the Republican National Convention, but many viewers were wondering exactly what was on it.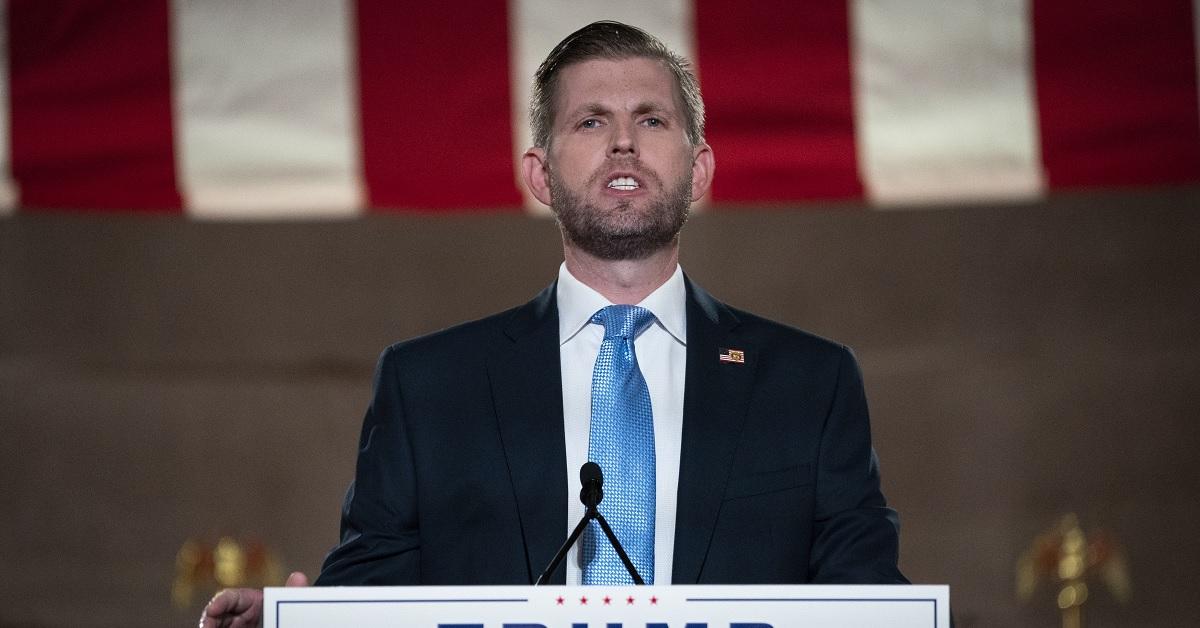 The Republican National Convention has featured speeches from a number of Donald Trump's children, but thus far, Eric Trump's has gotten the most attention online. Although that may seem like good news for Eric, the attention hasn't necessarily come because he made a moving or eloquent speech. Instead, it was because RNC viewers were very confused about the pin he was wearing on his suit coat.
Article continues below advertisement
What did Eric Trump's flag pin have on it?
In many ways, Eric's pin resembled a normal pin of the American flag. Those pins are fairly common at political events, as they seek to subtly remind viewers that the speaker is patriotic. There was something odd about Eric's pin, though, in that it didn't seem to just be an image of the American flag. Instead, it looked like Eric's pin had something over the flag, and some suspected that it might be linked to something sinister.
Article continues below advertisement
Some online thought that the pin was linked in some way to QAnon, a group of conspiracy theorists who believe that Donald Trump is working to take down an elite ring of pedophiles in Washington, D.C. Others believe that the pin actually features the presidential seal over the red and white stripes on the flag. Because we have yet to see a high quality image of the pin, it's hard to say for sure what's on it.
The internet has come up with plenty of theories about the pin.
Although those theories are two of the most prevalent, users on Twitter have speculated that the pin could be a reference to all kinds of things. Others have offered criticism of those theories, saying that it's best not to rush to judgment without a high quality image of the pin to rely on.
Article continues below advertisement
Eric Trump spoke about his father's willingness to fight for Americans.
Although the pin may have drawn a lot of attention, Eric's speech was focused on highlighting what he says are his father's goals as president. "Every day my father fights for the American people," he said. "The forgotten men and women of this country. The ones who embody the American spirit." He tried to reach out to those who feel overlooked by politics and what he described as "coastal elites."
Article continues below advertisement
Eric also cited specific policies that his father had enacted, including tax cuts for the wealthy, increased military spending, and an improved economy. Of course, the impact of those tax cuts may not have helped middle class families, and the economy is currently in the middle of a recession thanks to the coronavirus pandemic that some believe Trump has mishandled.
Eric concluded his speech with a message for his dad. "I miss working alongside you every day but I'm damn proud to be on the front lines of this fight," he said. "I am proud of what you are doing for this country. I am proud to show my children what their grandfather is fighting for. I am proud to watch you give them hell. Never stop. Continue to be unapologetic. Keep fighting for what's right."