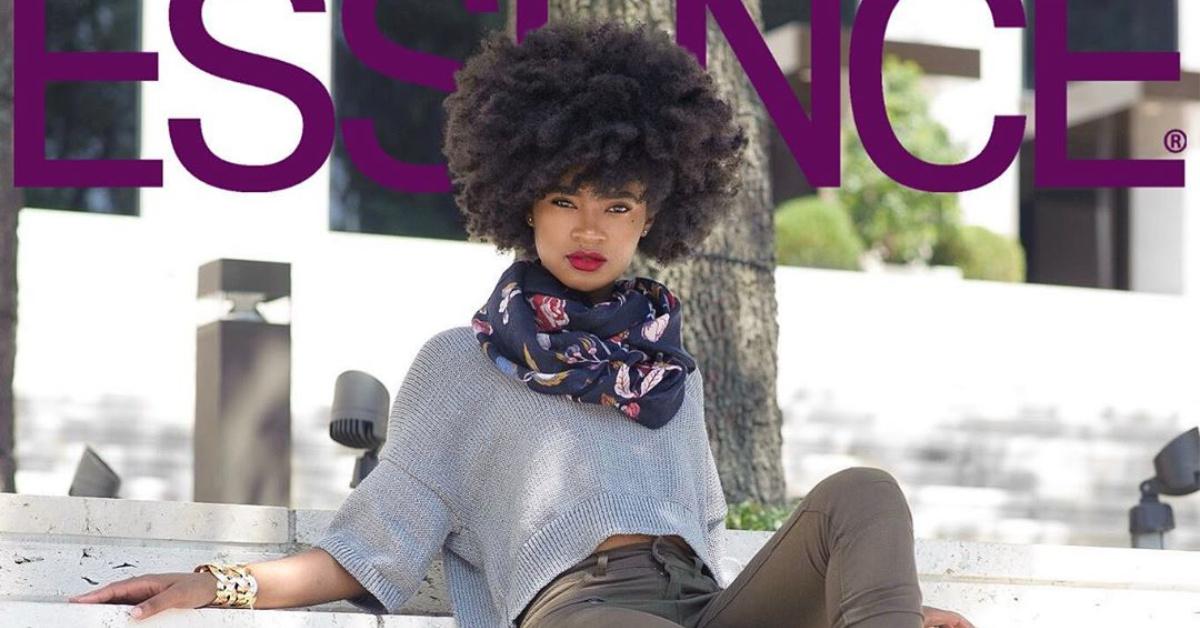 Forget the 'Vogue' Challenge — Here's How to Do the 'Essence' Challenge
Chances are you've probably seen people participating in the Vogue challenge in your various social media feeds. The challenge involves people — especially Black creatives — Photoshopping pictures of themselves onto covers of Vogue Magazine, which has been notoriously not diverse for... basically ever. Participating in the Vogue challenge is, for many Black folks, the only way to see themselves or people who look like them represented by one of the top fashion magazines.
Article continues below advertisement
The Essence challenge is something of a response to the Vogue challenge. Whereas Vogue's covers have been sorely lacking melanin since the magazine's inception, Essence has been celebrating Black fashion and culture for 50 years (so far).
Naturally, a lot of people decided that they'd rather see themselves on a more inclusive magazine, and thus, the Essence challenge was born. If you're looking to make your own Essence cover, you may be wondering whether there's some kind of special Essence challenge filter you should be using.
Article continues below advertisement
Unfortunately, there's no 'Essence' challenge filter (yet).
You can find people's awesome Essence challenge submissions all over social media right now — they're on Instagram, TikTok, and Twitter. Basically, people are taking their most stunning pictures (or stills from videos) and creating equally stunning hypothetical Essence covers. And honestly? We love it even more than the Vogue challenge. But how are they doing it?
Article continues below advertisement
If you're looking for a one-click solution to make your own Essence challenge photo, we've got bad news for you. There isn't an Essence challenge filter at this time (although if Essence — or anyone else — were to make one, we feel like it'd be wildly popular right now). People are using Photoshop or other photo editing software and apps to create their Essence covers — and they're clearly doing an amazing job.
If you scroll through a bunch of Essence challenge videos on TikTok, you'll see the comment sections are filled with people asking how the creators made their submissions. The creator of this video says she used the PicsArt app to add text and stickers to her photos, so that could be a good place to start if you don't have mad Photoshop skills! Luckily, Essence magazine covers pretty much require only two things: the word "Essence" and an incredible photo of a Black person.
Article continues below advertisement
Speaking of which, you should be aware of why people are participating in the Essence challenge (and the Vogue challenge, for that matter). It's meant to amplify and lift up people of color. If people who look like you regularly appear on the cover of Vogue, the Vogue and Essence challenges are not for you to participate in. But they are there for you to enjoy the heck out of!
Article continues below advertisement
And if you haven't seen Essence challenge videos and images in your social media feeds, now is a great time to focus on diversifying those feeds so you don't miss out on great content. You can even start by searching the #essencechallenge hashtag and following some of your favorite participants.
If you are looking for ways to donate your time or money to Black Lives Matter and other antiracist organizations, we have created a list of resources to get you started.